CHRISTMAS NAILS IDEAS 2020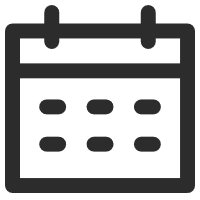 December 25, 2020
Fashion & Beauty
Views: 5301
We all love the Christmas season where we can decorate our homes to look Christmassy. We decorate our Christmas trees with pretty baubles while wearing our comfy pajamas and singing Christmas songs with our family and loved ones. The holiday season is well known as a time for adding festive cheer to our place of abode, but we can also up the mood by treating ourselves too!
Give yourself a merry manicure in the spirit of Christmas this year. Emphasize your Christmas mood with your choice of nail color and design! Holly green, snow white, Santa red, and frosty blue are all nail polish shades you can go for to achieve a Christmassy effect and some eye-catching nails.
Here in this article, we have assembled different nail ideas that you can draw inspiration from. Our top nail inspiration includes nail art designs, snowflakes, reindeer, and much more. Some of these designs can be done yourself, and some would be better done at a nail salon or by a professional nail technician. Also, some of these designs are already made and you are good to go!
Don't limit your mind to things you can do with your nails, especially in this festive season. Let your mind wander and get creative with your nails. Let's take a look at our favorite ideas!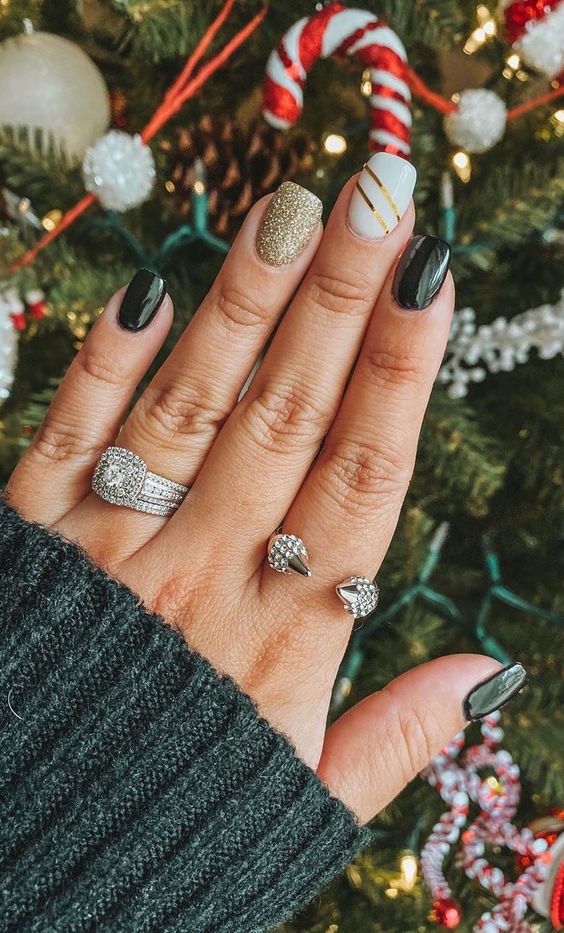 Multi-colored nails
So, you already know the main colors associated with Christmas, but you're not sure which of these colors to go with. If you're undecided about which Christmas color to go for, then this idea is for you. Make the most out of your Christmas nails by wearing all your fave Christmas colors on one hand! Apply a different color to each of your nails and watch how bright and colorful the result is. You can achieve this look at home by yourself if you have the nail polish to work with. Use the same colors in the same order on both your hands for an asymmetrical look.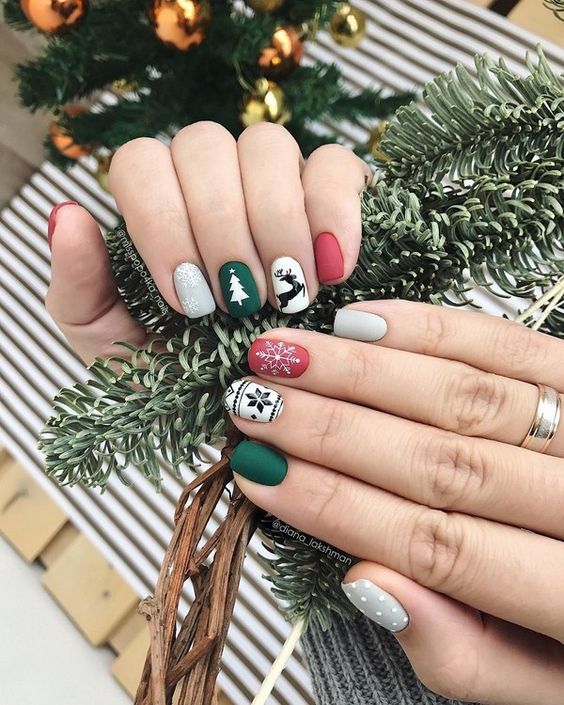 Green the design
Play with a plain holly green nail polish to create a luscious and beautiful finish. If you want a bit more design, go for mini Christmas trees. To do this, paint your nails nude, and allow them to dry. Next use a white color to draw two diagonal lines towards the tip of the nail. Start with a short line, followed by a longer one, and go on till the fourth line. With white nail polish, draw lines in between the green parallel lines to fill up the spaces in between. The shape will look like a green triangle by now. Now draw vertical lines from the tip of the triangle to the end. Finally, sprinkle glitter on the nail and allow it to dry. For a perfect result, visit a professional nail technician.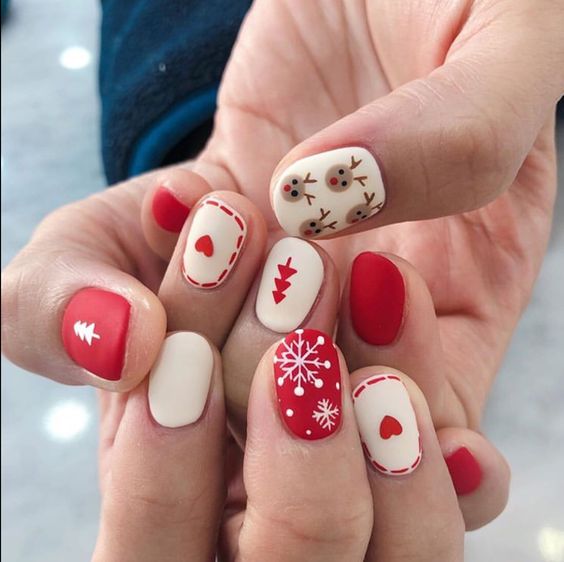 Red with Christmas bells
This Christmas-inspired nail look is a classic look that you can rock this Christmas. It is so simple and easy to achieve. At Christmas time red can never be overused. To get this look, firstly paint your nails red, and then apply nail glitter in the shade jingle bell gold. Christmas nail stickers can also be placed on your nails for seriously Christmassy vibes. Alternatively, you can use a holly green nail polish to achieve the same effect. Don't forget your glitter for a glistening look.
Gold dust
Use a gold leaf to make a subtle manicure feel special. If you don't have any available, substitute with a gold polish. Red, green, frosty blue or even white can serve as the background color while the gold fill is sprinkled on it. Christmas is in the air, so express it in color!
Silver sprinkles
A hint of silver is like the icing on the cake. Use shades of silver to lighten up any design. A good way to do this is to paint your thumb and pinky nails red and paint the three nails in between a different gradation of silver to add a Christmas effect to your nails! You can never go wrong with silver nails.
Holiday French
Show off your Christmas vibes this year by adding green or red tips to your classic French manicure. You can also switch up your French manicure by changing the base color to any shade of your choice. It's Christmas after all, so feel free to play with different festive colors!
Frosted Tips
Silver tips have a pretty effect on your nails. They also make your nails appear ravishingly long! Christmas 2020 is the time to wear nails that you can't help but admire. To achieve silver frosted nail tips, paint your nails with green (or any other color) nail polish. Next, let your nails dry fully. Now apply nail half-moon stickers to your nails, so that only the tips are showing. Then apply silver nail polish only to the tips of your nails. Remove the stickers. Allow your nails to dry and then coat with a clear topcoat. You can add a little drama to your nails by painting one of all the nails in silver. Let your nails tell your mood.
Silver glitter
Show what "jingle all the way" means by decorating your nails in a precise and sophisticated manner. Use silver glitter to create a sparkle that will get anyone that sees your nails in the holiday mood. A nude color can be the perfect background shade, while you create your illumination by applying silver glitter on top.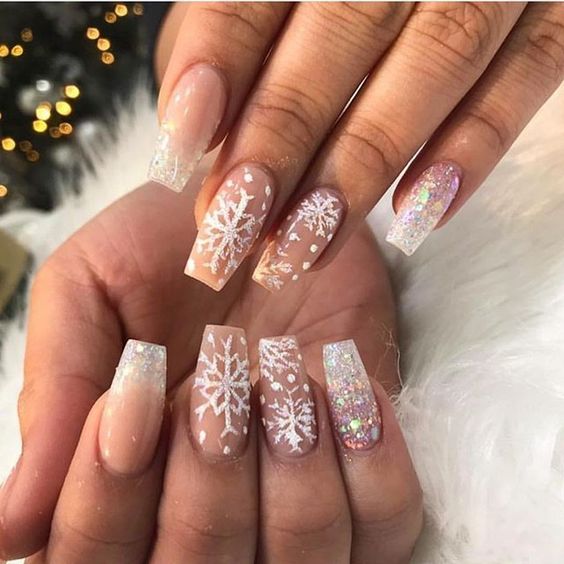 Subtle snowflakes
It's time to make pretty snowflake patterns on your nails. Although achieving this look is a bit technical, and you might need the help of a professional nail technician for a more precise design. If you don't want the bother with heading to the nail salon then you can attempt to freestyle the design yourself. Or even better, use snowflake nail stickers to apply on top of your base coat! There are many designs available online for you to choose from.
Shimmering stripes
The popular stripey wrapping paper pattern serves as this design's inspiration. Especially the stripey pattern with the red and gold stripes. Try copying this pattern onto your nails by using small bits of tape to get the straight lines. A professional can create this pattern better. Go for the best.
Striking red
You can never go wrong with classic red nails during the festive season. Red has a way of announcing its presence on any occasion, and red always stays in style. Use a tiny brush to achieve a detailed finish and a clean edge and get ready to admire your classic red nails all through the 2020 Christmas period.
Many of us are guilty of plain-looking nails at Christmas in the usual Christmas colors. But this article shows that there are so many nail options available. We hope this post has opened your eyes to the many nail ideas you might never have thought of!
Related Posts:
LOOKS FOR CHRISTMAS UNWRAPPED
10 CHRISTMAS ORNAMENTS FOR 2020
CHRISTMAS GIFT IDEAS 2020 FROM UNIWIGS
EASY CHRISTMAS HAIRSTYLES YOU CAN MAKE AT HOME
HOW TO DO A CHRISTMAS MAKEOVER
HOW TO KEEP YOUR HAIR TOPPER LOOKING FABULOUS THIS CHRISTMAS
---
---
Writers Cooperation:
UniWigs are seeking for blog contributors who know and love hair. If you know alternative hair or hair related accessories, if you have great understanding of hair trends and fashion, if you are expert in hair care, if you have any experience with salons or celebrities, if you would like to share your experience to help people just like you make the right choice, now contact us at [email protected] to be a blog contributor. Let's discuss the details then.