Easy Christmas Hairstyles You Can Make at Home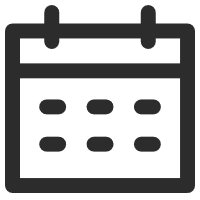 December 23, 2020
Lifestyle
Views: 1361
It's finally the Christmas season and we're all eagerly counting down the days until Christmas day! The holiday season is now in full swing, and with the fast-approaching of unwrapping presents, Christmas dinner, and all the family around the fire, we can't wait!
To truly get into the spirit of Christmas, many of us are looking to wear Christmas inspired hairstyles! Although Christmas is only in a few days, you still have time to plan how you're going to style your hair. Having lovely hair and looking festive is a win-win situation. Christmassy hair will make you feel less like Scrooge and more like one of Santa's elves! Styling your hair especially for Christmas will also mean that you look great in all those inevitable Xmas photos that your grandma takes.
Don't be put off by the thought that creating a Christmas-inspired hairstyle is going to be difficult and time-consuming. We know that on Christmas morning you don't want to be spending a lot of time getting ready and fixing your hair, so here we have put together some festive hair inspiration that is all super easy and can be done in less than a few minutes! These styles are perfect for Christmas when you're bound to be busy doing many other things. Whether you like practical hairstyles or more dainty and pretty hairstyles, we've got you covered.


1. Half-up loose waves with a bow
We love this half-up loose wavy hairstyle with a bow because it is effortlessly Christmassy. If you're looking for something classic, but not too over the top, then this hairstyle is for you. It is also super easy to create! Simply add a few loose waves to your hair with a curling wand and some texturizing spray, pull back two front sections of hair, and tie into a bow with a long ribbon. In no time at all, you can achieve a pretty Christmas hairstyle.
The best-colored ribbons for this style are red (of course), green, white, cream, gold, or silver for the ultimate Christmas vibes. This hairstyle is also versatile, as it can be worn on anyone, from older women to little girls.
2. Ballerina bun

The ballerina bun is a year-round hairstyle, but it never fails to give off seriously Christmassy vibes when worn in December. Ballerina buns are very easy to create, you just simply pull your hair up and twist into a knot, and secure with a hair tie, bobby pins, and a little hairspray. These high buns are sophisticated and add elegance to your overall look. What's not to love? Rosie Huntington-Whiteley loves to wear ballerina buns, and she pairs off her look here with a red outfit and statement earrings. Follow in her fashion footsteps by coupling your ballerina bun with Christmas colors and some cute earrings.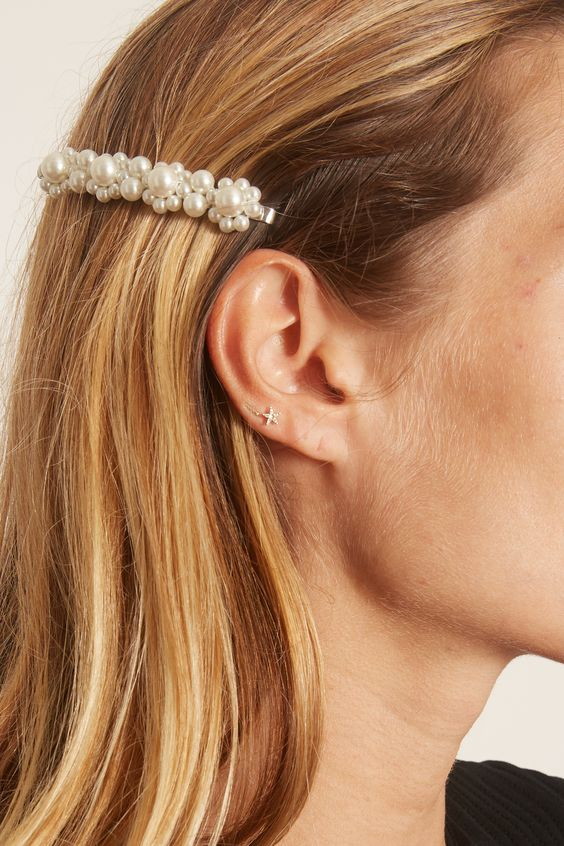 3. All about pearls
There's something about pearls that make them whimsically perfect for winter. Pearls have a lustrous sheen to them, and their creamy white color is bound to remind you of the snow that falls at Christmas time. Pearls are also majorly in fashion right now and are super popular at the moment. For a classy hairstyle this festive season, accessorize your hair with pearl hair accessories, such as pearl over-sized hair clips, pearl pins, pearl headbands, or pearl barrettes. Pearls look great in your hair whether you wear your hair down, in a ponytail, or in a high or low bun. If you're feeling lazy on Christmas morning but want to have cute hair for the photos, simply sweep your hair off your face and hold back with some pearl accessories! Viola, Christmas hair in an instant, with no effort at all.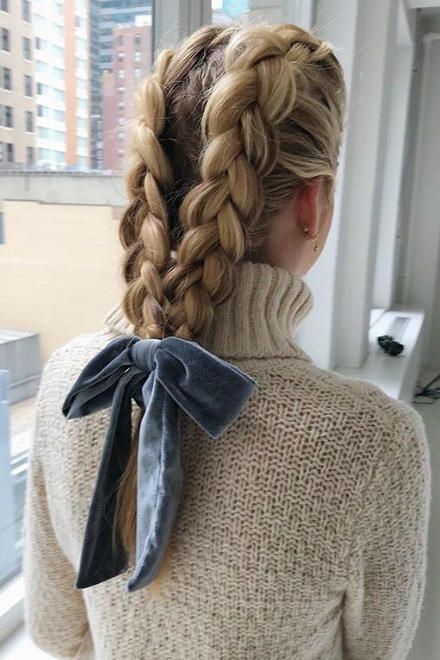 4. Festive twin braids

For the ultimate cute look this holiday, try wearing festive twin braids! Twin braids are super chic, and they look lovely when paired with any high neck knitted jumper. Not to mention, braids help to keep all the hair off your face, and they are very practical for doing any Christmas activities like helping with cooking the Christmas dinner or unwrapping presents! You can also tie up your twin braids together with a big bow if that's what you'd like or let them fall free. We can't get enough of these festive twin braids!
5. High pony

We all love a high ponytail. A high pony had to make this list. These ponytails look great in winter as they can easily be worn over any clothing, such as puffy coats and thick sweaters, without any need to rearrange any hair. Accessorize your high pony this season with a velvet scrunchie or anything sparkly for the ultimate crimbo vibes. You can wear your high pony sleek and straight, but personally, we love the texturized and a little messy high pony, as worn here by Shay Mitchell. A fuller pony can add a lot of volume to your hair and stand out in pictures, giving you the appearance of thicker hair.
6. If all else fails, where a Santa hat!
If you want something a bit special or memorable on your head this Christmas, but are feeling lazy, you can't go wrong with a Santa hat! Tip: you can also wear a pair of Christmas antlers or baubles too! If all your other hairstyle ideas have gone out the window and you don't feel like styling or straightening your hair on Christmas day, pull on your favorite Santa hat and enjoy the festivities with friends and family.
So those were a few of our top easy Christmas hairstyles you can make at home this Christmas. We chose the styles that would be the easiest to create, so you don't have to spend ages standing in front of the mirror styling your hair on Christmas morning. Whether you prefer ballerina buns, or you're more of an accessories type of girl, we hope this article provided you with plenty of holiday hair inspiration so that you can look your best this Christmas!
Let us know which easy festive hairstyle was your favorite, and how you choose to style your hair at Christmas in the comment section!
Related Post:
HOW TO KEEP YOUR HAIR TOPPER LOOKING FABULOUS THIS CHRISTMAS
---
---
Writers Cooperation:
UniWigs are seeking for blog contributors who know and love hair. If you know alternative hair or hair related accessories, if you have great understanding of hair trends and fashion, if you are expert in hair care, if you have any experience with salons or celebrities, if you would like to share your experience to help people just like you make the right choice, now contact us at [email protected] to be a blog contributor. Let's discuss the details then.