10 Christmas Ornaments for 2020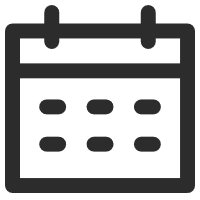 December 24, 2020
Lifestyle
Views: 1069
The year 2020 has been full of changes and challenges globally, and there's no doubt that this year has affected everybody in some way. This year has gone by more slowly than previous years as home quarantine has seemed to have slowed downtime. But now it's almost the end of the year, and Christmas is in a few days!
Due to the lockdowns this year, trends in seasonal home design and Christmas decorations have been particularly active. Many people have launched a series of Christmas products targeting 2020, covering various topics such as pandemic prevention products and toilet paper. These products record how unique this year was, and of course, that is why this Christmas will be unique too! Let's see what kind of ornaments we can find from Amazon for 2020 Christmas.
1. Gingerbread Man and Woman with Mask

Speaking of Christmas decorations, Gingerbread men and women are always popular and are often seen on people's Christmas trees. The little guys on this Gingerbread ornament represent 2020 - masks on, in order to protect their friends and family from the pandemic. How cute and sweet is that! These decorations are made from 100% wood, so they could definitely be one of your Christmas decorations for this unforgettable year.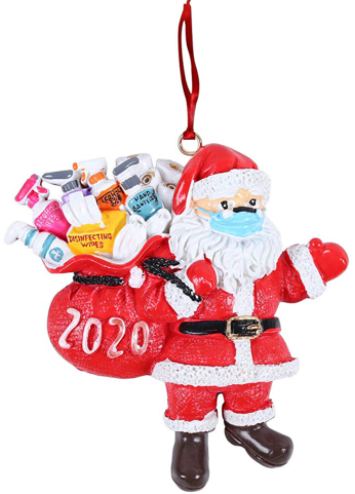 2. 2020 Quarantine Santa Christmas Ornament

Guess what might be in your Christmas gifts from Santa this year? The items that you need the most for 2020 - epidemic prevention products and toilet paper! Just kidding. But, with all these essential gifts, Santa sends all the best and is happy to see you this year. This decoration is such a fun decoration, and you could have a good laugh with your friends over this Santa Claus ornament.
3. 2020 Customized Name Christmas Ornament Kit

Available to include 1-7 personalized names, you can add the whole family's names onto this cute little ornament with masks on! With the sign '2020 Merry Christmas' on a toilet paper banner, with a larger 2020 formed, and the second red '0' from 2020 looking like an image of coronavirus, what's not to love? This ornament could be the most comprehensive summary of what happened in 2020. It could be added to your Christmas decoration collection that you bring out every year, to bring you memory flashbacks of 2020 in the future.
4. 2020 Snowman with Mask

'Do you wanna build a snowman?'. It's not just Santa Claus and Gingerbread Man who wear face masks, this snowman decided to put on a face mask this year too! This ornament is made from high-quality ceramic with a high-definition character image, for a nice little memorable decoration of Christmas 2020.
5. 2020 Toilet Paper Crisis

"Perhaps one of the hardest moments in life is when you are sitting on the toilet, but you realize there's only one piece of toilet paper left." Toilet paper has never been more popular than in the year 2020. From Hong Kong to Japan, to South Korea, Europe, and the United States, almost all countries were affected by the pandemic where people panic bought all the toilet paper. The shortage of toilet paper has now passed, but this little ornament could give you a chuckle during an otherwise difficult year.
6. Santa Beard Face Mask 2020
Santa will still be working handing out presents this Christmas Eve night! But he will be wearing a face mask to protect all the people that he cares about. This Santa face mask is safer and more convenient (Glue-free) and works perfectly with a Santa costume. Interesting and creative ideas like this one give this Christmas some joyfulness! Let's end this year with happiness and keep our family and friends safe!
7. 2020 Holiday Christmas Face Mask

As the biggest celebration of the year, Christmas usually involves spending time with family and friends. However, due to the 2020 pandemic, this year might be tricky for people to meet each other, especially big groups of people. The face mask is one of the most important epidemic prevention supplies, and you will need it this Christmas! This face mask isn't boring like regular face masks, because it has a funny Christmas Santa on it. It is reusable and washable and comes in a variety of designs.
8. Grinch 2020 Christmas Ornament

Finally, it's the end of the year! It's time to move on and look forward to better things. There's no doubt that 2020 has brought lots of pain and misery to many people, and most of us just want 2020 to end as soon as possible. This fun Christmas ornament can be hung on your Christmas tree and features a grinch hand dramatically dropping a 2020 face mask.
9. 2020 Quarantine Christmas Ornaments

This ornament is full of little quarantine notes. It includes what most people did during home quarantine with striking consistency all over the world. This is a good ornament to remember this harsh year and to remind yourself to spend more time with your family, friends, and people you love when you are able to.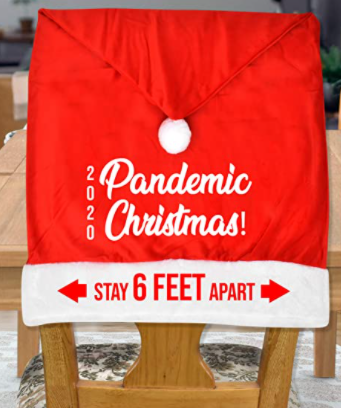 10. 2020 Christmas Chair Slipcovers
These 'Stay 6 feet apart!' fun chair decorations perfectly encapsulate the 2020 social distancing measures that were a common theme in 2020. Common 2020 warnings included protecting yourself and protecting others, wearing masks, and staying 6 feet away from others. This Christmas you might still be avoiding getting too close to family members, especially elderly family members. These fun Christmas chair slipcovers are perfect for social distancing and might remind you of restaurants during the pandemic.
In the last month of 2020 and with Christmas, we wish you all the best, and have a safe and joyful Christmas!
---
---
Writers Cooperation:
UniWigs are seeking for blog contributors who know and love hair. If you know alternative hair or hair related accessories, if you have great understanding of hair trends and fashion, if you are expert in hair care, if you have any experience with salons or celebrities, if you would like to share your experience to help people just like you make the right choice, now contact us at [email protected] to be a blog contributor. Let's discuss the details then.