17 Most Trending Hair Colors You Must Try in Fall & Winter 2020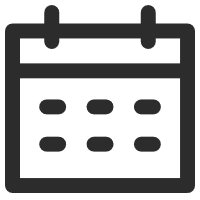 October 28, 2020
Fashion & Beauty
Views: 3100
With summer already behind us, we are starting to get ready for this cool fall. Usually, around this time of the year, the seasonal shift inspires us to head to the salons to hit the refresh button and get darker and warmer hues. With all the new trending colors and hairstyles popping up on IG and TikTok, you may have even more interest to look for changes and experiment with something new. Based on the research on IG, Pinterest, and some hairstylists, we have rounded up some trending hair colors this Fall/Winter 2020.
Blonde Balayage
Considering carrying blonde but scared of growing-out and maintenance? Then choose the color Bronde --- a mix of blonde and brunette shades. Bronde is the most popular color today and balayage is the hottest word online and offline! What would happen when Bronde meets balayage? That's a BIG BOOM! Make sure to ask for a gradually faded dark root to create a seamless melt into your base color. Bronde Balayage hair is especially flattering when added to layered waves.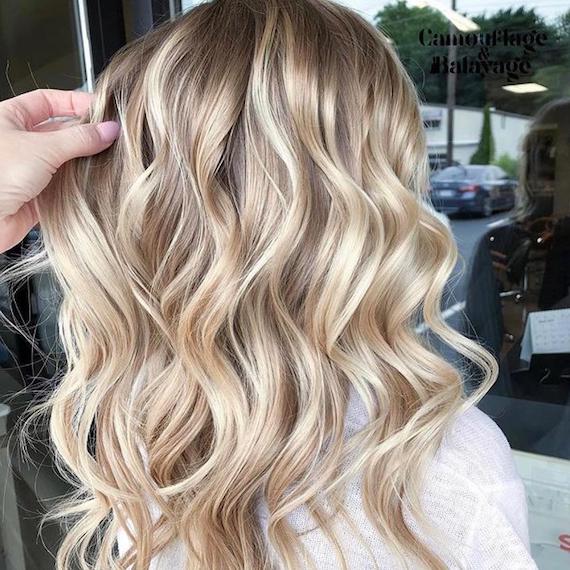 Toasted Coconut
Toasted coconut color hits Instagram and becomes a new trend this summer and it's a good transition from summer to cooler fall. It is the new bronde hair color trend. Similar but different. It is less about intermingling with two different colors but more about fades from a chocolate brown to light blonde, a reverse ombre. The transition is very soft. The dark root is essential and is actually a bonus point here. This color is flattering on any skin tone and goes best with beach waves in medium length.
Warm Creamy Blonde
Creamy blonde is a cool whiter shade of blonde that is not quite platinum. To achieve this color, you can ask for cream and butter balayage highlights the dark roots. This bright color is definitely a head-turning color on summer days, however, fall is the best time to try the warm tones. Add some midnights that can lift warm to creamy blonde can make the color softer and gives you a warm allover feel.
Ash Blonde
Ash-blonde color especially rooted ash blonde color is your new-to-go if you love the blonde color but refuse the bright one in Fall/Winter. It is a cooler shade of smoky gray offering a blonde hue with tints of gray to create an ashy shade. The tints of gray and dark root give the base color more depth and dimension. Ash-blonde color is not a typically chosen color, with the right shade; you will definitely rock the street.
Strawberry blonde
As the summer winds down, warm is the best tonal direction to go for fall. When fall arrives every year, the strawberry blonde hair comes back as a shining star. It is always one of those colors that gain attention. It is a beautiful mix of warm, golden blonde with light coppery red, which is perfect for the indecisive and daring alike. As always a favored choice of movie stars and musicians, strawberry blonde color hair would definitely be the one many people would love to have.


Pearl Blonde
If you are getting bored with true platinum but still love the super light shade, pearl blonde would be your first choice. It is an extra-light blonde color with metallic hues of lavender and peach that catches the light just like a real pearl. Pearl blonde is the gorgeous new hair trend launched by inventive fashionistas. Silky but not dull, shimmering but not flaunting, cool but not icy --- pearl blonde promises that all and even more. The bright color adds a natural glow to your face and commends your beauty. Catch the dream hair of a mermaid this Fall/Winter, and you will be the shining star.
Suntanned blonde
The ending of summer does not mean you have to kiss goodbye with your sun-kissed blonde hair. I lieu of making big changes, you can just give a little more depth to the sun-kissed blonde color by adding some lowlights. That's the suntanned blonde shade which can still brighten the gloomy weather on Fall/Winter days.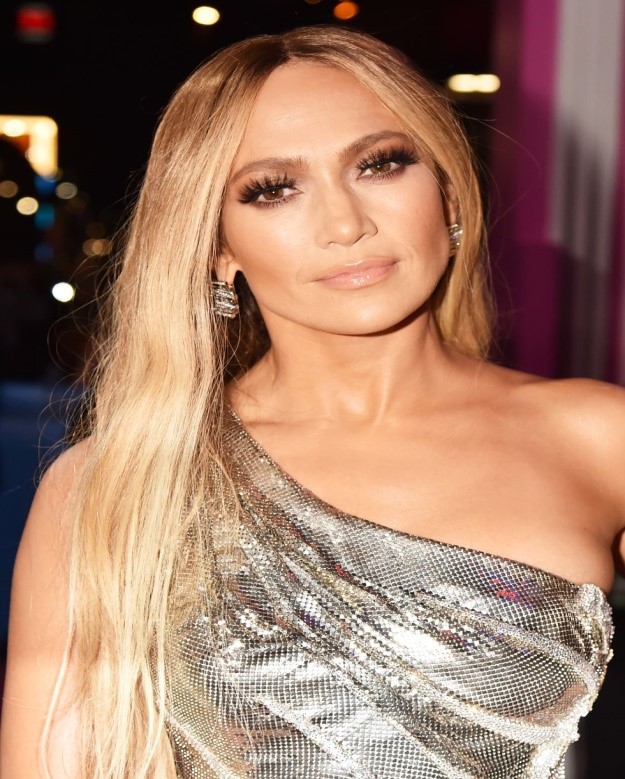 Honey Blonde
If you want to stick to classics, honey-hair would be a nice choice. Honey-blonde hair is the ultimate in-between shade for brunettes and sun-kissed blondes. The honey shade lifts the warmth to your blonde color without looking too severe. With both blonde and brunette tones, the honey blonde shades can complement different skin tones by making it lighter or darker. There will be a honey hue for you and everyone.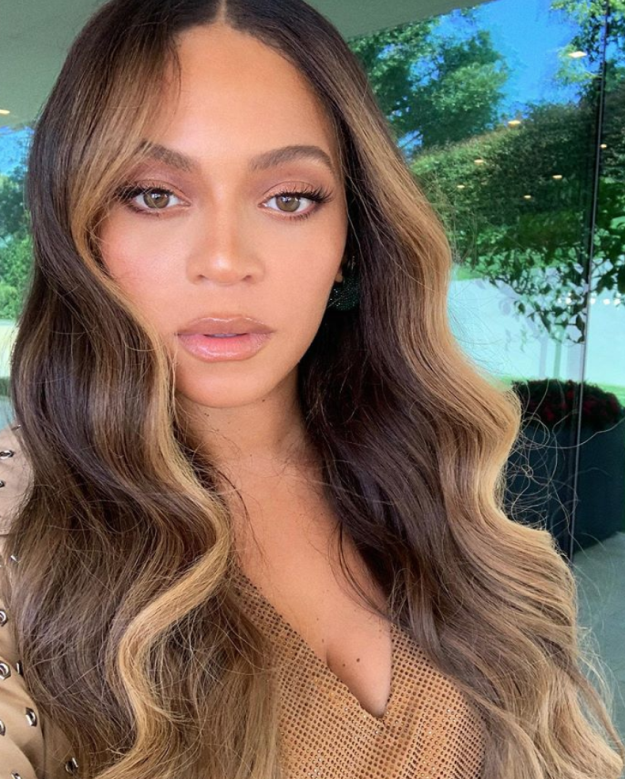 Face-framing Highlights
Also referred to as money piece, face-framing highlights is a coloring technique that brings out the attractive features of your visage and maintains summer brightness. It is a super-easy way to look light and bright without the hours of upkeep in salons. Coupled with a nice melted root, face-framing highlights can greatly reduce the cost of salon visits.
Chunk Highlights
As you are thinking the thick strips of your youth are gone, chunk highlights, which were a boom in the 90s, return even stronger as a hot hair color trend in 2020. Creating a proper space between the steaks adds dimension and vivaciousness to your base color. If your hair is thin, you can choose thinner highlights especially when your base color is light. However, if you have thick locks, play with chunkier highlights to get a fuller look.
Deep Roots
With some of the salons still closed and some running in 50% capacity, it's hard to snag an appointment. Instead of seeing your hairstylists every month for the newly grown hair, you can simply turn the things to be in your favor. The well maintained deep roots can look chic as hell when it is high-contrasting and allows you to enjoy the grow-out.


Cold Brew
When fall comes, you might order an extra-hot macchiato; however, cold brew can be the one that carries you throughout the year. First spotted as the work of colorist Eric Vaughn, this multidimensional brown tone mimics the beautiful color blends that occur when you mix coffee with a splash of milk and ice. Mingled with a series of dimensional dark brunette colors with warm highlights, cold brew pops up on Instagram and cross the mind of all coffee lovers. It is a must-try color when fall hits.
Cinnamon Chocolate
The trick to nailing this Fall/Winter is the clever combination of warm auburn tints and dark brunette colors. These two colors meet at one point, and it's cinnamon. Nothing can beat Cinnamon when it comes to warm tones. Cinnamon Chocolate color represents a dark chocolate color with hints of warm cinnamon red that can break the dull muted dark brown shade and add mysterious vibes.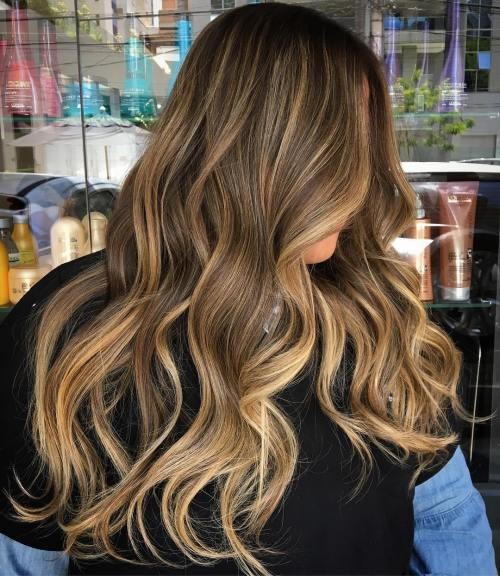 Golden Brunette
Golden brunette color is a blend of medium brunette shade and light golden blonde that borders on blonde and brown. It's an easy way to light up dark to medium brown or darken naturally the blonde shades. Just picturing the color in your mind can remind you of sunshine and captivation sunset and get you a warming feeling. It is an amazing glow.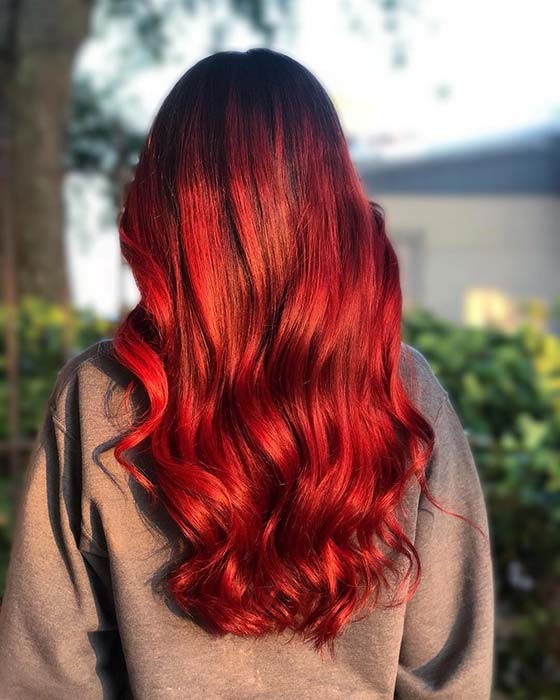 Rich Red
From natural strawberry red to copper to rich auburn, wine, and bright red ruby tones, red is always a great trend and a head-turning choice for fall because it complements many skin tones. Today, I am talking about rich red or scarlet red. This scarlet hue is the perfect marriage of summer brightness and winter richness and it can commend your audacious and edgy personality. Fire up your hair to lighten up the weather and your life. Because of YOLO, WOLO.
Ginger Red
Red tones are on the top list to brighten up and give warmth in Fall/Winter. If you are scared to experiment with bright red but cannot let go of this charming shade, ginger red would be your best choice. Ginger red color is a spicy, light or medium reddish brown tone that is much more natural-looking and perfect for a touch bold. Ask for a dark root that can keep the color low-maintenance and save your cost. Be spicy, be bold, and be shiny.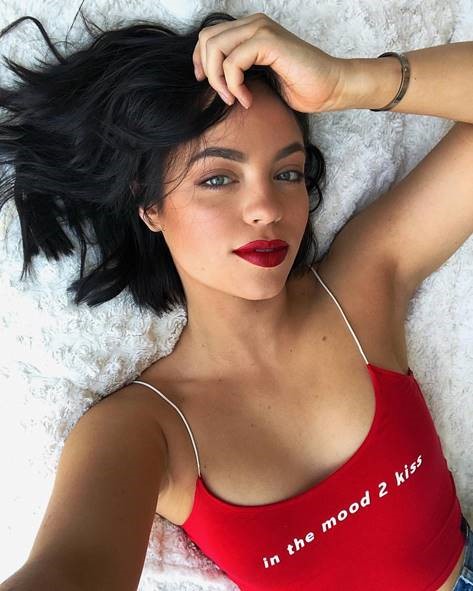 Soft Black
Black is a timeless chic. When brunette and balayage hit the hair world, three or even four different hues mixed becomes the mainstream trend. This winter, a better choice would be going in the opposite direction with a solid color and with no highlights. Black color can also get you in the mood for the cool weather. Winter is the season celebrating natural hair. The soft black tone is not overly pigmented and doesn't look too inky. Do the same choice with models on the runway and be the coolest but not aggressive girl this Fall/Winter.
After reading all these charming colors, are you ready to give a shot? Choices are various. It's time to refresh yourself and surprise everyone with a glamorous appearance. You may go to the salons to let your hairstylist do the magic or you can simply choose a wig or some hairpieces like toppers and extensions with the colors you love if you prefer not to do any harm to your bio hair. Whatever color you choose, make sure to regularly give the hair gloss treatment to make it shine and glow. That would greatly enhance your charm and beauty!
* All the photos are from Google and Pinterest!
Further Reading:
COLOR MATCHING FOR HAIR TOPPERS: DOES MY TOPPER NEED TO MATCH MY HAIR COLOR?
2020 HAIR COLOR AND STYLE TRENDS
2020 HAIR COLOR TRENDS LOOK BACK THIS SUMMER
---
---
Writers Cooperation:
UniWigs are seeking for blog contributors who know and love hair. If you know alternative hair or hair related accessories, if you have great understanding of hair trends and fashion, if you are expert in hair care, if you have any experience with salons or celebrities, if you would like to share your experience to help people just like you make the right choice, now contact us at [email protected] to be a blog contributor. Let's discuss the details then.