The Silk Base is constructed with a layer of lace and pure silk fabric on the top of the cap. The knots of the hairs are hand-sewn under the silk base, so the knots are concealed between the layers. This technique of injecting the hairs through the silk to conceal them, provides the illusion that the hair is coming from your own scalp when you wear it, making the knots 100% invisible.
So far, the Silk Base is considered to provide the most realistic scalp the market has to offer. You don't need to bleach the knots or use any concealer to mask the knots at the parting like a lace base may need. The Silk Base looks completely natural and realistic.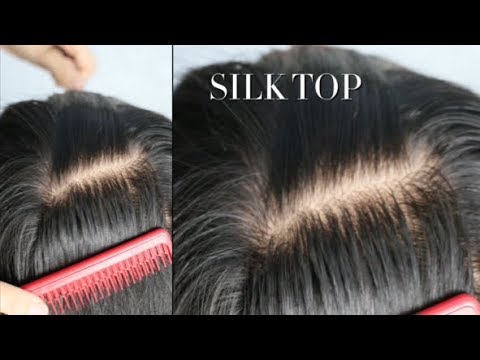 PROS
- Realistic Looking: Silk Base toppers can give you the appearance of having a scalp that looks like your own. A Silk Base is the most realistic topper base on the market today. With a Silk Base, you don't need to hide or camouflage the knots when you part your topper!
- Styling Versatility: The Silk Base offers versatile styling options as you can part your silk topper any direction.
CONs
- Difficulty of Laying Flat: Due to the multiple layers in a Silk Base topper, Silk Base hair toppers are not as easy to lay flat on the head. Silk Bases may also encounter slight bulkiness on the crown. Due to this, Silk Bases usually take a little extra work to lay flat compared to other bases.
- Breathability: Due to its unique layered construction, the Silk Base can lack breathability compared to lace and mono bases. Silk Bases may also be slightly warmer to wear during the summer than the other two bases.
Choosing the proper topper base size is not only going to make your hair piece look more natural, but also ensure that you are not pulling on hair causing further hair loss. The base size depends on your coverage needs.
1.First determine the area of hair loss, which can be at the part, crown, hairline or throughout.

2.With a fabric measuring tape, record the measurements of the widest points from front to back and side to side across the area where you are experiencing hair loss.

3.When you write down the measurements, don's forget adding one inch to each measurement, which will allow for a half an inch of hair on each side or end of the base for a clip to attach into your existing hair.
Step 1 - Select the Base Type
Discover the different base types for Hair Toppers
For the ladies who are the first time to purchase a Hair Topper, it is very important for them to Familiarizing themselves with the various types of base construction of hair toppers in order to make the right decision. Read More
Step 2 - Choose the Base Size
How To Choose the Right Base Size for Hair Toppers
It is very important to identify correctly the area of coverage needed when you want to choose the right hair topper for yourself. Read More
Step 3 - Choose the Hair Color
How to Choose the right Color for Hair Toppers
The color of your Hair Topper should match your own bio hair color as closely as possible. With years of experience, we highly recommend the customers can utilize the following options to select the right hair color. Read More