2020 HAIR COLOR AND STYLE TRENDS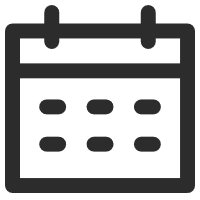 March 12, 2020
News
Views: 2691
There have been a ton of hair trends this year ranging from the use of dynamic hair accessories that look a lot like jewelry to the infusion of contrast in bold hair colors and blending shades that you otherwise would have thought are opposites. A lot of trends have been seen and some have come to stay.
Like fashion, hairstyles and color trends have evolved over the years and sometimes even witness a comeback. The hair combs that were used by our grandmothers, the retro pulled back look of their hair, the finger curls and a lot of them are making their way back to the spotlight.
Let's take a look at the most fashionable and popular hair color and style trends that have made history.
The Unconventional Bob

So, time and time again, we have seen the classic Bob style come in and out of fashion and a lot of times it comes back with a bang. This rough-edged bob has been a big hit in 2019 and in 2020. With this unconventional bob style, there are choppy strands which give it an edgy "not so straight look". It has been worn by a lot of celebrities with the likes of Khloe Kardashian donning it. This bob style also gives you a different look if you're not feeling the whole blunt cut.
You could also have one side cut shorter than the other to make a statement. This look is classy and beautiful and oozes sexiness. Inevitably, many variations of the classic Bob cut in the following will likely be seen throughout this year.
• Colors

You may think that many colors won't sit well with your skin tone. Well, bold colors are back, and anyone can pull them off with the right taste. We're not just talking about highlights either, this year has seen a lot of daring color combinations that seemed downright impossible because they seemed too contrasted to go together.
The aim is to ditch the traditional colors and experiment with new colors. We can hope to see more color inventions and more color combinations.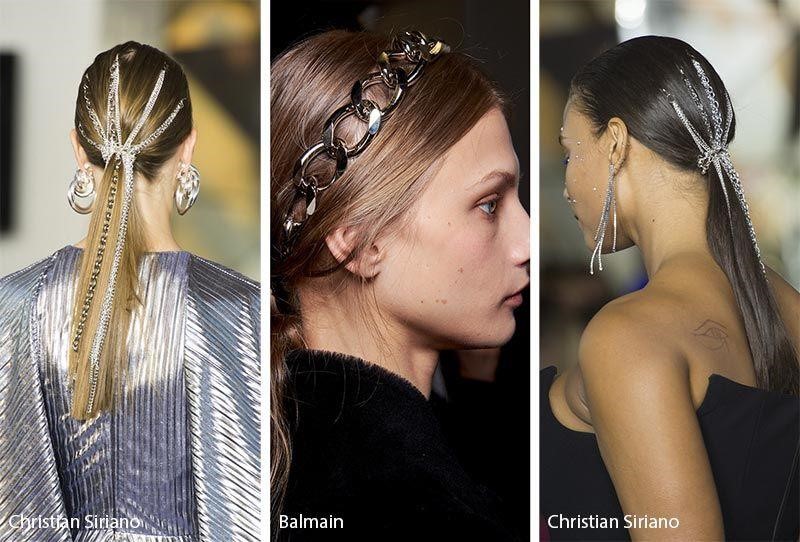 • Hair Accessories

There has been a lot of beautiful hair accessories in use this year. Many hair accessories have made their way to vogue and will be making rounds for the next couple of months. Now the thing with hair accessories is that you don't want it to take away the beauty of your hair. A lot of times you could accessorize and that's all people see. You should be careful so that all it does is to bring out the beauty in your hair, basically enhance it and not replace it.
This year has witnessed hair accessories that look a lot like jewelry and we're here for it. Some accessories come in aluminum and others in stainless steel. Some even look a lot like belt buckles but are all accessories you would want to wear. Pearls, headbands and big clips are also being seen everywhere this year.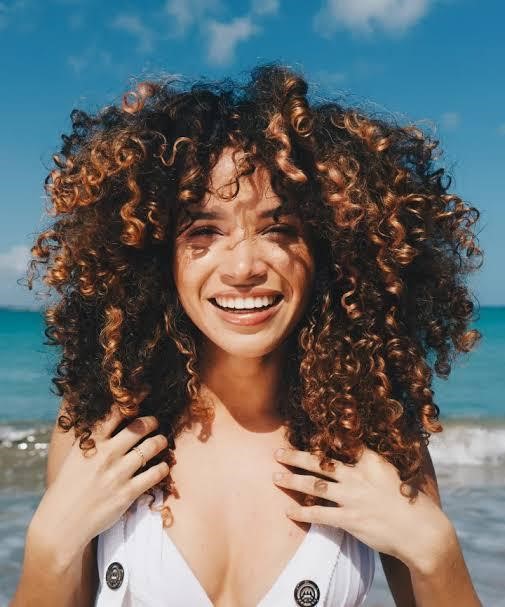 • Big Curly Hair

Big curly hair in warm tones, highlights, different shades and colors are super popular right now. This year sees a lot of big curly hair and sometimes it doubles with the length too. Many women are embracing their natural hair textures and nourishing their locks the unrefined way. The "big hair, don't care" feeling is absolutely amazing and we need it to stay. In 2020, people have realized they do not need to stick to conventional routines, textures and colors and are more comfortable trying new things when it comes to their hair. Bold colors and textured hair will continue to be seen this year. The possibilities here are endless.
• Balayage

Balayage has grown in popularity in recent years and won't be going away anytime soon! We've seen the twisted balayage where the hair is sectioned and bleach is applied to some parts in a twisted motion so that it isn't concentrated. We've seen the balayage where it looks like the hair has been beautifully sun-kissed. We've seen balayage in a wide variety of colors, brunettes, toasted coconut shades, platinum blondes, red-brunette shades and warm blondes. So, you could say there's been quite a variation.
Even turquoise and pink colors have been popular lately, but balayage is set to take a whole new look. This coffee brown with gold highlights makes quite the statement. The gold highlights frame the face and just adds more drama and attitude to the hair. This is a color trend that has come to stay and we'll be seeing more of it in 2020.
If you thought you had seen it all, you just have to wait for what the rest of 2020 brings.
---
---
Writers Cooperation:
UniWigs are seeking for blog contributors who know and love hair. If you know alternative hair or hair related accessories, if you have great understanding of hair trends and fashion, if you are expert in hair care, if you have any experience with salons or celebrities, if you would like to share your experience to help people just like you make the right choice, now contact us at [email protected] to be a blog contributor. Let's discuss the details then.