"Sharing is Caring - this is the Amber Silk Top Human Hair Topper with Bangs in Dark Coffee Brown.
This is my first topper and really love it. I have been struggling with thin, fine hair my whole life and have tried every hair extension and supplement over the years. After two babies and recent stress leading to significant thinning on top this has been a wonderful solution. It is comfortable and secure and I don't think anyone can tell it's not my real hair. There is a definite learning curve to figuring out where exactly to place it and how to blend it with your own hair so give yourself time to figure it out, it's worth it!" - Autumn P.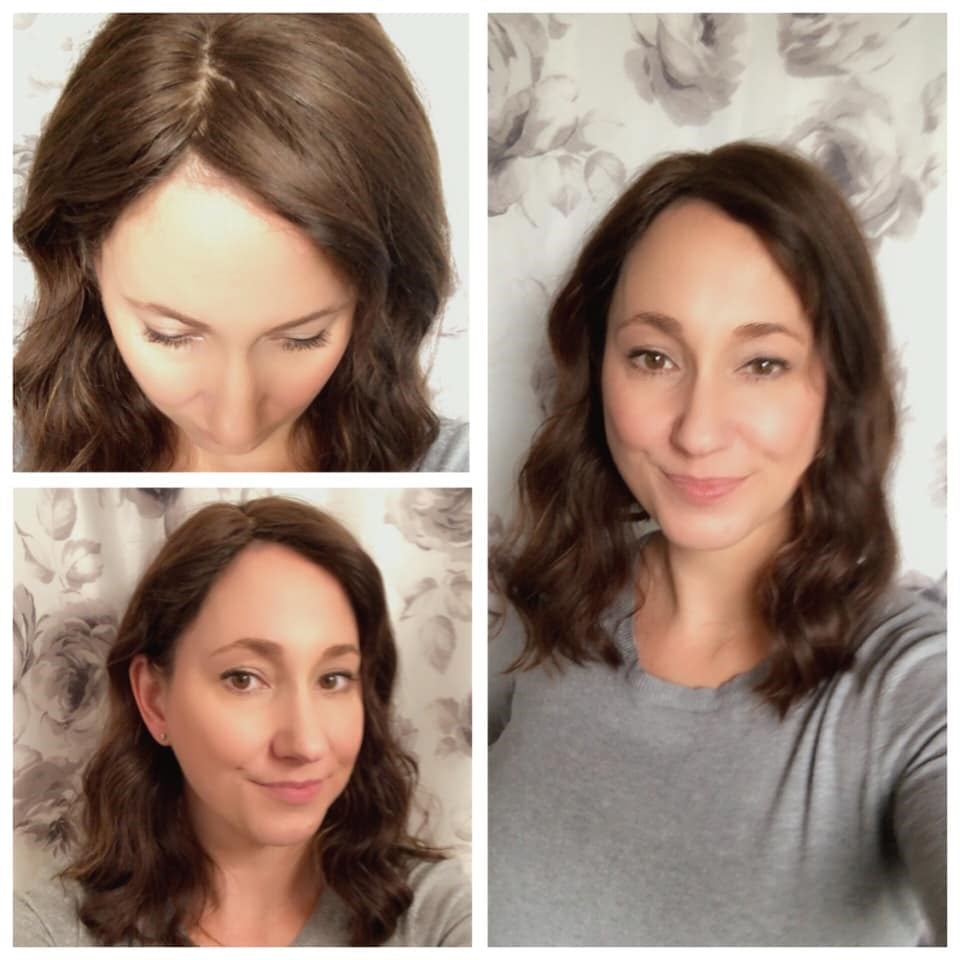 Autumn P. is wearing 6"x 6" Amber Silk Top Top Human Hair Topper with Bangs - Color : G-2 Dark Coffee Brown – SKU : PS1702
Click Here to Get More Info about this Amber Silk Top Hair Topper
"I love my 16 inch Claire topper in Summer Shady with 130 density. I really don't care for rooted toppers since I pull out some front bio hair and I have thinning on the top. I shampooed it and let it air dry a couple of hours and rolled it with those styrofoam rods vertically to get this look. My favorite topper and my favorite look with any topper I have ever owned. I have owned about 4 toppers from Uniwigs and been very pleased with the quality of every one. I highly recommend them." - Jean R.

Jean R. is wearing the Uniwigs 5.5" * 5.5" Claire Mono Top Human Hair Topper - SKU: P25001 - Color : 24-613 Summer Shandy
Click Here to Get More Info about this Claire Human Hair Topper
"My hairdresser cut a light fringe (or bangs if you are in the US) into my UniWigs Upgrade Claire Plus Hair Topper and I love it. Fringes are great if you have very thin hair at the front of your hairline as there's no blending involved. As a busy mum of two - who would rather have extra time in bed in the mornings than get up early to get ready - I don't want to spend ages having to blend and style my topper with my bio hair. With a fringe, I can pretty much throw on the piece and go!" - Georgie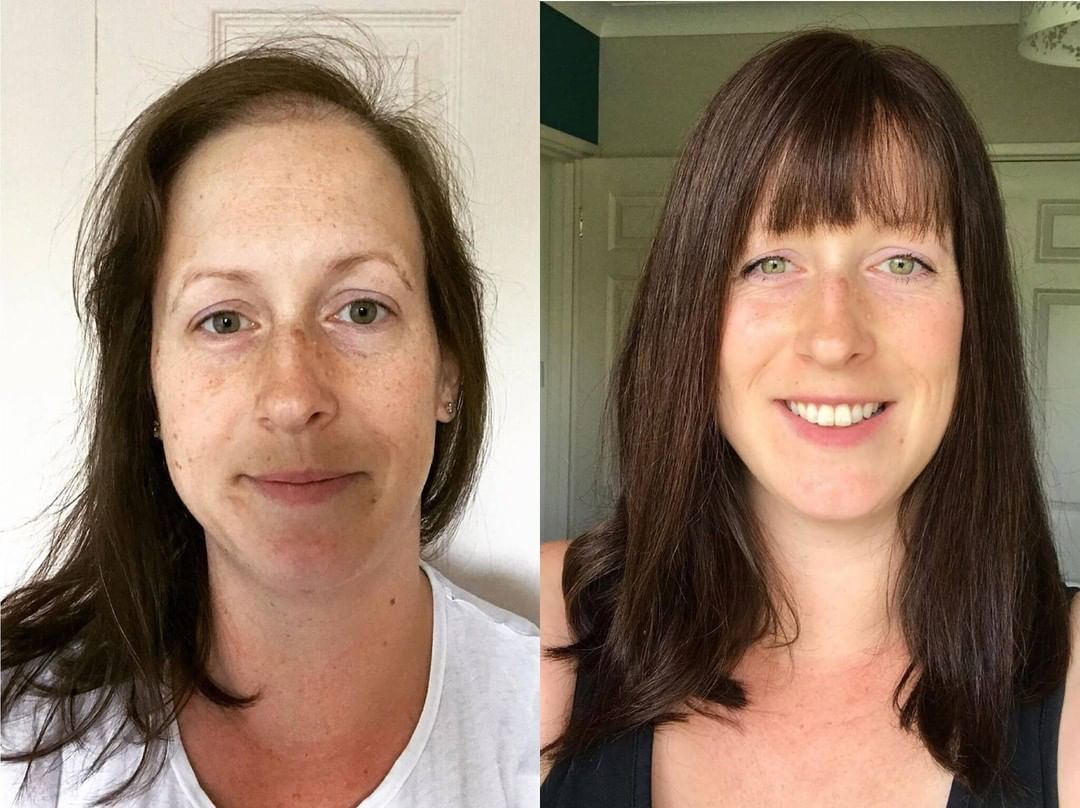 In this selfie, Georgie is wearing UniWigs Upgrade Claire Plus Hair Topper - SKU: PM1902 - Color: G-2 Dark Coffee Brown
Click Here to Get More Info about this Upgrade Claire Plus Hair Topper
"I've been getting a lot of hair fall again but I have started using my infra red lamp and a cbd spray discussed earlier in my feed on a daily basis and I've got a little patch of new growth as you can see here.
I share these pics and my growth journeys not because hair loss still upsets me but because I want it to encourage others to look at your hair failing out as something that can just happen and is VERY common now.
I try to share a little hope too. This is why I don't often do reviews of hair pieces because my fight is with the lack of support for women with mental health concerns following losing hair and the way the drs and insurance companies suggest it's just cosmetic and for us to deal with it. It isn't just cosmetic there is an underlying health reason we lose our hair and whilst common it's not normal. " - Michelle

In this selfie, Michelle was wearing the 8.5" * 9" Hope Mono Top Hair Topper - SKU : PM1706, Color: 01R-Almond Frost
Click Here to Get More Info about this Hope Mono Top Hair Topper
Read More:
REAL CUSTOMERS, REAL HAIR TOPPER REVIEWS - EPISODE 01
REAL CUSTOMERS, REAL HAIR TOPPER REVIEWS - EPISODE 02
REAL CUSTOMERS, REAL HAIR TOPPER REVIEWS – EPISODE 03
REAL CUSTOMERS, REAL HAIR TOPPER REVIEWS - EPISODE 04