Here at UniWigs.com, we have three different types of lace wig cap constructions, they are: the lace front cap, the full lace cap, and the glueless full lace cap.
1.Lace front wig cap
The Lace Front Wig cap construction is best known for its ability to create an invisible hairline. Lace Front Caps have lace in the front and traditional wefts in the back. In the front lace area, you can part your hair freely due to the hand-tied hair. For the weft area, we also add an elastic net inside of the cap which makes the wig comfortable and durable. Our lace front wig has clips and combs pre-sewn into the cap and an adjustable strap in the back which can be tightened by an inch. The lace, after all, is delicate, so be careful not to pull or stretch it.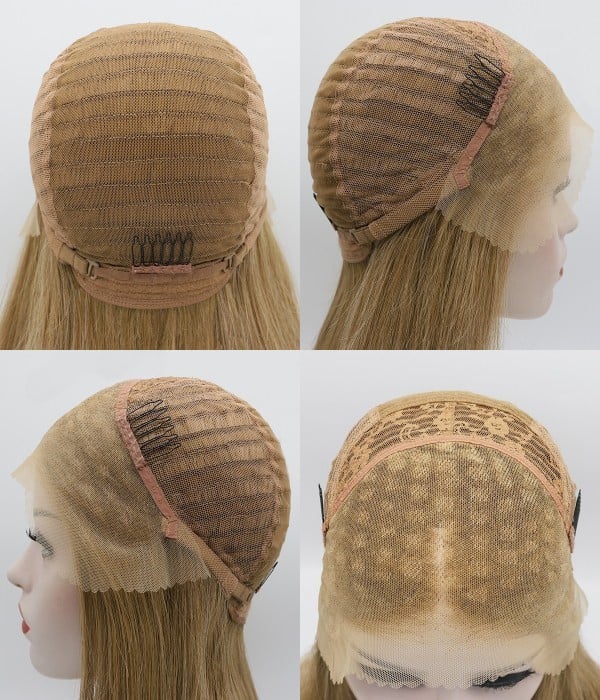 • Natural-looking lace front hairline
• Closed weft with elastic net inside of the cap
• Clips/Combs already sewn in
• Competitively less expensive
• Handled with care
2.Full lace wig cap
Full Lace Wigs are 100% hand-tied human hair wigs. Each hair is hand-tied onto a mesh base to create a natural hair growth appearance and provide a super soft fit. With a full lace wig, you can part the hair freely and achieve a natural hair movement, A full lace wig imitates most successfully the natural movement of real hair and can be worn in a variety of styles such as a high ponytail or updo. A full lace wig takes 40 hours of work to make, so are more costly. However, it is definitely a worthy investment considering these unique features.
• 100% Hand-tied
• Allows a free parting anywhere
• Natural hair movement
• Can be worn in a high ponytail or updo
• No clips and combs sewn in
3.Glueless lace wig cap
Glueless lace wigs don't need to be secured using glue. Glueless lace wigs are 100% hand-tied and have all the benefits of a full lace wig. A glueless lace wig has combs and clips already sewn into the cap, and an adjustable strap at the back which can be tightened by an inch. For beginners, a glueless lace wig is recommended.

• Glue free
• 100% Hand-tied
• Clips, combs pre-sewn
• An adjustable Strap
• Great for beginners
UNIWIGS LACE WIGS COLLECTION: https://www.uniwigs.com/40452-human-hair-lace-wigs
Further Reading:
WIGS 101: UNIWIGS FULL LACE CAP CONSTRUCTION FAQ
THINGS YOU SHOULD KNOW ABOUT WIG CAP CONSTRUCTION