THE BASE STRUCTURES YOU SHOULD KNOW - HAIR TOPPER - 101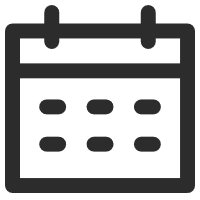 September 09, 2019
Hair Topper 101
Views: 2700
When shopping for a hair topper, one thing to keep in mind is that there is no one size fits all solution. Each topper is meticulously designed to offer coverage where you need it and to blend in with your existing hair, but there are different base options that different people prefer.
There are 3 main topper bases that we use on our toppers. There is mono, lace and silk.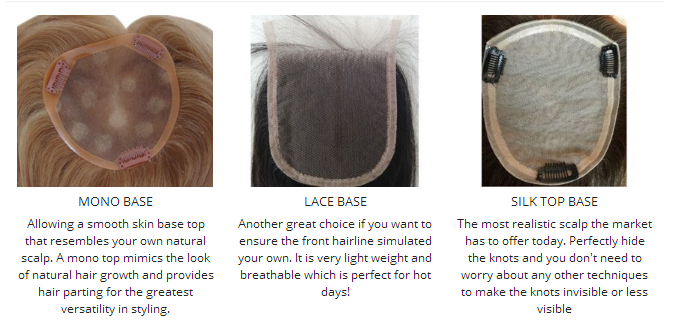 UniWigs Topper Base: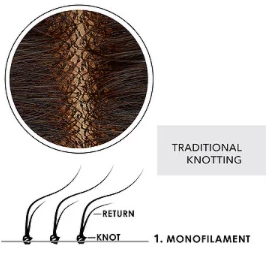 MONO TOPPER
Mono toppers generally have a double monofilament base, where there is an additional bottom monofilament layer which protects the knots. This feels softer on the head compared to if there was just one layer of monofilament. The hair strands are hand-tied and knotted individually into a sheer material. The hair is injected through the material and gives a supreme realistic scalp look, second only to the Silk base. Mono toppers are hand-tied so the hair can be parted and brushed in any direction and it will move just as natural hair moves.
SILK TOPPER
A silk top is the most realistic looking base available to date. This base is made with a layer of lace and a silk fabric which is skin colored to give a scalp-like appearance. The hair knots are concealed below the top silk layer. The hair is injected through the silk material which gives the illusion that the hair is actually growing out of the scalp.
1. The "diamond silk" bottom layer is smooth and comfortable against the scalp.
2. The "swiss silk" middle layer is the layer the knots are secured to.
3. The "floss silk" top layer is the layer that hides the knotting and gives the natural appearance.
LACE TOPPER
The Lace Base is considered as the most breathable one among these three different bases, due to its well-spaced and large pores of the lace material. Its breathability and light-weight feel means the lace base is ideal for summer or warmer weather. The lace base also has the advantage of perfectly mimicking the look of a natural hairline.
---
---
Writers Cooperation:
UniWigs are seeking for blog contributors who know and love hair. If you know alternative hair or hair related accessories, if you have great understanding of hair trends and fashion, if you are expert in hair care, if you have any experience with salons or celebrities, if you would like to share your experience to help people just like you make the right choice, now contact us at [email protected] to be a blog contributor. Let's discuss the details then.