How To Choose A Wig According To Your Face Shape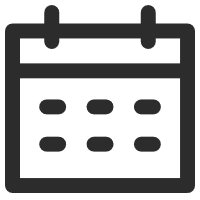 October 24, 2021
Human Hair Wigs 101
Views: 7788
As we all know, a person's fashion depends not only on her clothes but also on his proper hairstyle. If you want to look dazzling, it is very important to determine your face shape. When you want to purchase wigs online, it is difficult to know which style is flatter best for you. From the outside, everyone is different. Wigs can transform your image, so you can choose a younger and more on-trend look, or use them to change your style and experiment before the salon makes a permanent decision. When you wear a wig, self-confidence is the key, and you feel comfortable with your style, which can be reflected in the overall shape. Today, we will talk about what kind of wig is suitable for the face shape and will recommend some wigs for you.
Wigs style for OVAL Faces:
An oval face usually has a narrow chin and a slightly round hairline, and its length is about 1.5 times its width. The oval face is considered an ideal face because it is symmetrical and has no obvious features. If you have this face, then you are suitable for almost any wig, so the choice is yours! For oval faces, the most attractive wig style is to highlight its shape. You can consider keeping a long bob with bangs, or having long hair with layers so that you can increase the volume of your hair and make it look more attractive.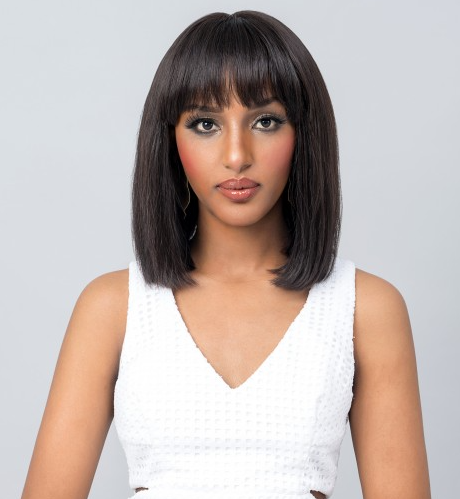 Wigs style for SQUARE Faces:
The square face is characterized by a wide and angular jaw, which is the same as the width of the forehead. As the outline and hairline of your chin are obvious, it is best to avoid straight hair and angular hairstyle, like BOB. More importantly, avoid straight styles that end at the jawline, because they overemphasize the angle of your face. Try to find a wig, increase the height at the top, elongate your symmetrical figure, and narrow both sides, thus creating an illusion of length. Softening your face is the key to make you look more attractive, so choose a layered or wavy hairstyle to break the strong edges and corners of your face. In addition, wigs with bangs are very suitable for square faces, but make sure you choose wigs with longer hair lengths to set off your face.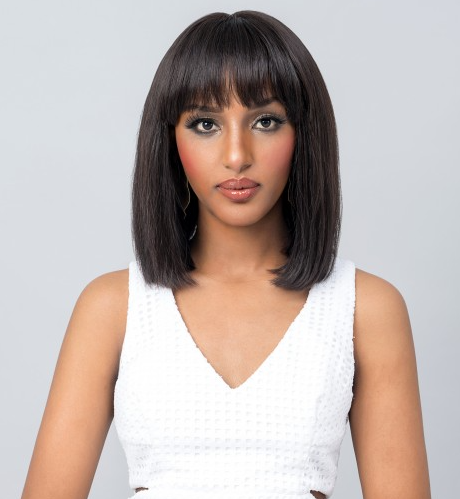 Wigs style for Round Faces:
A round face usually consists of a wide hairline and a circular form. Women with round faces are described as having relatively short and wide faces and plump faces below the cheekbones. The widest part of a round face is the position of cheeks and ears. For people with round faces, the best wig is to make the crown full and high and make the cheekbones flatter, thus lengthening your face. Wigs style with parting line is very nice because they help soften the roundness of cheeks. Avoid blunt cuts which round at the jawline, because they will reflect your face shape and make your chin look rounder. For people with round faces, long hair wigs are a good choice, which can make up for the rounded parts of cheeks and chin.
Wigs style for LONG Faces:
Long faces tend to have a narrow width, extended length, and making the chin pointed. Usually, the width of the forehead and chin is about a similar width, and both sides of the cheeks, especially both sides of the cheeks, are straight. Generally speaking, for a long face, the width should be increased instead of the height. A wig with a chin length is a good choice for people with long faces or a hairstyle with a length between chin and shoulder. Keeping the style of wig wavy and relaxing curly hair is an ideal way to increase the width and volume, which is needed to increase the balance of the face. Much shorter hair can also be used as a supplement to a long face, just make sure that the layers of the hair are short enough to increase the volume of the hair, and keep soft and curved edges instead of straight hair.
Wigs style for Heart Faces:
The typical features of the heart-shaped face are a wide forehead, high cheekbones, and narrow chin, which looks like an inverted triangle. This shape is very suitable for short hair, and the taper of the neck highlights your elf characteristics. For people with heart-shaped faces, beautiful wigs include long and slender bangs hanging down to the forehead. In addition, when the hair reaches the eyes, hairstyles with hair close to the head, including hairstyles with longer layers, can well shape this face shape. A wig with a layered face or BOB head is also suitable for a heart shape because it can keep the face in balance and reestablish symmetry. Try to avoid hairstyles that are too plump and too high on the top of your head, as this will overemphasize the narrow chin and make your face look out of proportion.
Wigs style for Diamond Faces:
The diamond face is beautiful and symmetrical. It narrows at the top, widens at the cheekbones, and then narrows again at the chin. If you have a diamond face, your cheekbones may be the widest part of your face.
With diamonds, you can easily show off or soften your angle. If you want your chin line to look wider, short Bob is a good choice. The medium-long layer, whether straight, wavy, or wavy, looks great on the diamond face.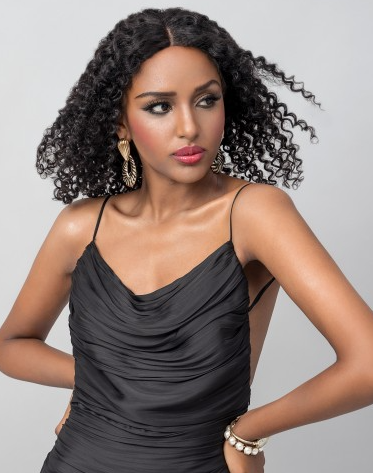 Wigs style for Pear Faces:
The pear-shaped face has a narrow forehead and the widest chin. The mandibular line may be slender, square, or more round.
The key is not to highlight the narrowness of the crown, but to increase the width of the top and make the wide chin contour flatter. The ideal hairstyles and wigs for pear-shaped faces are long side-swept bangs or blunt bangs, which seem to widen the top of the head. The longer layered style is also great, and the texture is the key.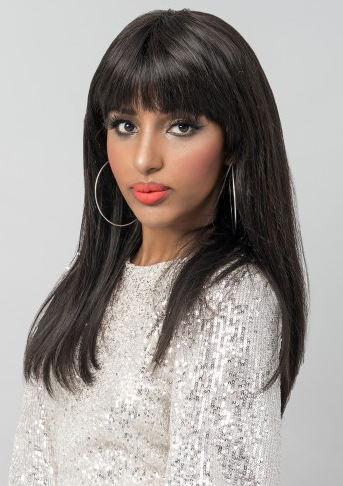 Once you have successfully determined your face shape and are satisfied with the wig style you have chosen, you can continue to try a wider range of styles. However, try not to feel compelled to adhere to this guideline, because choosing a wig is to make any style of wig feel comfortable and happy, after all, you are the one who wears it! Browse our exquisite wig series to find the style that suits you, or contact us to get useful wig suggestions from our dedicated and experienced (and very cute) team.
So, girls, don't hesitate anymore, choose wigs that suit your face. Come to Uniwigs to discover more human hair wigs that fit your needs. Our discount activities are continuing. Come and buy wigs as soon as possible.
---
---
Writers Cooperation:
UniWigs are seeking for blog contributors who know and love hair. If you know alternative hair or hair related accessories, if you have great understanding of hair trends and fashion, if you are expert in hair care, if you have any experience with salons or celebrities, if you would like to share your experience to help people just like you make the right choice, now contact us at [email protected] to be a blog contributor. Let's discuss the details then.