Everything You Need to Know Before Ordering A Hair Topper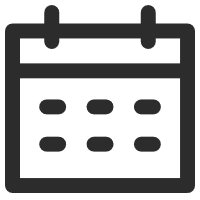 November 23, 2022
Hair Topper 101
Views: 957
Losing your hair can be depressing. With so many solutions out there, you may feel confused about where to start. If you want to add hair volume or want to cover the sparse area of the top or crown of your head, a hair topper would be a good option for you. Here is everything you need to know before ordering a topper.
1#. What is a hair topper?
Most people know what extensions are, but toppers - not so much. We'd like to think of toppers as a hair extension for the top of your head. Toppers are natural-looking hair pieces that you can clip or secure on your head to blend in with your own hair. Toppers are good for covering one targeted area of the head. They are smaller and lighter than wigs, and you don't have to wear a wig cap or hide your existing hair when you wear them.
At UniWigs, we offer a range of different base sizes. The base size you need to order will be determined by the stage of hair loss you are experiencing.
2#. Who is a topper right for?
UniWigs hair toppers are for anyone who wants fuller hair or is experiencing hair loss! A hair topper can be an easy and perfect solution for ladies suffering from hair loss or thinning hair. But this doesn't mean toppers are just for women with hair loss!
We find so many women just want to add more volume for that supermodel look without having to style their own hair to achieve that!
3#. Who is a topper not right for?
A hair topper is not a good option for people with very sensitive scalps, fragile hair, or many bald spots, as the existing biological hair cannot hold the clips.
4#. How much does a topper cost?
We have human hair toppers and synthetic hair toppers. UniWigs human hair toppers start at around $300 and go up to around $1300, depending on the base size, length, and color.
5#. How can I choose the right hair topper?
UniWigs has a variety of hair toppers to help customers who are suffering from different stages
of hair loss. We understand you might feel confused about how to choose the right one. Don't worry. We will show you now.
Firstly, you'll need to choose the right base size according to the stage of hair loss that you're experiencing.
For people who want fuller hair, thinning part, or a diffused pattern at the front hairline, our small base size like 5.5" X 5.5" Claire, 5" X 2.75" Amelia, 6" X 6" Amber topper would be your ideal option. (Please show several small hair toppers during the live stream.)
If you are experiencing the progressive stage of hair loss and the thinning top is noticeable, our medium base size toppers like 6" X 6", 6.5" X 6.5" base size would be the right one for you. We have a 6.5" x 6.5" Upgrade Claire Plus topper with halo wire. So there are two versions of this topper, one is without bangs and the other one comes with a front bang. A hair topper with bangs is perfect for people who are suffering from a receding hairline or if you have a really thin front and cannot hold the front clips.
Hair loss at the advanced stage is typically very noticeable and completely bald areas of the scalp are visible. Our hair toppers with large base sizes will work to completely conceal your hair loss. Here are some of our best sellers to recommend: 7" X 8" Courtney & 8.5" X 9" Melanie, 7.5" X 7.5" Aura skin topper.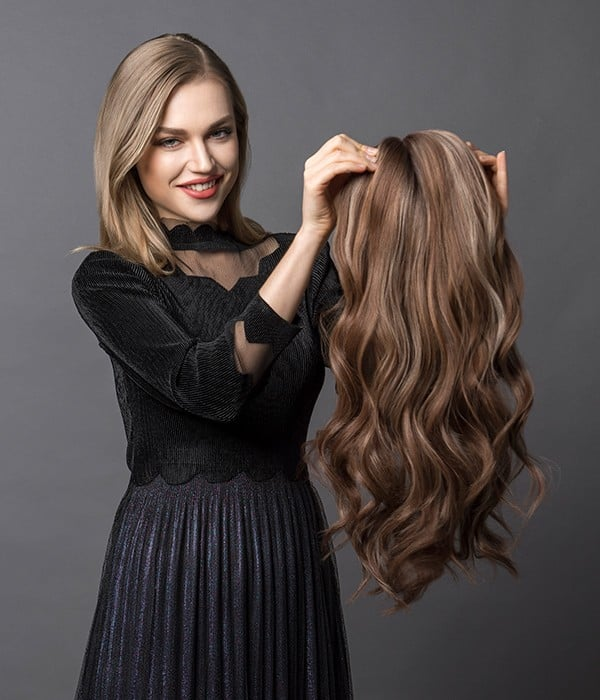 Then, we need to choose the right color.
Finding the correct color can be a challenge, especially for a hair topper beginner. Remember toppers need to blend with your biological hair, so we would suggest you choose the topper color as similar as possible to your bio hair. We've got a couple of tips that could work to get your color as closely matched as possible, but remember when you're ordering online, it's never going to be a hundred percent guarantee that you will get the exact color.
Option 1: Check the product photos on the website.
Most of our toppers come in a range of color options; you will need to choose the one that is the most similar to your biological hair. If there is not an exact match, then we would suggest you go with the lighter one, in this way, you could ask your hair stylist to darker the topper so that it will match yours perfectly.
Option 2: Send your hair photos.
It's best to take photos inside, next to a big window. We would need a photo of the front, side, and back of your hair, and also the top of your hair, just so we can determine whether you need some darker rooting in your hair or if your hair is all one solid color.
Option 3: Find your hair color in our color system.
You can also order the hair sample or color rings.
Option 4: Send us your hair sample.
If you cannot find your hair color in our hair system or on the color ring, then send us a hair sample, and let us choose the best possible color match for you. This is the very best way to ensure that you will receive a color you are happy with. Our experienced hair designer would personally help you choose the perfect color. We will contact you back upon receiving your hair sample.
Finally, you will need to choose the right hair length & Texture & Density.
Use a measuring tape. Measure from the center part to the end of your hair. You can just order the same hair length as your bio hair. You might need to trim it to have the perfect match.
Most of UniWigs hair toppers come in 130% and this is just the usual and common density like most of us. We also have several low-density hair toppers, like Aura, and Kaylee.
---
---
Writers Cooperation:
UniWigs are seeking for blog contributors who know and love hair. If you know alternative hair or hair related accessories, if you have great understanding of hair trends and fashion, if you are expert in hair care, if you have any experience with salons or celebrities, if you would like to share your experience to help people just like you make the right choice, now contact us at [email protected] to be a blog contributor. Let's discuss the details then.