Abosulutely Stunning Halloween Costume Ideas in 2021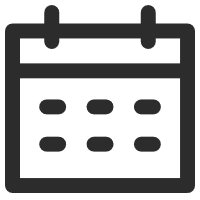 November 01, 2021
Hair Extensions 101
Views: 814
Halloween is approaching faster than you think, and you know what that means: it's time to start brainstorming costume ideas. Here at UniWigs, we're huge fans of Halloween, but we also recognize that while some people go all out, others choose to keep things a little more low-key. Now, if you go to social media or search google, you could find that people will express their Halloween ideas in different ways, while cosmetics is obviously crucial for this event, or you can also ensure that your hair is in tip-top shape if you truly want to pull off a costume, shooting with lots of pumpkins, or decorate with some scary things in the yard.
There's no shortage of Halloween hair inspiration, whether you're dressing up as a character or just want to do something cute and festive for the holiday. Now, you don't have to spend hours scouring the internet for ideas; we've simply categorized the ideas from Instagram to get you started, We've also found hairstyles from Pinterest, Snapchat filter costumes, googled topics from google and everything in between.
Continue reading to view the most popular Halloween hair ideas.
Hair colors
Your temporary hair dye might not be so temporary after all. This occurs frequently in spooky season.
Image from Instagram
Highlights
It's super fun to create a highlighted hair color, and it's one of the few days of the year when everyone is having a good time. You can dye some strands of your hair in some hair colors you love. If you don't want to hurt any strand of your hair, just wear a few pieces of UniWigs single pieces to create the look of highlights.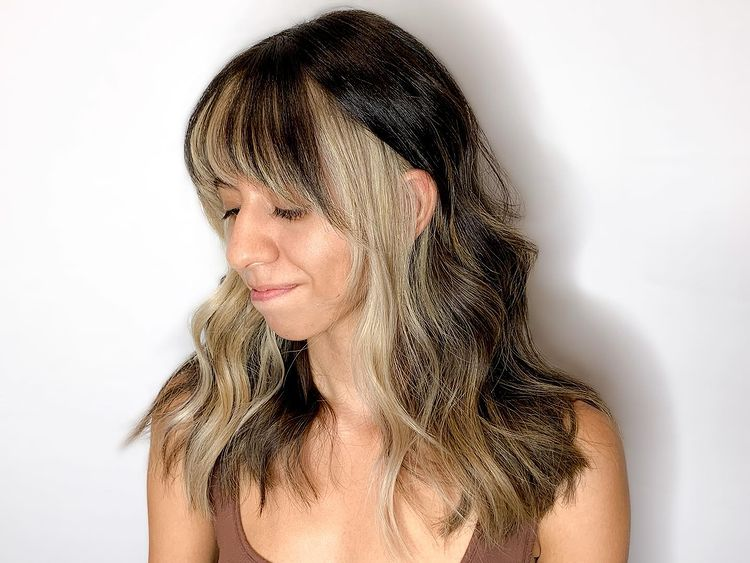 Image from Instagram
Trending colors-peekaboo
"Let's play a spooky peek-a-boo game! Enjoy this cute Halloween song with our popular peekaboo cat!..." Listen and sing the song is joying. Have fun with this hair color. Choose a natural tone if you don't want yours to stand out too much. You can choose from a variety of hair colors, including blonde, brown, and anything in between. Or you can DIY with UniWigs colorful pieces without any damaging or dying your own hair. 
Image from Instagram
Orange
It's no doubt that orange or green is the representative hair color for Halloween. If you have never tried these hair color, you should take this opportunity to have a change. Whatever you have your hair in highlighted or chuncky highlights, or even large part hair color transformation temporary, you won't regret to have it during this happy time.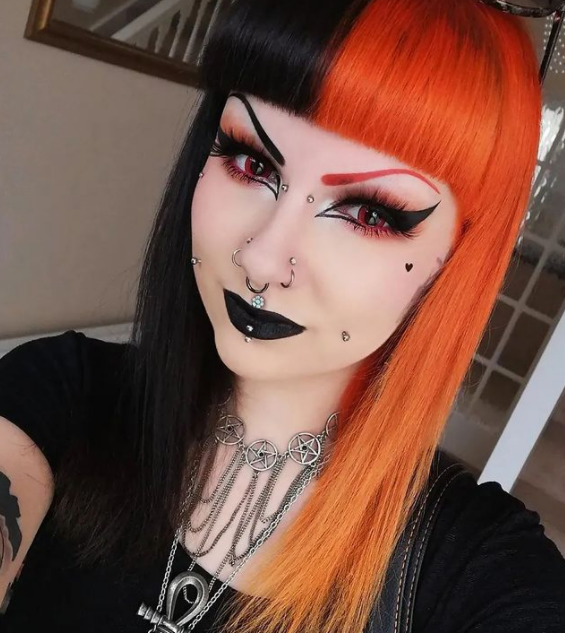 Image from Instagram
Half half
Rock your Halloween parties or events with this pretty hair color. You can choose your inspired hair colors. When it comes to Halloween, make the most of your hair color by incorporating it into your costume. These outfits will win you the award for best costume. We noticed lots of young girls will choose a wig instead of dying their hair.
Hair styles
We wish to have a good memory with the happy time, creating a unique hairstyle is willing to do by lots of people.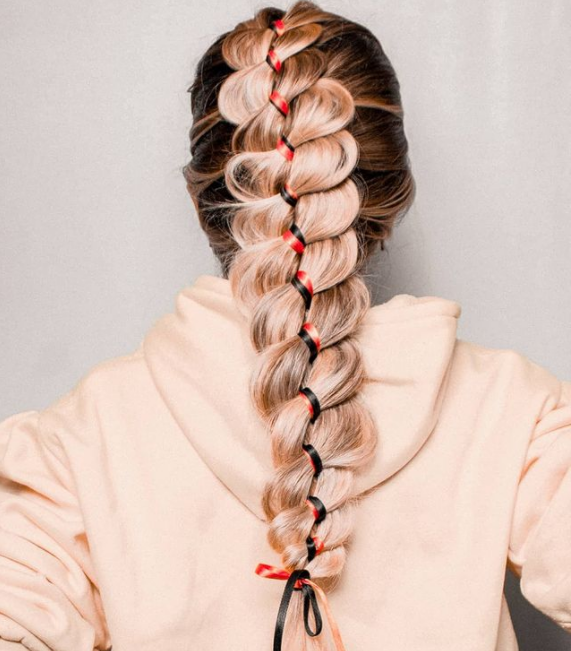 Image from Instagram
Braided hairstyles
Making a crown braid or braiding many parts of your hair and then pinning the braids up is the best way to get in the Halloween. You can be dressed up in galaxy or space buns for a quick costume. Some people only use the crown of their hair in these two high buns, while others use their entire head, divided down the middle. Make a spider shape of braids will look good.
Image from Instagram
Decorate with accessories
There are so many DIY hair accessories for Halloween. Purchase those cute little things to pin with your hairstyle. To make the look super authentic, look over the Halloween hairstyle tutorials for kids, girls and mature people. Together with a handful of mamas to give your spooky cute ideas on how to style your hair with Halloween hair accessories. Stay in the room with your besties to create the extraordinary hairstyles...
Image from Instagram
Make up/cosmetic
It's dispensable to do makeup in Halloween. Makeup and cosmetic items are fantastic that enable you explore your different sides, and Halloween allows you to be anyone you want to be. Whether you're dressing up as a witch, a rock star, or a superhero, Halloween allows you to experiment and try out new styles, such as black lipstick or fortune teller-inspired false eyelashes. You also don't have to worry about ruining your sheets with shimmering eye colors since we've included pumpkin-themed bubbles to clean up the mess and body butter produced by a real-life witch to moisturize skin in our selection of Halloween beauty goods.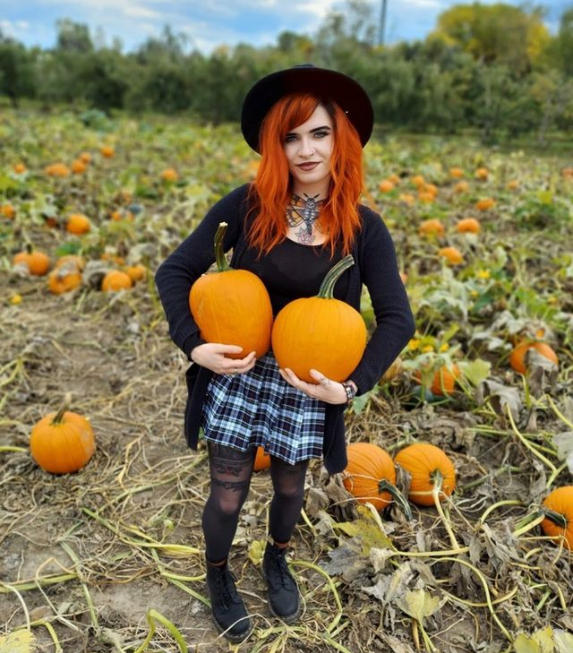 Image from Instagram
Shooting with pumpkin
It's necessary to DIY pumpkins with family members, or go to the pumpkin field. That's full of so much fun. We will said:" Autumn is a beautiful time of year to shoot since the leaves on the trees turn vibrant hues and fall in abstract patterns. Rake the leaves into piles for a fun family shot with your kids jumping into piles of leaves and tossing fistfuls of crunched up colorful leaves into the air." Photographs of your family enjoying the season can also be taken at local farm stands and pumpkin patches. Take close-ups of the enormous and little pumpkins, as well as the curiously shaped gourds and vibrant Indian corn. Look for geometric shapes in hay bales stacked high and corn stalk mazes.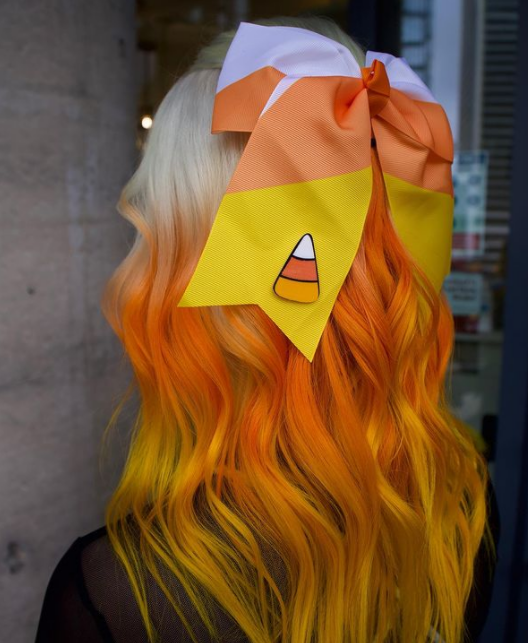 Image from Instagram
Halloween itself is a wonderful day for joying. It's a great opportunity for you to take time with your kids in costume, to chronicle their growth and changing "favorite" costume. And, if they're wearing a scary costume such as a ghoulish monster, have them make a scary face and do a fun hairstyle for the day—keeping in character.
If you take you or your kids Trick or Treating in a group, remember to purchase all things in advance. Don't forget to use UniWigs hair extensions to challenge your new Halloween look.
---
---
Writers Cooperation:
UniWigs are seeking for blog contributors who know and love hair. If you know alternative hair or hair related accessories, if you have great understanding of hair trends and fashion, if you are expert in hair care, if you have any experience with salons or celebrities, if you would like to share your experience to help people just like you make the right choice, now contact us at [email protected] to be a blog contributor. Let's discuss the details then.