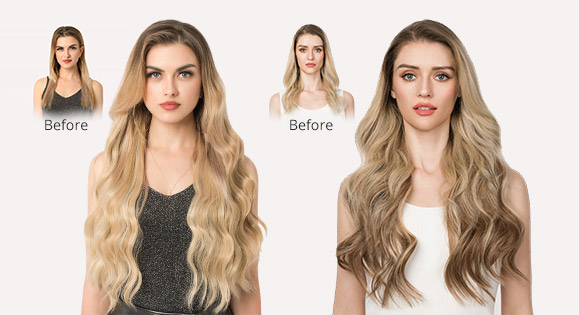 Clip In Hair Extensions
Clip in hair extensions are available for thin, medium and thick hair. Super thick sets are designed for extra hair volume inquiries. Multiple lengths, colors are offered to gain your confidence with glamorous hair.
Hair extensions Q&A
How to choose clip in hair extensions?

All UniWigs hair extensions are made of the same high quality grade remy human hair and sold in a full head set, so you will only need one box to complete your transformation.

The only difference between each set is the actual weight of the set. UniWigs offers six different weights: 140g, 180g, 200g, 210g, 240g, 260g. Read more >>

| | Length | Grams | Weft Pieces | SKU |
| --- | --- | --- | --- | --- |
| Thin hair | 16" | 140g | 7 pieces | EC1803 |
| Regular hair | 18" | 180g | 5 pieces | EC1211 |
| | 20" | 200g | 10 pieces | EC1904 |
| Thick hair | 18" | 210g | 7 pieces | EC2112 |
| | 22" | 240g | 10 pieces | EC2113 |
| | 24" | 260g | 10 pieces | EC2114 |

Care Tips for synthetic products

1. Comb the hair with a wide-tooth comb while it's dry to remove any big knots.
2. Thoroughly rinse hair with lukewarm water. Avoid rubbing the hair when rinsing it, since this may cause it to tangle.
3. To cleanse the hair, use a sulfate-free shampoo and finger comb it through from roots to ends.
4. If you have a sewn-in hairstyle, avoid putting too much shampoo near your roots. It will be difficult to rinse fully, and the mixture sitting on your scalp could cause irritation.
5. Thoroughly rinse. Again, reduce handling to a bare minimum to keep things running smoothly.
6. Use a moisturizing and conditioning product to help smooth and moisturise your hair. The oils in the formula will give the hair a natural-looking sheen.
7. While the hair is saturated with water, use a wide-tooth comb to detangle, starting at the bottom of your hair and working up to the roots. This method helps keep tangles.
8. After the hair is tangle free, rinse it thoroughly with lukewarm water to remove any excess product.
9. Slightly Squeeze (rather than wringing) the water out of your hair.
10. Synthetic hair does not require styling products because it will revert to its natural state. Unless it's a blow-dryer-friendly version, it'll have to be air-dried.

How to choose the color

So, look around all the colors on our website, you can't find your hair color. Well, don't worry, UniWigs's human hair color can be dyed, check how to dye, However, you just want to save your time and money, we also offer a custom color.

How to custom?

You can send us email : [email protected] Take some of your selfies recently. All photos should be taken under natural sunlight without direct sunlight or filters.

Let all your hair done, and take the photos in several angles: Front, left side, right side, back, top and bottom.

All these to make sure that your hair is totally the same and we can recommend or do the same hair color.
Care Tips for human hair extensions

How to brush, wash and store your human hair extensions? Read here>>

How to blend with halo extension?

We get asked all the time how do I blend my short thick hair with UniWigs halo shaped hair extension, how to get it hidden, how to achieve my daydream hair, how to blend it really nicely? There are two tips for blending: do a point cut with your hair, and trim layers and do curls with the halo hair extension. Read More>>