WHICH KIND OF HAIR TOPPER SHOULD BE YOUR FIRST CHOICE FOR A HOT DAY?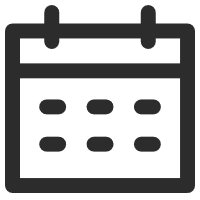 September 09, 2020
Hair Topper 101
Views: 2175
Many people prefer to wear a hair topper over wearing a wig due to a number of factors. It is not just about the comfort that a hair topper offers, but also the fact that a good portion of your own hair is still visible - which goes a long way to boost your confidence when wearing it. Hot weather and scorching temperatures are not something that most people enjoy. We all know how uncomfortable hot weather can be - especially stepping outside into the sun on a particularly hot day. The thought of wearing a hairpiece when it is so hot outside can be daunting. However, hot weather shouldn't mean the activities you have planned for the day should be canceled. Far from it, you have to be there at the event and still look your best.
Of course, you know that the idea of looking your best should not be traded with your own comfort. The real question now is what kind of hair topper should you go for during summer, so you don't get too hot. It is important to understand the different types of hair toppers to successfully identify which one to wear according to the weather and your plans on any given day.
There are different types of hair toppers to know of. A hair topper can have synthetic hair or human hair. Human hair toppers are made from natural human hair and have all the same features of biological human hair. On the other hand, synthetic hair toppers are made from man-made fibers. Synthetic hair toppers are more affordable than human hair toppers, and they can maintain their style.
Hair toppers are also categorized according to their base type: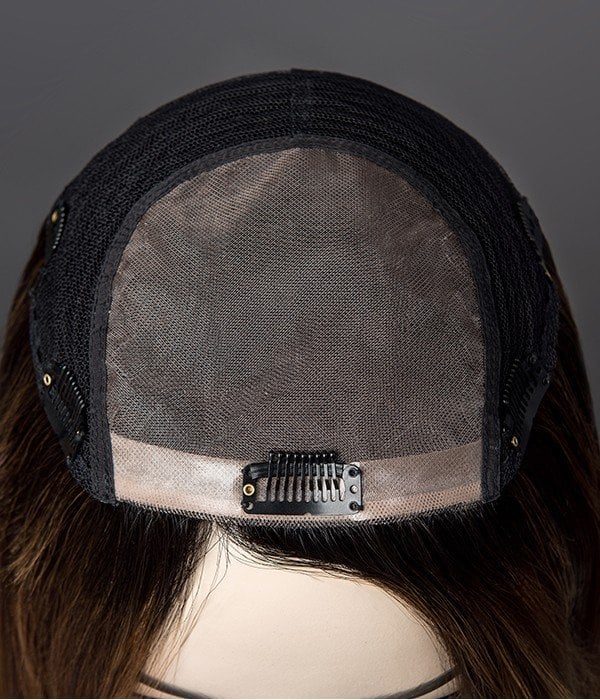 The monofilament hair topper
Monofilament hair toppers look extremely natural as the roots mimic real growing hair. The hairs are individually tied to the fine monofilament mesh material giving the appearance of natural hair. Mono hair toppers are very durable and have a long lifespan. They also allow for styling versatility and are comfortable on the scalp. Note that the monofilament base is not as breathable as the lace base.
Silk base hair topper
For silk based hair toppers, a piece of silk fabric is used together with a layer of a lace that lends it the credibility of being extremely natural-looking. The silk-base hair topper is the most realistic topper base on today's market. The silk base expertly hides all hair knots under the silk fabric. This topper gives the appearance of a fake scalp that perfectly resembles a real scalp, so you can wear it all day without any doubt that your topper looks noticeable. The only potential downside of this base is that it can be difficult for the hair to lie flat due to the number of layers used in the base part, which also affects its breathability.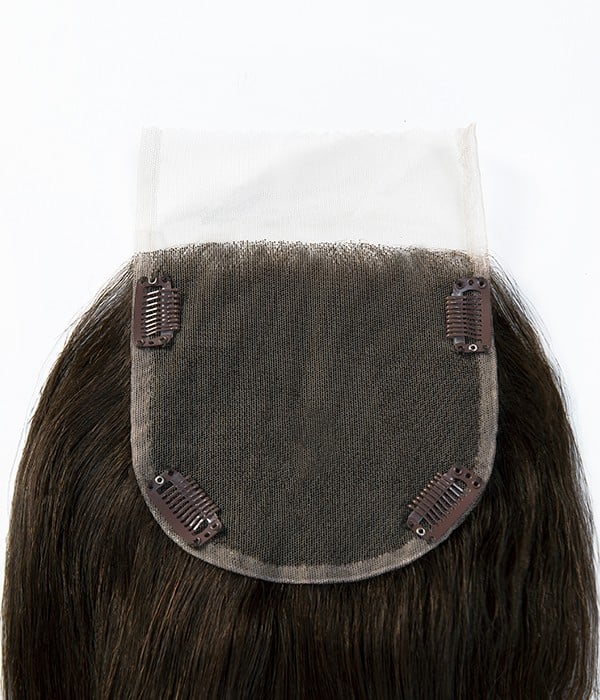 Lace base hair topper
The lace base is known for being thin and breathable. With a lace base, the hairs are individually tied to the lace material, giving it a natural look. The lace lays flat on the head and provides the most natural hairline of any topper base. This is why many toppers and wigs will have a 'lace front' to give the natural hairline. The lace base is lightweight and allows the scalp to breathe.
Naturally, you may look at these three hair topper types and wonder which one to go for on a hot day. First, you may need to consider which hair type to go for, the human hair topper for the synthetic hair topper. Synthetic hair toppers are more lightweight, as synthetic fiber weighs less than human hair and may give you comfort on a hot day. However, most synthetic bases do not come in many base types, so human hair topper may be preferable.
For the base type, a lace base hair topper is best for hot weather. The following reasons here explain why a lace base is perfect for a hot day.
• Lace bases are lightweight. With a lace topper on your head, you may even forget that you are wearing a hairpiece. The weather is hot, so no need to wear thick hair topper.
• Lace bases are natural-looking. The hair strands are tied into the base one after the other making it natural, just like your hairline. You don't need to be conscious of whether other people can notice that you are wearing a hairpiece or not because they cannot see anything. The topper gives the onlookers the appearance of natural hair and a natural hairline.
• Lace bases are breathable. This is the biggest reason that you should go for a lace topper on a hot day. The base is made from only one layer of lace material, which has well-spaced pores throughout. The lace base type allows air to pass through the material giving more comfort to the wearer. The lace base is the most breathable out of all the other base types. Wear a lace base hair topper on a hot day and thank us later.
You now know all the features to look out for when choosing a hair topper to wear in the hot weather. Each hair topper base has different benefits, but we recommend choosing a lace base topper for summer due to the weightlessness and breathability that it offers. With this knowledge, you can rock your hair topper anytime, the weather regardless.
---
---
Writers Cooperation:
UniWigs are seeking for blog contributors who know and love hair. If you know alternative hair or hair related accessories, if you have great understanding of hair trends and fashion, if you are expert in hair care, if you have any experience with salons or celebrities, if you would like to share your experience to help people just like you make the right choice, now contact us at [email protected] to be a blog contributor. Let's discuss the details then.