Synthetic Wigs Perfect to Wear in Summer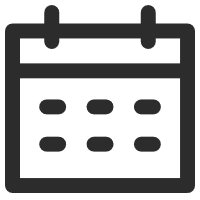 June 05, 2023
Synthetic Wigs 101
Views: 374
Summer is the season for fun, sun, and outdoor adventures. The oppressive heat, however, presents a problem for wig wearers. Synthetic wigs are a fantastic way to keep your look maintained this summer without sacrificing comfort. This article will discuss several categories of summer-appropriate synthetic wigs. Let's delve in and find out what makes these wigs so great for avoiding heat stroke this summer.
l  Short Wigs: Embrace the Breezy Charm
Nordic Ice l Icy Blonde Ombre Blue Short Layered Synthetic Wig
When it comes to summer, shorter hairstyles are popular for a reason. Short synthetic wigs offer several advantages during the warmer months. Here's why:
a. Breathability: Short wigs allow more airflow to reach your scalp, minimizing discomfort caused by excessive sweating. This breathability prevents moisture build-up and keeps you feeling fresh throughout the day.
Blaze | Copper Red Wavy Synthetic Lace Front Wig
b. Lightweight: Short wigs are typically lighter in weight compared to their longer counterparts. The reduced weight ensures that you won't feel weighed down by your wig, making it easier to enjoy outdoor activities without any hassle.
c. Low Maintenance: Short wigs require minimal styling and maintenance. With less hair to manage, you'll spend less time worrying about styling and more time enjoying the summer fun.
Mathilda | Black Short Bob Synthetic Lace Front Wig with Bangs
d. Versatility: Short wigs offer versatility and can be easily styled to match your desired look. Whether you prefer a sleek bob, tousled pixie, or layered cut, short synthetic wigs provide endless options to express your personal style.
l  Pink Wigs: Add a Splash of Vibrant Color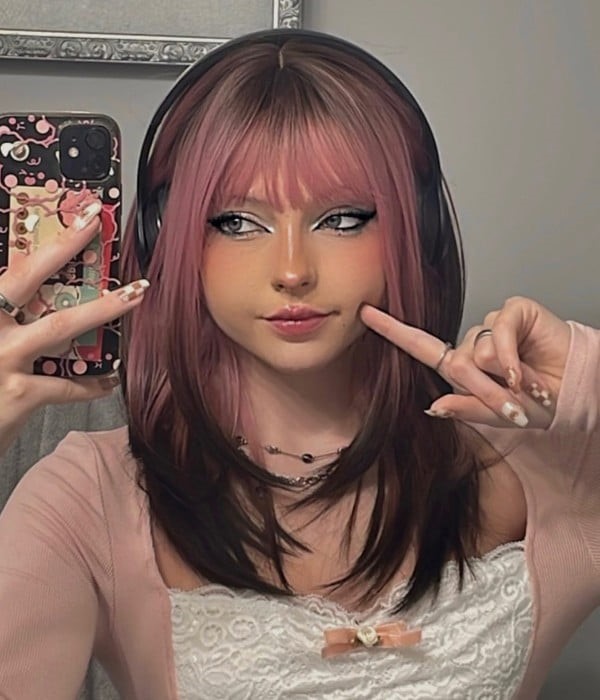 Rosewood l Dust Pink Ombre Brown Mid-Length Synthetic Wig
Summer is all about embracing vibrant colors and adding a playful touch to your look. Pink synthetic wigs offer a delightful option for those seeking a pop of color during the sunny season. Here are the reasons why pink wigs are perfect for summer:
a. Fun and Flirty: Pink wigs instantly infuse your style with a sense of playfulness and femininity. They are a great way to experiment with your appearance and step out of your comfort zone.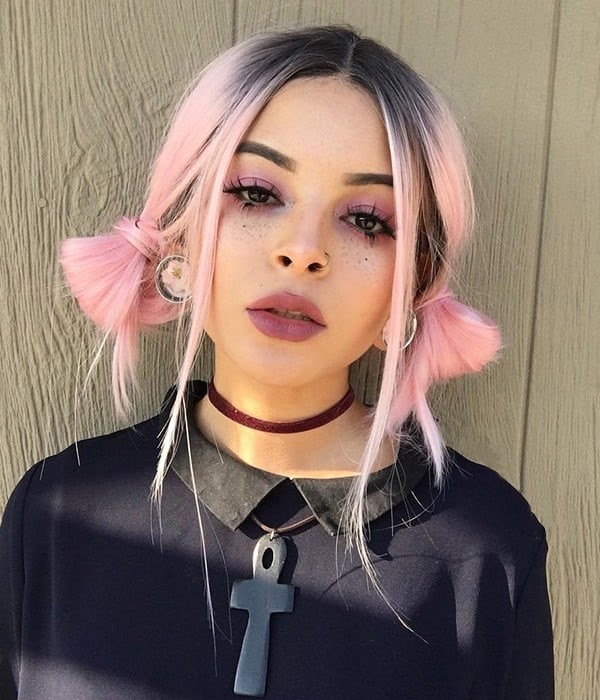 Tonya | Pastel Pink Shoulder Length Synthetic Lace Front Wig
b. Cooling Effect: Lighter-colored wigs, such as pastel pinks, reflect sunlight and heat better than darker shades. This cooling effect can help you feel more comfortable in the summer heat while maintaining your stylish look.
c. Complementary to Summer Fashion: Pink wigs effortlessly complement summer fashion trends. Whether you're donning a breezy sundress, a vibrant bikini, or casual beachwear, a pink wig can enhance your overall ensemble and create a harmonious look.
Coral Doll | Pastel Pink Long Loose Curl Synthetic Lace Front Wig
d. Confidence Boost: Wearing a pink wig can boost your confidence and make you feel like a summer diva. The attention-grabbing color draws positive attention, empowering you to embrace your individuality and enjoy the spotlight.
l  Rainbow-Colored Wigs: Make a Bold Summer Statement
Desert Sunset | Red Orange Yellow Green Ombre Long Wavy Synthetic Lace Front Wig
Rainbow-colored wigs are ideal in summer time for people who want to make a statement with their appearance. Here's why they stand out:
a. Express Your Creativity: Rainbow-colored wigs allow you to unleash your creativity and showcase your unique style. With a range of vibrant shades to choose from, you can create a stunning and attention-grabbing appearance.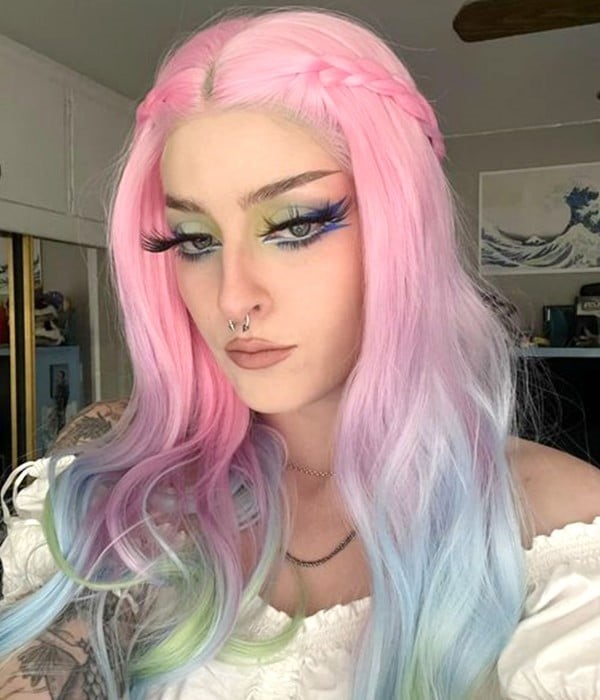 Pastel Paradise | Pink Purple Blue Green Ombre Long Wavy Synthetic Lace Front Wig
b. Summer Festivals and Events: Summer is a time for outdoor festivals, parties, and celebrations. A rainbow-colored wig adds a touch of whimsy and festivity to your look, making you stand out from the crowd and radiating summer joy.
c. Embrace Positive Vibes: The vibrant colors of a rainbow wig symbolize positivity, happiness, and self-expression. Wearing one can uplift your spirits, spreading joy to those around you and creating a lively and energetic atmosphere.
d. Instagram-Worthy Photos: Summer adventures often involve capturing memorable moments. A rainbow-colored wig instantly makes your photos pop, creating stunning visuals and leaving you with captivating memories to cherish.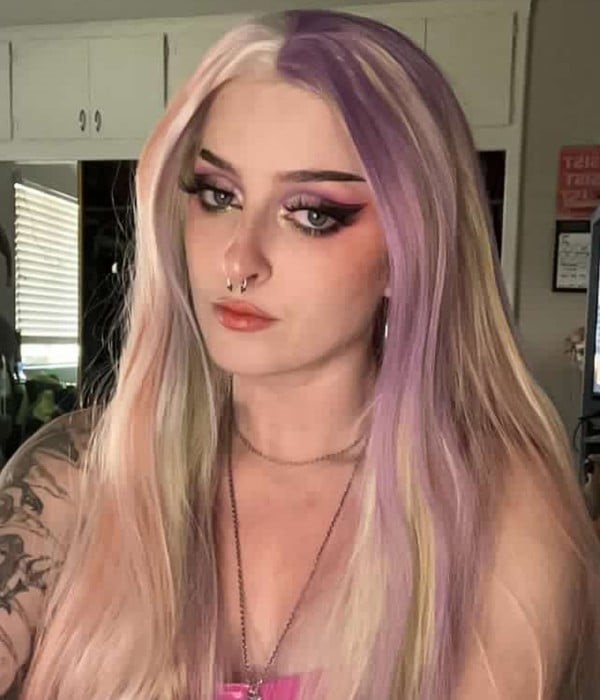 Jawbreaker l Colorful Long Straight Lace Front Wig
When it comes to summer, synthetic wigs are a game-changer. Short wigs provide breathability, lightweight comfort, and versatility, making them ideal for the warmer months. Meanwhile, pink wigs add a touch of fun, cooling effect, and complement summer fashion effortlessly. Whether you're lounging by the pool, attending summer parties, or simply exploring new adventures, synthetic wigs give you the freedom to express your style without compromising on comfort. Embrace the joy of summer with these fabulous wigs and stay cool, confident, and stylish throughout the season!
---
---
Writers Cooperation:
UniWigs are seeking for blog contributors who know and love hair. If you know alternative hair or hair related accessories, if you have great understanding of hair trends and fashion, if you are expert in hair care, if you have any experience with salons or celebrities, if you would like to share your experience to help people just like you make the right choice, now contact us at [email protected] to be a blog contributor. Let's discuss the details then.