Something You Need To Know About Ponytail Extension Human Hair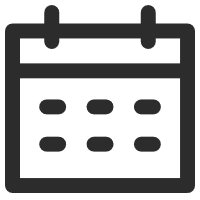 September 24, 2021
Hair Extensions 101
Views: 2535
Summer is here. You require a dynamic hairdo, yet your hair is thin. However, the hot heat prevents you from wearing a full set of Human Hair Extensions!!!
Wrap around ponytail human hair is the greatest option. Why? Let's try to figure out why. Girls, especially energetic and muscular girls, aren't strangers to ponytail hairstyles. It's a simple and popular hairdo. Many girls like this hairstyle since it is simple to put together and can be done without the assistance of others. Ponytail hairstyles can also make you look younger and more assured. If it's scorching summer, I'm confident you won't be able to ignore the ponytail hairstyle. You may create a fantastic ponytail hairstyle by tying your hair neatly at the top of the head or near the top of the head. You don't have to be concerned about sweating or working in hot weather if you don't feel comfortable because the ponytail hairstyle keeps you cool and comfy.
Do you agree that a female with thick, long hair is a good candidate for a ponytail hairstyle? However, not every girl has this type of hair.
Alopecia (or patchy hair loss) is a frequent dermatological condition that affects the scalp region, often affecting the general well-being of a patient, and many ladies do not like wearing a full human hair extension, especially on hot summer days. Wearing hair extensions irritates them and makes them feel bad. A clip-in ponytail made of human hair is an effective solution. UniWigs Jordan human hair ponytail extension is back in style as an easy, quick repair that can range from untidy to ultra-sleek. It's made of human hair, and it's easy to put on and take off thanks to the velcro and a small hidden comb. To conceal the joint, you can use a ribbon or any other accessory.
This human hair ponytail can be fashionable and molded in any way you choose, such as a bun or braid. It suits a fuller ponytail than a bun or braid. Many well-known musicians and actors, including Ariana Grande and Jennifer Lopez, frequently wear clip-in ponytails human hair to attend major events or perform on stage.
This ponytail seems very real because it is made of human hair. Clip-on ponytail extensions are ideal for all hair types and may be worn casually during the day to make you seem charming as well as sexy, beautiful, and sophisticated.
If you observe the results of the clip in ponytail human hair, you can easily obtain them and transform yourself into a celebrity. On the other hand, you might use this to cover your thinning hair by wearing a thick long ponytail.
How to use Jordan human hair ponytail extension?
Firstly, put your hair in a ponytail. Then, stick the built-in comb in under the elastic band of your ponytail. After that, attach the velcro band. Finally, wrap the hair strand around the fastener on the ponytail and secure it with a bobby pin. All the steps aren't difficult to complete and don't need a hairstylist in this case.Make that the clip-in ponytail human hair extension is securely linked to your natural hair. This design allows you to move freely without worrying about your ponytail falling out.
Ponytail human hair is real hair that has been carefully created for hair pieces, as the name implies. Hair can be trimmed, curled, straightened, and styled in a variety of ways.
Hair Care For Human Hair Ponytails
Your actual hair extensions can be cut and styled with low heat to achieve the desired length. Heat styling should be done either before or after your natural hair piece is inserted. Next, rinse the hair in lukewarm water, do not rub. Then, rinse again. Air-dry naturally.
Jordynn Wrap Around Human Hair Ponytail Extension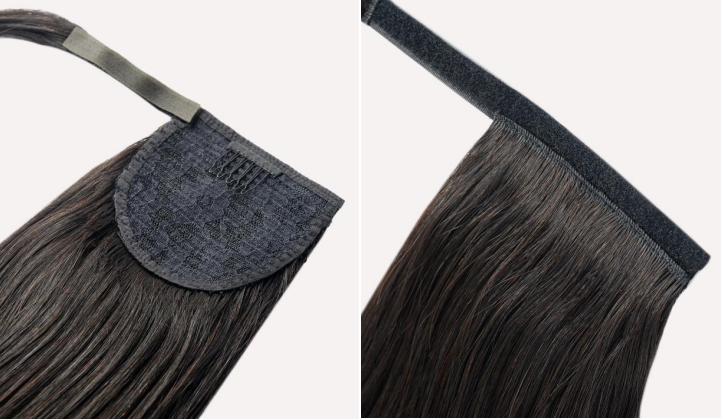 In recent years, ponytail hair has become one of the most popular hairstyles. To put it another way, the ponytail has never gone out of style. Why? It has the ability to make you look young and active, as well as attractive and exquisite. The Jordan ponytail is simple to achieve for your hair to be thick and long. As it's human hair, it's super lightweight, comfortable and natural.
For Short hair:
If you have short and thin hair, you may require more clip-in ponytail hair extensions to complete your ponytail. Split your hair in the center and pull a little section from the back to form a small ponytail. Wrap the clip-in around the base of your ponytail until it is completely covered. Clip your extension in place with care; it's the secret to a good-looking ponytail. If you don't, the clip-in will easily fall out, which is quite bad. After all, the clip-in is attached, so pull all of your hair down to hide it, and then use a ribbon to tie your hair and clip-in together.
For Long Hair:
You can make a ponytail using the following method if your hair is full and lengthy. Brush your hair and make sure it's not twisted. To begin, put all of your hair into a ponytail. Then, using gel or spray to manage wispy sideboard or shorter hair around your face or nape that may escape the elastic, control wispy sideboard or shorter hair around your face or nape. Then, hook the clip into the base of your ponytail, wrap a small part of your hair around the velcro until it's fastened, then wrap your hair again to disguise the base of your ponytail. If you tie the ponytail excessively tightly, you risk damaging your natural hair. It's also a good idea to modify the posture of the ponytail from time to time. You can wear it higher or lower to draw attention to different parts of your hair.
---
---
Writers Cooperation:
UniWigs are seeking for blog contributors who know and love hair. If you know alternative hair or hair related accessories, if you have great understanding of hair trends and fashion, if you are expert in hair care, if you have any experience with salons or celebrities, if you would like to share your experience to help people just like you make the right choice, now contact us at [email protected] to be a blog contributor. Let's discuss the details then.