Scoop up Sweet Style: Wig Trends for Every Season!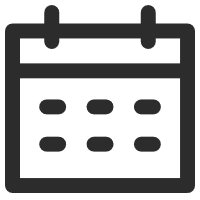 August 01, 2023
Synthetic Wigs 101
Views: 348
As we delight in the sweetest season of the year, July marks the celebration of Ice Cream Month! While the month has passed, the connection between our favorite icy treats and the fabulous world of wigs remains timeless.  let's draw a delightful connection between our favorite icy treats and the fabulous world of wigs.
Just like ice cream flavors, synthetic wigs come in various styles and colors to suit every individual's taste and preference. Wigs can be a fun and creative way to celebrate Ice Cream Month, offering a cool twist to your overall appearance. So, let's scoop up the style and embrace this sweet combination of wigs and ice cream!
l  Colorful Wig Flavors
When you think of ice cream, your mind likely races through a delightful spectrum of flavors, each tempting you with its unique appeal. Similarly, wigs offer an exciting palette of colors that enable you to experiment and express yourself creatively. Picture yourself with a luscious bright lime green wig, exuding an air of refreshing allure, much like the cool taste of lime ice cream on a sweltering day. Or perhaps, you might fancy the idea of a strawberry swirl pink wig, mirroring the vibrant shades of a strawberry ice cream with delightful swirls. Whether it's the rich and indulgent chocolate fudge brown or the playful and enchanting bubblegum blue, wigs offer you the freedom to match your favorite ice cream flavors with corresponding hair hues, infusing your style with a burst of color and vibrancy.
l  Icy-Inspired Wig Styles
Some ice cream creations are all about the delightful layers, mesmerizing swirls, and captivating textures – a true visual treat for the senses. In a similar vein, wig designers have drawn inspiration from the enchanting patterns found in popular ice cream treats like "Cookies and Cream" or the iconic "Neapolitan." Explore the beauty of wigs that embrace the artful layering of colors, resembling the creamy vanilla, sumptuous chocolate, and the alluring strawberry of Neapolitan ice cream. Picture a "Cookies and Cream" inspired wig, with delightful speckles of white and brown, replicating the joyous sensation of indulging in this frozen dessert. The mesmerizing swirls and textures of ice cream are transformed into wigs that elevate your style with a touch of whimsy and wonder, allowing you to wear your favorite frozen treat on your head, quite literally!
l  The Ice Cream Social Wig Party
What better way to celebrate the delightful Ice Cream Month than by hosting an "Ice Cream Social Wig Party"? Imagine gathering your friends and family for a fun-filled event where everyone can enjoy an assortment of delicious frozen treats and simultaneously explore the playful world of wigs. Picture a table adorned with ice cream bowls and a dazzling array of wigs, each waiting to be adorned by your guests. From classic banana split hairstyles to quirky pastel pink wigs, the party would be nothing short of an awe-inspiring sight, bringing together two of life's simplest pleasures - ice cream and wigs.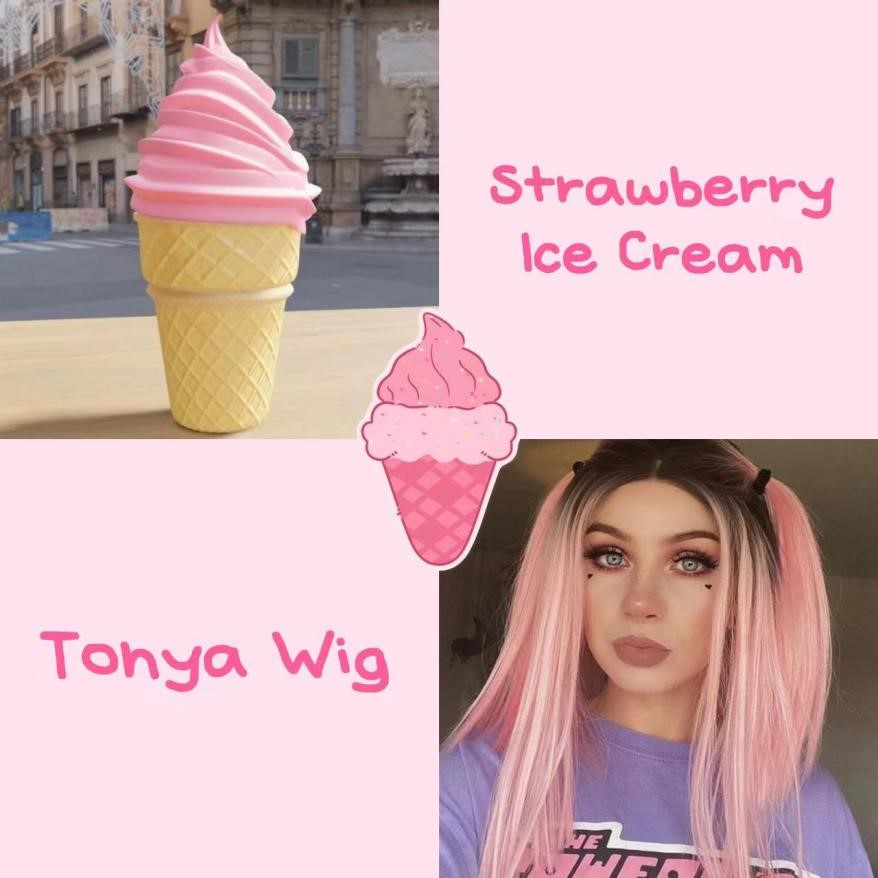 This charming gathering offers an opportunity for guests to unleash their creativity and express themselves through diverse wig styles. Friends can swap wigs and try out bold and adventurous looks they might never have considered before. An "Ice Cream Social Wig Party" encourages laughter, camaraderie, and a shared sense of exploration as guests revel in the joys of ice cream and the endless possibilities of wig fashion. And, of course, it's a prime occasion for capturing timeless photographs that would immortalize fun-filled memories for years to come.
l  Maintaining Wig Coolness
Just as savoring a delightful scoop of ice cream requires some care to prevent it from melting under the sun's relentless heat, taking care of your wigs is essential to maintain their style, quality, and longevity. While ice cream melts away, wigs need not suffer the same fate with proper care and attention. Caring for your wigs ensures that you can flaunt their cool and fresh allure time and again, even during the hottest summer days.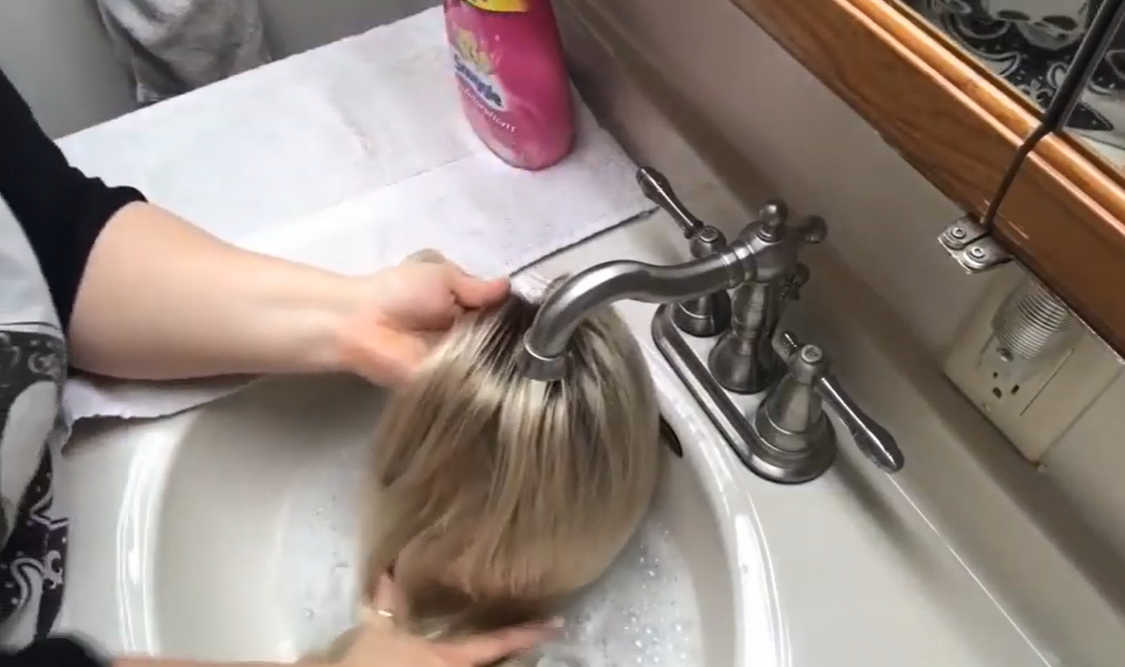 Firstly, consider investing in a wig stand or wig hanger to store your wigs when they are not in use. This helps retain their shape and prevents unnecessary tangling or matting. Secondly, brushing your wig regularly with a specialized wig brush or wide-tooth comb keeps it free from knots and tangles, ensuring that it looks as flawless as the first time you wore it. Moreover, be mindful of the products you use on your wig. Opt for wig-friendly shampoos, conditioners, and styling products to maintain their texture and appearance. Avoid using regular hair products or excessive heat styling, as wigs are generally more delicate than natural hair.
If you plan to indulge in ice cream festivities outdoors, consider wearing a lighter, breathable wig cap underneath your wig. This minimizes discomfort from perspiration and ensures your wig stays in place, even during the most playful of ice cream socials.
l  A Wig for Every Ice Cream Adventure
With wigs serving as an essential fashion accessory, they are ideal for complementing your ice cream-themed adventures. Picture this: you and your friends decide to embark on a day-long ice cream tour, hopping from one delightful parlor to another, sampling exotic flavors and old classics alike. With each stop, you don a different wig that mirrors the spirit of the ice cream establishment you visit. One moment, you're a playful "Pistachio Dream" with a bright green wig at a quirky gelato shop, and the next, you transform into a sophisticated "Caramel Swirl" with a stunning amber wig at an artisanal ice cream parlor.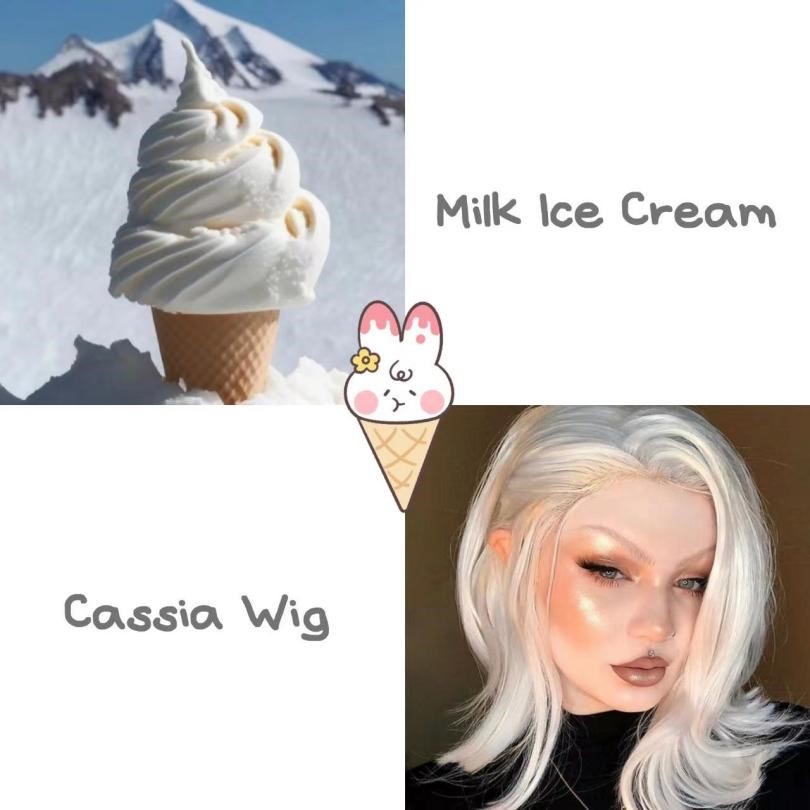 But it doesn't end there! Your ice cream-themed photoshoot just had to happen, capturing the essence of your love for wigs and ice cream in a series of captivating images. Whether you're posing against colorful ice cream murals or playing with sprinkles and cones, the versatility of wigs ensures that every picture tells a unique and enchanting story. This ice cream adventure, sprinkled with a dash of wig whimsy, becomes an unforgettable experience that speaks volumes about the joy of living life to the fullest and embracing the delightful pleasures it has to offer.
As the sun sets on Ice Cream Month, we bask in the delightful memories of our wondrous journey through the fusion of wigs and our favorite frozen delights. From the colorful wigs flavors that match ice cream hues to the icy-inspired wig styles that capture the essence of delectable treats, we've explored a world where fashion and indulgence collide.
So, as we bid farewell to Ice Cream Month, let's remember that life is a delightful journey filled with opportunities to celebrate our unique style and embrace the sweetest of pleasures. As you venture forth into the future, remember to scoop up the style and embrace the magic of wigs, infusing your life with a burst of color, creativity, and joy!
---
---
Writers Cooperation:
UniWigs are seeking for blog contributors who know and love hair. If you know alternative hair or hair related accessories, if you have great understanding of hair trends and fashion, if you are expert in hair care, if you have any experience with salons or celebrities, if you would like to share your experience to help people just like you make the right choice, now contact us at [email protected] to be a blog contributor. Let's discuss the details then.