Say Goodbye To Thinning Hair With These Life-Changing Hair Toppers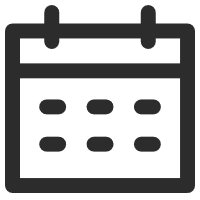 May 10, 2023
Hair Topper 101
Views: 373
Millions of women all over the world struggle with thinning hair. It happens when the hair shafts get shorter and thinner, giving the appearance of sparser, thinner hair. Genetics, hormonal changes, specific drugs, poor nutrition, and environmental factors are just a few of the causes of thinning hair. Also, because hair growth slows down with age, it might be a normal aspect of the aging process. Even though thinning hair is typically not a major medical condition, those who suffer from it may find it frustrating and embarrassing. Thankfully, it can be managed with a variety of treatments and methods. Today we are going to provide some effective hair toppers for thinning hair. Hopefully, you could find one that fits your thinning hair pattern and it helps you get a full head of beautiful hair back.
1)      5.5"x5.5" Claire | Mono Top Remy Human Hair Topper | Lace Front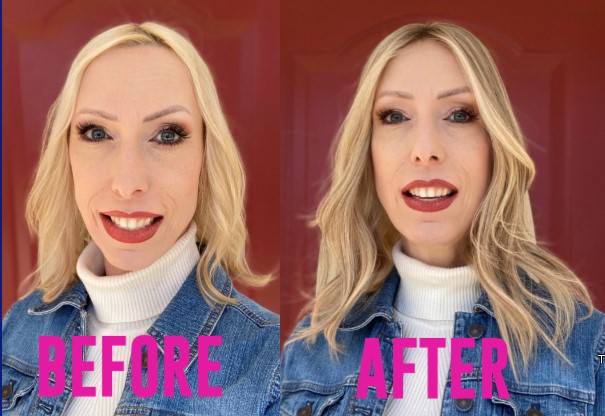 Claire is the place to start if you are considering a UniWigs hair topper. She presents you with an imperceptible front hairline. With a lace front, she produces a hairline that looks natural and enables off-the-face styling. And you can even cut extra bangs there. Her monofilament top gives the impression that hair is growing naturally from the top, therefore you can part your hair anywhere as long as it stays in this mono top.
In addition, Claire offers a selection of hair length and color options. Finding reviews for any color or length you're looking for is simple. If you don't make up your mind, that's a terrific method to find out whether other people are concerned about the same thing and how those things pan out.
2)      7"x8" Courtney | Mono Part | Left Part Remy Human Hair Topper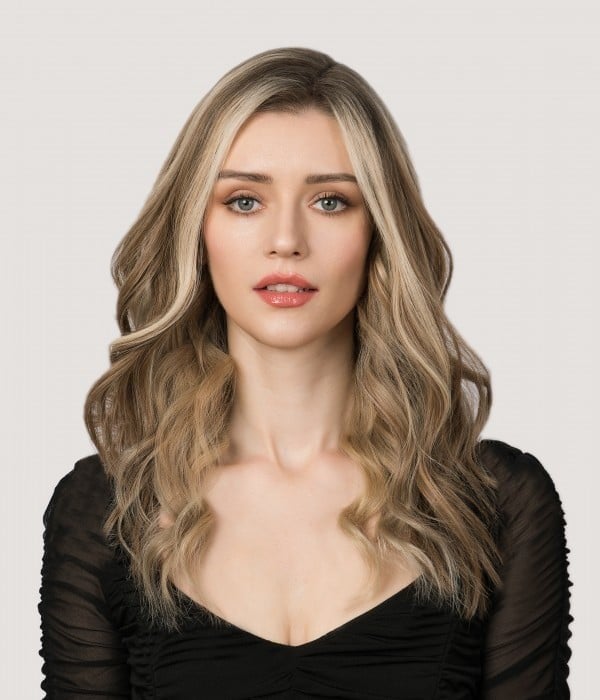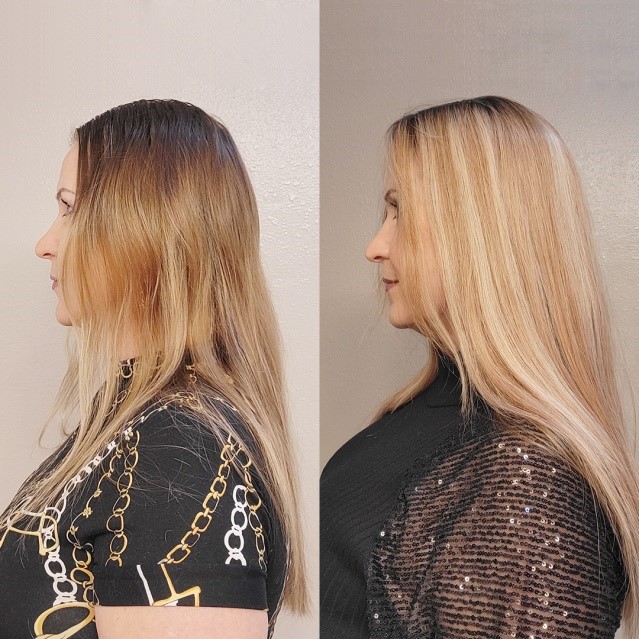 For women who are experiencing hair loss or thinning, the Courtney hair topper is a high-quality hair accessory that instantly adds volume and coverage. She has been created with 100% Remy human hair, renowned for its tenderness, toughness, and organic appearance and feel. The hair topper has a 7"X8" base that gives the crown and top of the head considerable coverage, and it is fastened to the scalp using four reliable clips.
As the Courtney hair topper is offered in a variety of hues and lengths, it is simple to find a match for almost any hair type or fashion. It offers the wearer even more freedom and customization possibilities because it can be groomed and colored just like natural hair.
In conclusion, the Courtney hair topper is a fantastic choice for those seeking a high-quality, realistic-looking hairpiece to help cover up hair loss or thinning. Its unique design and high-quality materials make it a top pick for many ladies looking to increase their confidence.
3)      7.5"x7.5" Aura | Skin Part | Left Part Remy Human Hair Topper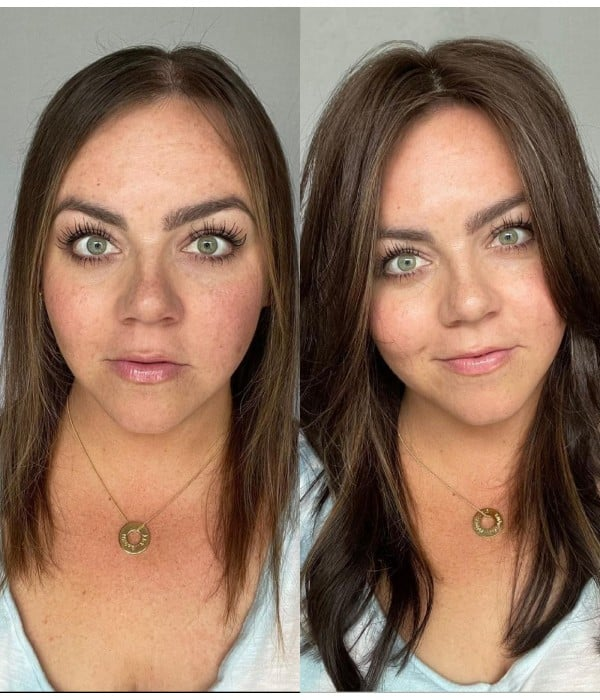 With a similar size to the Courtney topper, Aura is another ideal piece for women with thin fine hair. It's made of high-quality Remy human hair that looks and feels natural. This hairpiece is a quick and easy way to add volume and length to your existing hair while also concealing bald spots and thinning areas. The Aura hair topper features a hand-injected skin part, allowing natural-looking hair growth patterns and parting. With this type of producing craft, there is no hair return or knots on the base. This makes the Aura topper super lightweight just like the Courtney topper. You won't feel there is a heavy piece on your head. Simply help you cover thinning hair on the top perfectly. While this also brings a drawback to this piece, the skin base is not so breathable so you might feel not so cool when you wear it instead of other pieces. You might want to take it off after wearing it for a while. If you are daily working in a cool environment, the Aura topper might be the one for you!
4)      8.5"x9" Melanie | Mono Top Remy Human Hair Topper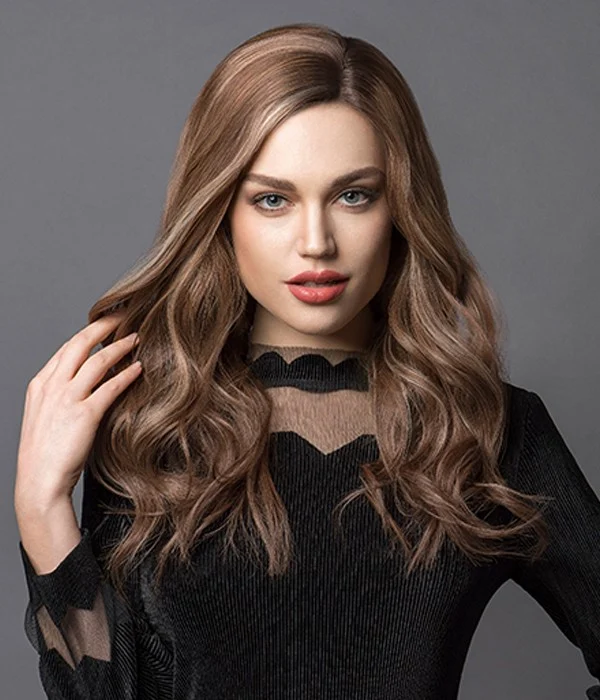 A larger base, larger coverage. This could be your first impression of our Melanie hair topper. She features a big 8.5" X9" base to cover even more than half of your head. So in general, Melanie is the first option for women who are losing their hair mainly around the whole brown and even in a progressive stage. You can feel her cover almost half the back side of the head. Some with small heads even say it's like a half wig for them. So again, she's 100% high-quality Remy human hair, which gives you the versatility of so many fashionable hairstyles. This hairpiece is available in various lengths, colors, and densities to match your hair and complement your style. You can go from 12 inches to 20 inches, from blonde color to brown ones, and black color as well. There are so many dimensional colors in this piece. You can always find the one that seamlessly blends with your own hair.
Besides, you can freely part your hair within its hand-tied monofilament top area. It supports parting in any direction. And due to this hand-tied top, it's much more breathable in hot weather. So you won't have to be trapped in heat all around the base even though it's a pretty large one.
5)      9" X 9" Savannah Silk Top Remy Human Hair Topper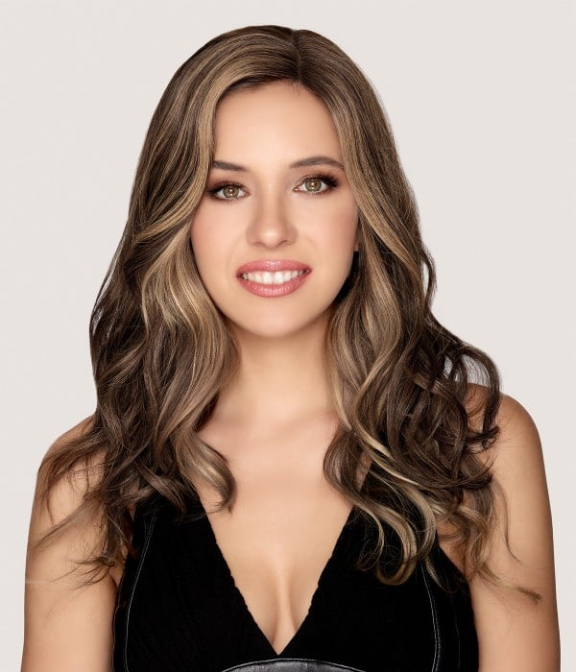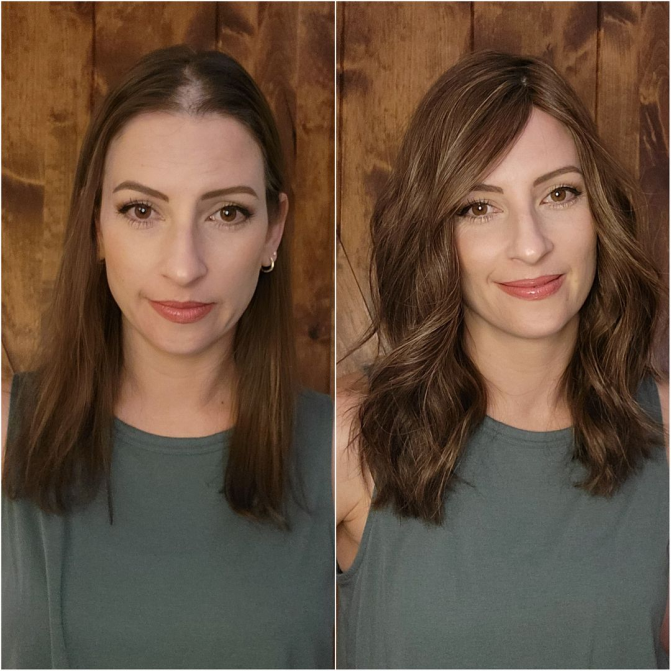 One of the most unique features of the Savannah hair topper is its innovative silk base, which mimics the look of a natural scalp and allows for comfortable, breathable wear. The silk base also provides a realistic parting area, allowing the wearer to style the hairpiece in a variety of ways and achieve a natural, seamless look. The silk base gives an undetectable scalp of the piece, nobody's going to tell you are wearing a hair topper even when they watch your hair from a higher angle closely.
Another strength of this gorgeous is that she's made of Burmese human hair, which makes the hair feel so soft and smooth. Just curl it a bit out of the box, and she's ready to be worn. If you wash it and let it air dry, you'll be able to see some curl there. Some customers do like that for this just looks even more natural and more like their own hair texture.
---
---
Writers Cooperation:
UniWigs are seeking for blog contributors who know and love hair. If you know alternative hair or hair related accessories, if you have great understanding of hair trends and fashion, if you are expert in hair care, if you have any experience with salons or celebrities, if you would like to share your experience to help people just like you make the right choice, now contact us at [email protected] to be a blog contributor. Let's discuss the details then.