Money piece/ Earloop/ Highlight Trending Colors Released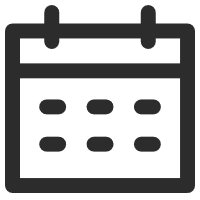 September 21, 2021
News
Views: 2510
We believe we can all agree that box dye catastrophes and home haircuts with kitchen scissors should be banished from the year 2020. After all, nothing compares to a professional touch and the satisfaction of seeing your hair in the mirror. Your hair is properly done, your color is lustrous, and you can hear angels singing... Yes, it's safe to say that I was overjoyed to get an easy way to have the hair color done.
We'll see this year trending colors like money-piece/ earloop/ peekaboo hair, an easy way to fully change your appearance without chopping off all of your hair or committing to a full-color transition that requires a lot of maintenance. If you do these colors in hair salon, it would take a lot of time. In fact, here is another way to get the colors, it takes very little time and allows you to spend as much time as you want swishing your hair and appreciating your new color.
What exactly is the money piece we're talking about?
The money piece refers to face-framing highlights that begin at the root and extend to the ends of the hair. Although it has been on the radar for some time, analysts believe that this year will be the year when it truly takes off. Dua Lipa, Beyoncé and Bella Hadid are just a handful of the celebs that have already experimented with the color trend, with so many people following trends in hair and beauty, it won't be long before you see it everywhere.
Continue reading for everything you need to know about this style, including professional guidance on how to try the money-piece hair trend and how to care for it at home.
Consider the coin as a brighter version of the delicate babylight that gives skin a sun-kissed glow. You can use this style to frame your face if you have naturally curly or textured hair. 
By wearing this single piece to achieve your money piece hair look:
When you take it from parcel. You will find it's a super long single clip in piece. Open the clip,take a small section of your front hair,clip the piece in your hair. And wear the other piece on the other side. Think of the face-framing result. If it's longer than your hair, just cut and trim it to match your bio hair. The piece is so cute, it's easy to handle, you can wear it on and off anytime anywhere. And you can change your straight hair to curly hair, or pull all of hair in a ponytail, it pop up your hairstyles absolutely. There are seven hair colors that are with ombre shade. Very pretty.
What exactly is the earloop we're talking about?
Earloop highlights are named in this because they're hidden until you tuck your hair behind your ears or tie a half-knot.Until you decide to roll out the extreme colors by running your hands through your hair, this style is like a transformer.
Take a look at how sassy Thai celebrities Lisa (blackpink) has ashy blonde highlights on her fringe area, which complement her delicate features well. While we may have different hairstyles that are the same as her beauty hairstyles, there's no reason we can't get some aesthetic help in the same pleasing color-style. After all, there are many choices to have the pop up hair colors.
Instead of dying or bleaching to managing a section of forehead hair, below single piece is good choice to give this chunk of hair. Not get one, but two hues on the hair, we love lisa hair anyway, as well as her hair look.
If you are mind to have synthetic fiber, this human hair color would be your choice. Unlike the usual colors on hair products, the color is very pretty, you rarely find the morandi colors on hair products as it requires professional technique.
The steps for applying are the same as above single pieces. Just the position is different. You should wear it near your ear to achieve that hair dream.
What exactly is the peekaboo we're talking about?
Peekaboo highlights are highlights that are applied beneath the top layer of your hair so that they are hidden when you wear your hair down with your usual parting. If you don't want yours to be too noticeable, opt for a natural tone. You can choose from a variety of hair colors, ranging from blonde to brown and anything in between.
The 18" length hair piece suitable for people with mid-waist hair length. There are two ombre shades that will be your unique hair color. If you are looking for a way to spice up your long hair. Just conceal it beneath the top of your hair, this look is trendy and makes you look outstanding.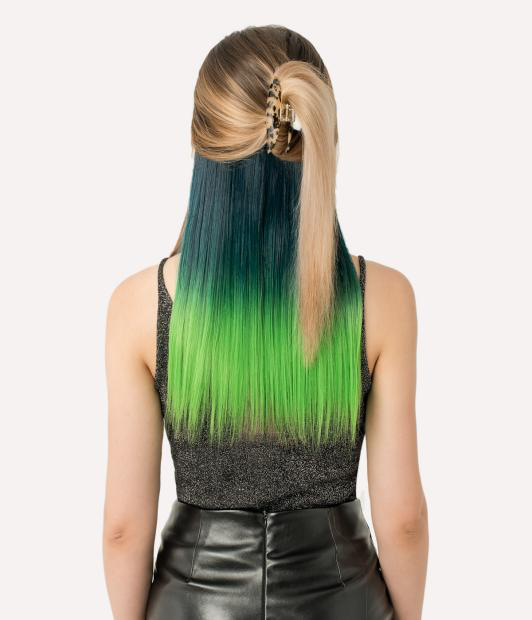 The musician, actress and model has add some hair color to her overall vibe. Seen the Instagram photo posted by her hairstylist, her underlight green hair color makes her look effortlessly cool. In the meantime, we're excited to see how Jackson styles her new two-toned tresses. While she has yet to share a snapshot of her new look on Instagram, she was seen with her green hair at a Fast & Furious 9 screening over the weekend. With her updo hairstyle, the color isn't really obvious, but a few green strands break through, and they just happen to match her green.
If you've been thinking about changing your hair color, this peekaboo hairstyle is a terrific way to give it a try. You can also use a temporary single piece hair extension to help you overcome your hair commitment anxiety.
---
---
Writers Cooperation:
UniWigs are seeking for blog contributors who know and love hair. If you know alternative hair or hair related accessories, if you have great understanding of hair trends and fashion, if you are expert in hair care, if you have any experience with salons or celebrities, if you would like to share your experience to help people just like you make the right choice, now contact us at [email protected] to be a blog contributor. Let's discuss the details then.