Losing hair after COVID-19? Good news is HERE!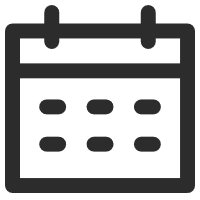 August 10, 2022
Fashion & Beauty
Views: 1149
We know that COVID-19 is a nasty virus affecting all people. Hair loss is often a temporary side effect of COVID-19. Some patients have reported experiencing hair loss for the first time in their life, while others have noticed that their existing hair loss has accelerated during the virus's confinement period.
What causes hair loss after COVID-19?
Almost everyone experiences some level of hair loss after exercising intensive stamina. In the event of a SARS-CoV-1 infection, you may notice a greater amount of hair loss during daily hygiene activities such as showering or brushing your hair. This will be accompanied by increased oiliness or greasiness on your scalp.
On average, people shed about 100 to 150 hairs a day. But when an individual experiences a stressful event, such as COVID-19 infection, our bodies can prematurely shift a greater than normal proportion of growing anagen hairs into a resting telogen state.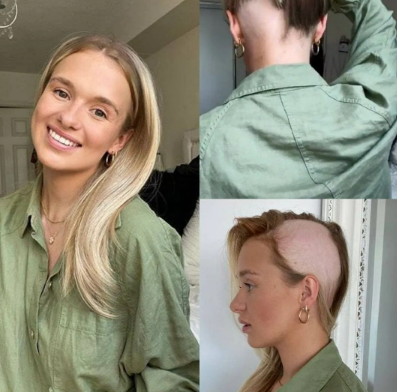 Cassie is wearing the 8.5" X 9" Hope synthetic hair topper in the shade 10R (Creamy Ice).
How long does hair shedding last?
Everyone's hair cycle is different, and so is the time it takes to recover from telogen effluvium. However, on average, it takes a few months, as those hairs that were prematurely shifted into telogen start to return to their normal cycle.
Some people may notice their hair is not as thick as it once was because of how slowly hair grows on average—about a centimeter a month. It can take over two years for new hairs to reach shoulder length again, so be patient with your hair!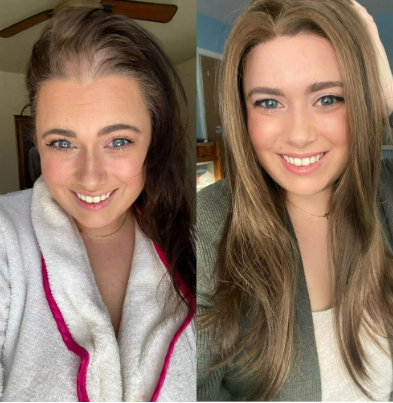 Jenna is wearing the 8.5" X 9" Hope synthetic hair topper in the shade Milk Chocolate.
What is the best solution?
People who experience hair loss often feel embarrassed and self-conscious. Hair loss can be a significant emotional stressor. It's completely understandable to be distressed over the loss of your hair.
Hair toppers are a great way to conceal hair loss on the top of a woman's scalp. Whether they are balding due to female pattern baldness or have thinning hair, toppers will instantly cover those spots and blend with a woman's natural hair, adding volume while providing more thickness and density as a result.
Allies is wearing the 6"x6" Upgrade Claire human hair topper in the shade Almond Frost.
If you notice your hair loss after COVID isn't improving after several months, contact your physician and ask for a referral to a dermatologist. They can evaluate your condition and provide treatments to reduce hair loss and help regrow hair. Also, UniWigs' hair toppers and top pieces are helpful solutions to filling in your sparse and adding hair volume. Here at UniWigs, toppers are available in short, medium, and long and come in synthetic or human hair. We've got you all covered!
---
---
Writers Cooperation:
UniWigs are seeking for blog contributors who know and love hair. If you know alternative hair or hair related accessories, if you have great understanding of hair trends and fashion, if you are expert in hair care, if you have any experience with salons or celebrities, if you would like to share your experience to help people just like you make the right choice, now contact us at [email protected] to be a blog contributor. Let's discuss the details then.