HOW TO CHANGE THE HAIR PARTING LINE OF SYNTHETIC LACE FRONT WIGS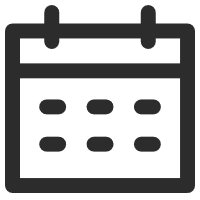 April 12, 2019
Synthetic Wigs 101
Views: 7417
Sometimes you may end up with a perfect wig but also with the wrong parting line. It is very easy to change the hair-parting line of synthetic wigs with just a household iron.
Many individuals find themselves wanting to change the hair parting line of their wigs to achieve different hairstyles or enhance their overall look. While it may seem like a daunting task, with the right techniques and tools, you can easily change the hair parting line of your synthetic lace front wig.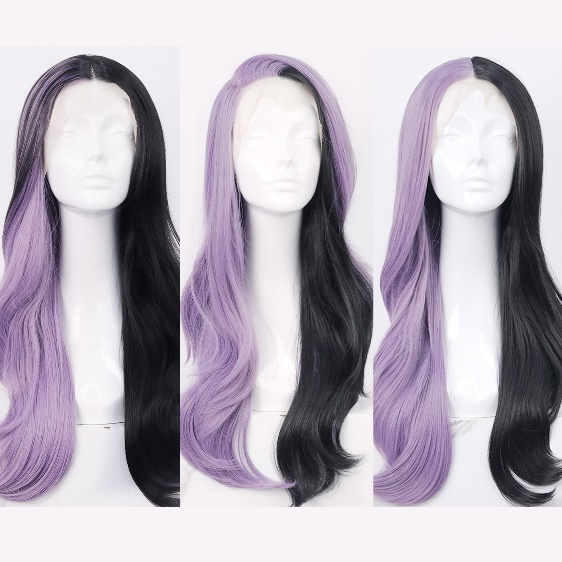 Step 1: Choosing the Right Wig
Before diving into the process, it's essential to select a synthetic wig that allows for customization. Look for wigs that have a natural-looking hairline and a lace front that extends from ear to ear, as this will provide the necessary space for altering the parting line.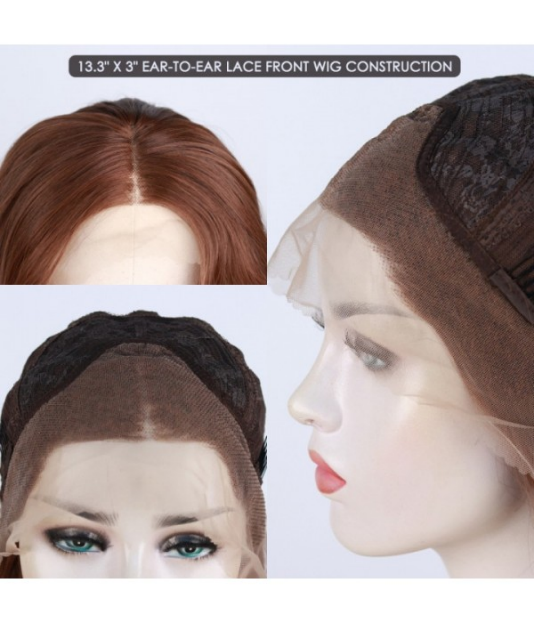 Step 2: Preparing the Wig
To begin, you'll need to prepare the wig by securing it onto a wig stand or mannequin head. This will provide stability and make the process easier. Adjust the wig cap to fit snugly on the stand, ensuring it's stretched out and flat.
Step 3: Marking the Desired Parting Line
Take a washable pen or makeup pencil and mark the desired parting line on the lace front of the wig. This line will guide you throughout the process, so make sure it aligns with your natural hairline or desired style.
Step 4: Cutting the Lace
Using a pair of sharp scissors, carefully cut along the marked parting line, making sure to follow the shape of your natural hairline. Take your time and be precise to achieve a clean cut. Remember to only cut the lace and avoid cutting any of the wig's hair strands.
Step 5: Plucking the Hairline
To create a more natural-looking parting, you'll need to pluck some hair strands along the hairline. Using tweezers, gently pull out a few strands of hair from the hairline area. This process helps to mimic the natural density and irregularities of a real hairline, reducing the wig's artificial appearance.
Step 6: Customizing the Parting
If you wish to change the parting style, you can use a hot styling tool, such as a curling iron or flat iron, to reshape the hair. Apply heat to the hair near the parting line and gently manipulate it to create the desired part. Remember to use caution and avoid applying excessive heat to the synthetic fibers to prevent damage.
Step 7: Styling the Wig
Now that you have customized the parting line, it's time to style the wig according to your preference. You can use various styling tools, such as curlers or straighteners, to achieve different hairstyles. Be mindful of the recommended heat settings for synthetic hair and use heat protectant products to prevent damage.
Step 8: Securing the Wig
Once you have achieved the desired look, it's crucial to secure the wig properly. You can use wig clips, adhesive tapes, or wig glue to keep the wig in place. Choose a method that is comfortable for you and provides a secure fit.
Changing the hair parting line of synthetic lace front wigs allows for versatility and customization, enabling you to achieve different hairstyles and enhance your overall appearance. By following the step-by-step process outlined in this blog, you can successfully alter the parting line and create a natural-looking hairline. Remember to be patient, take your time, and use the appropriate tools and techniques to avoid damaging the wig. With practice, you'll become proficient in customizing your synthetic lace front wigs and enjoy the freedom to switch up your style as desired.
Find more tips about synthetic lace front wigs through these posts:
SIX TIPS TO CARE FOR SYNTHETIC WIGS
HOW TO DETANGLE SYNTHETIC LACE FRONT WIGS
WHY SYNTHETIC WIGS CAN'T BE DYED
HOW TO WASH SYNTHETIC WIGS?

---
---
Writers Cooperation:
UniWigs are seeking for blog contributors who know and love hair. If you know alternative hair or hair related accessories, if you have great understanding of hair trends and fashion, if you are expert in hair care, if you have any experience with salons or celebrities, if you would like to share your experience to help people just like you make the right choice, now contact us at [email protected] to be a blog contributor. Let's discuss the details then.