HOTTEST SUMMER HAIR TOPPER COLORS - HAIR TOPPER NEW ARRIVALS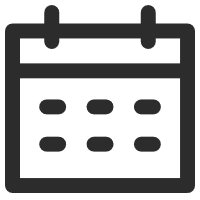 July 25, 2019
News
Views: 3890
When UniWigs has new colors on hair toppers, knowing the hair topper color details is necessary for you to determine which one to buy.
01R- Almond Frost on Stella topper
Almond Frost on Stella is golden highlighted with ashy blonde with dark roots. It's the most popular hair topper shade at UniWigs. The color has a natural-looking highlighting effect. If you have natural golden hair, wearing this blonde shade is a perfect way to lighten up your hair for that "I just got back from a two-week beach vacation" look. Whether you're a bright platinum, golden blonde or an ashy hue, you'll find this almond frost topper the inspiration you need!
5"*5" Stella Silk Top Virgin Remy Human Hair Topper
The entire base of the piece is hand-tied, so wherever you decide to part the hair, the beautiful silk base will give you a natural parting finish. There is zero tension, it's breathable and natural looking. Once the topper is clipped into place you can also style your hair into a ponytail or up-do.

10H24C – English Toffee on Claire topper
Light Chestnut Brown highlighted with dark dirty Blonde.
Dark dirty blonde highlights on chestnut brown hair might be just the thing for you if you want to kick your brunette hair up a notch! It will lighten your overall color and add soft warmth to your look. With all the brown and blonde options you have, your locks will never look the same.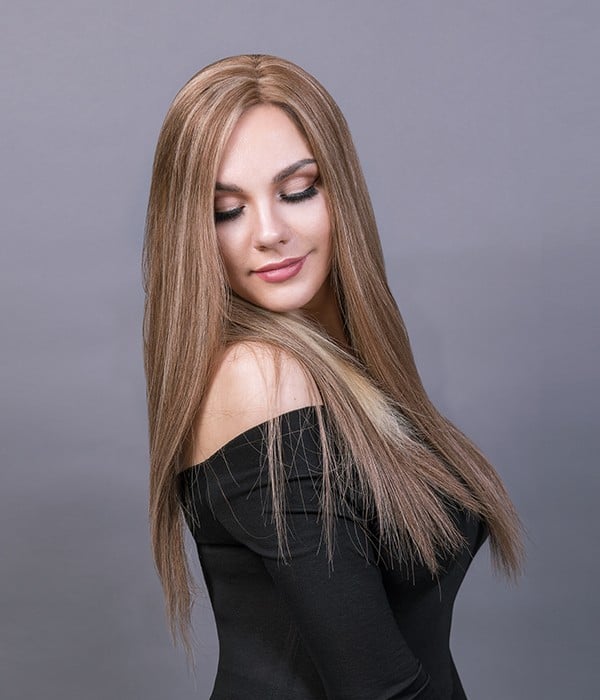 5.5"*5.5" Claire Virgin Remy Human Hair Topper
Claire is an affordable and valuable hair topper. It comes with a lace front, mono top and wefted back. Two optional densities of 130% and 150% for you to choose based on your hair loss and volume you need. Concentrate the gorgeous dirty blonde highlights on your head or frame your face. Just go for it and warm up your look by trying this hair topper!
5.25"x4.75" - Pear Remy Human Hair Topper with layers
Pear is a Remy Human Hair topper perfect for those experiencing minimal to beginning stages of hair loss. This topper features a double monofilament top that allows for the most natural looking top possible. No one will ever suspect you are wearing a hairpiece!
This topper features 100% Remy Human Hair and can be styled with heat tools to create a variety of looks. If you have very thin hair, this piece has the perfect amount of hair added on top. It is a great everyday piece for those who don't want to wear a full wig. It provides just enough coverage without too much density.
The four pressure sensitive clips hold the topper in very securely. The base is lined with a PU coat that allows those who are unable to use the clips (due to hair loss or fragile hair) to use an adhesive instead.
One of the many wonderful features of the Pear topper is that the pear shaped base can be worn exactly where you need coverage. You can wear the topper with the narrow side of the base toward the front of your head, or the larger area of the base sitting on the crown of head. However, if you are facing hair loss more in the front area, you can simply rotate the topper and use the larger part of the base to give you more coverage.
24-613R Summer Shandy
Light Blonde blended with Platinum Blonde.
Wearing the Summer Shandy topper along the beach or under the Summer sun, I can assure you that blondes DO have more fun! There's something about being a blonde that gives you that unexpected head turn when you walk down the street, or that extra pep in your step.
Check out these blonde looks and give being a blonde a second thought. Or, try it if you're already rocking a luscious blonde!
6.5"*6.5" Upgrade Claire Plus Virgin Remy Human Hair Mono Topper
"Upgrade Claire Plus" includes a brand-new feature of a snug and adjustable wire. This wire fits around the head comfortably and can be used for extra security with the clips or worn alone for a lazy day. The wire can relieve scalp tension and take some pressure off your hair. The wire is optional, but we really recommend you give it a try!
---
---
Writers Cooperation:
UniWigs are seeking for blog contributors who know and love hair. If you know alternative hair or hair related accessories, if you have great understanding of hair trends and fashion, if you are expert in hair care, if you have any experience with salons or celebrities, if you would like to share your experience to help people just like you make the right choice, now contact us at [email protected] to be a blog contributor. Let's discuss the details then.