3 Iconic Ponytail Styles inspired by Kim K, JLO and Ariana Grande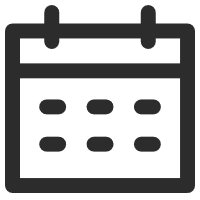 May 31, 2021
Hair Extensions 101
Views: 2636
Here we will go through three of the most iconic celebrity-inspired ponytails and show you how you can recreate these looks.
Kim K inspired low ponytail
Kim Kardashian always brings us classic looks, and we are here for this low ponytail. We know that Kim loves to go for a clean middle part, which is the most essential feature of this ponytail. So how does Kim's hairstylist help her to create this look? Chris explains his method this way:
"Use a mist of water throughout the part. That will help to manipulate the hair for better shaping. Follow the nose up to the middle of the eyes. Use the tail of your comb, just to drag it up through the middle and get a super clean part. Use the tail part of the comb flat to the head.
"What's going to make all the difference in laying the hair down and getting it nice and sleek. That's the way to make the ponytail look polished and clean".
Says Chris, who usually uses hairspray to give hold to the hair. He goes for an alcohol-free hairspray, so it won't dry out the hair or alter the hair color.
"Brush all your hair back. Slowly tuck the hair behind the ears and be nice. Then you are gonna end up with a ponytail. You can spray the hairspray onto the brush. The reason is that you can get control of the hair and with fewer flyaways. It gives a nice clean, controlled finish.
"Use a regular elastic to tie the hair. Make your ponytail really tight. Lift your head up when you tie your hair. It's a really good technique as it goes tighter and flatter.
"Then apply for a ponytail extension, into the base of your ponytail. Just add another elastic below the base of your own ponytail and wrap the ponytail extension into the elastic. The reason for this is that if you hook the ponytail in the base of your hair, it will hurt your scalp. So, when you put the ponytail extension comb into that elastic below, it sits right underneath, and it will effectively give that Kim K hairstyle".
JLO inspired ponytail
JLO's iconic pony is directly in the middle of the head, and the idea is that you follow the eye line up. So, from where the eye line is, you can position the ponytail at the crown of your head. Using hairspray, spray at the top of your hair. When you brush the hair back, you can get that really laid flat look. While you are doing this, keep your head back so that you get a nice clean hairline.
Smooth all the hair flat against your scalp, tie another elastic near the base of your ponytail and hold it firmly to stop it from slipping. When the ponytail extension hooks into the elastic, it is really fitted and is laid, so you have hair that looks more dramatic.
What you are going to do next is just add a little bit more volume and a bit more bounce to the ends.
Then using a large curling iron, wrap it around the ends of your hair, so you get a nice bounce in your hair. You don't have to use anything too tight, but the idea is that you give your hair a bit of love. Give your ends a JLO a bounce, it doesn't matter if you have long or short hair. This pony works on all lengths.
If you want your ponytail to look glossy and polished, follow these steps:
Brush your hair all in one direction, give the ends some love, and lightly comb together for a bounce. If you move your pony from side to side, you will see that your hair has a body and a nice swish to it.
Your ponytail doesn't have to be very curly, it's more about achieving that JLO bounce. So, when you move your hair, be sure to flick it from side to side. Lastly, you can finish with an extra shine spray; it will give it some shine and make your hair look luxurious.
Ariana Grande inspired high ponytail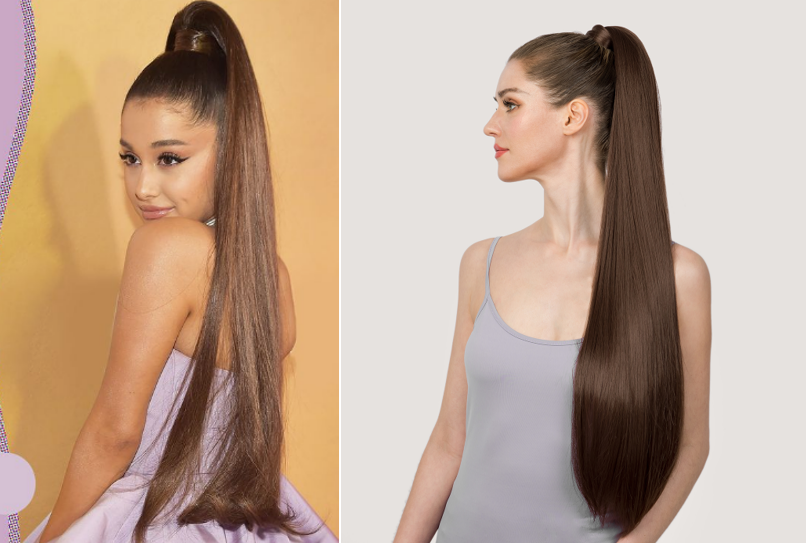 Ariana Grande's high ponytail is so iconic that it had to make it to this list.
To create this pony, firstly spray hairspray on top of your hair near the roots, combing your hands through your hair a little bit to make sure you get a nice finish.
Next, comb your hair back and get all your hair going in the same direction, while you pull your hair up into a high ponytail. It's key to get your hair as high up as possible.
A top tip is to put your head upside down while you do this, as it's much easier to make the hairstyle and tie it up.
Finally, tie a second hair elastic half an inch down from the first elastic. Then apply your ponytail extension comb underneath the second elastic. By placing your ponytail extension in the second elastic, it will feel more comfortable and lighter.
Find all new arrival ponytail hair extensions: https://www.uniwigs.com/112-ponytails
---
---
Writers Cooperation:
UniWigs are seeking for blog contributors who know and love hair. If you know alternative hair or hair related accessories, if you have great understanding of hair trends and fashion, if you are expert in hair care, if you have any experience with salons or celebrities, if you would like to share your experience to help people just like you make the right choice, now contact us at [email protected] to be a blog contributor. Let's discuss the details then.