We have 4 kinds of hair extensions at UniWigs, including:
1. Clip-in hair extensions
2. Flip-in hair extensions
3. Tape hair extensions
4. Hair Weft Extensions
Of course you can if you have our Human hair wigs for the ultimate styling versatility - you can curl or straighten them as you would do to your own hair. Again, the less heat or colorant you use the better.
However, Synthetic wigs can be irreparably damaged if you try to curl or straighten the hair with heat tools.
For coloring, you can color the natural color products into any color you like. But, for other colored hair products, we do not recommend to repeatedly color as this may cause extreme damage. If you still want to color them, please ask a professional stylist to do the coloring, and usually only make lighter colors to darker, but avoid trying to turn darker colored wigs into lighter colors.
Here is a step by step pic advising you how to put on flip-in hair extensions: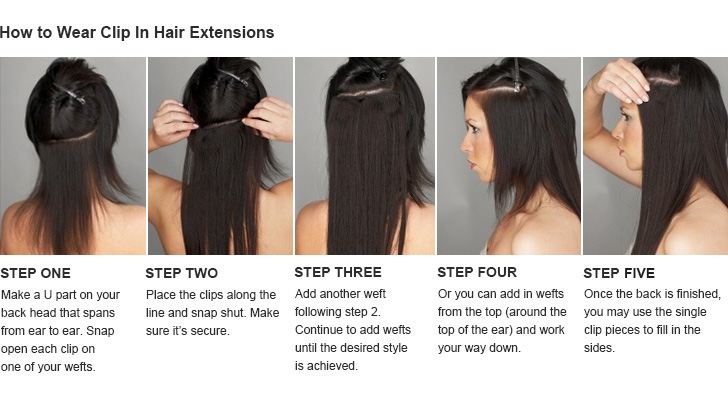 Here is a step by step pic advising you how to put on flip-in hair extensions:
Here is a step by step pic advising you how to put on tape hair extensions:
Please click here to check out the care tips.
Placing Your First Order
Placing an order is quick and easy on UniWigs.com. There's no need to create an account first. You will create your account during the checkout procedure when you place your first order online.
1) Add Items to Your Shopping Cart
When shopping in a particular product category like "Clip in Hair Extensions", you will find more information about a specific product like length or color. To add items to your Shopping Cart, please just click 'Add to Cart' after viewing the item you want to purchase. And to continue shopping and browsing, you can simply turn to other pages until you finish the shopping. You can access the contents of your Shopping Cart at any time by clicking the ' Your Cart' icon at the top of every page of our site.
Anything you want to know more about the items you are interested in, please contact us via email or Live Chat with our service staff.
2) Check Out
Before checking out, take a moment to review all of the items you've placed in your Shopping Cart. If you don't want to purchase a particular item, click the red "x" on the line of the item you wish to remove and you will get a new total price. If you wish to change the quantity of items purchased, just enter a new quantity box.

When you're ready to place your order for everything in your Shopping Cart, you can choose the discounts you have and then choose the shipping method.
After that, please click the 'SECURE CHECKOUT' button. You'll be taken to the first page of the Order Process.
3) Provide Your Shipping Address
If you didn't register on our site, then you can register now (with this account, you can add items you wish to buy later to your wishlist, check out your order procedure, get UniWigs Credits, use UniWigs Special Coupon Code etc. ). To ensure that you will receive your order safely, please fill out all of the fields with red stars to the right of them after signing up. You can tick the "Use shipping address as billing address" and then click "SAVE".
Of course, billing address can be different from shipping address. But please check your billing address very carefully because incorrect billing address will be rejected by PayPal & Credit Card Charge System.
4) Send Payment
Have a final check at your order at "YOUR ORDER SUMMARY". Also, you can leave us a message if you have specific demands about the order. If there's no problem, then please carefully "ENTER PAYMENT DETAILS" and then "GO TO CHECKOUT".
NOTICE:
1.Right now, only "Order Online" is available on UniWigs.com.
2.If you are wrong at any step, click "previous step" to correct the information.
3.Any questions please check at www.paypal.com or contact us at [email protected]