Why You Should Choose Caramel Hair This Fall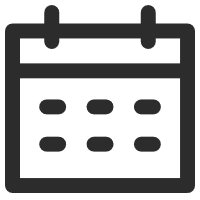 November 09, 2020
Fashion & Beauty
Views: 4034
As fall comes upon us, we may be more inclined to snuggle indoors and curl up with a good book, with a cup of hot chocolate or pumpkin spiced drink in hand. Many of us enjoy walking through the golden leaves on the ground and taking time to relax. As the weather cools, some of us are looking for a change. With fall comes a fresh perspective and a desire to alter our style and of course, our hair. It is always exciting to shop for a new jumper or scarf in the fall, and getting your hair cut and colored can be even more exciting. With fall brings fashion changes.
With many new trends coming in this fall 2020, caramel hair has been seen time and time again as being a hot color this year. Caramel is a warmer brunette shade with touches of gold. Caramel is an understated and easy color to incorporate, and there are so many reasons you should pick this shade as your next fall hair color.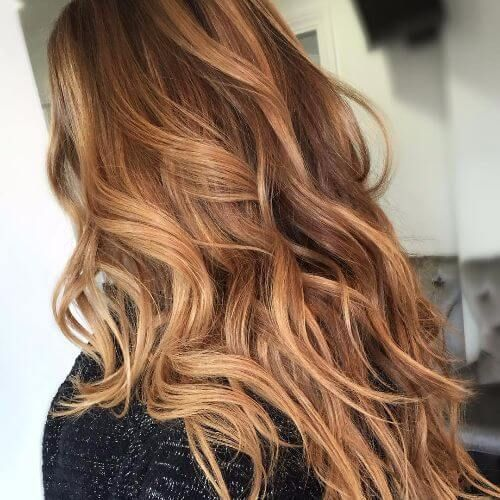 New change
With fall upon us, a chill is in the air and change is upon us. Some of us have had the same hairstyle all 2020 and might still be wearing the same summery highlights that we've had since March. If you're looking for a new change, why not try caramel hair? This on-trend color is being worn by many celebrities, including the likes of Jennifer Lopez, Kylie Jenner, and Beyoncé to name a few. This shade is hot right now and it doesn't seem to be going away anytime soon.
Warming
If you're not ready to go for a cool-toned color and completely let go of summer just yet, then caramel will be the shade for you. Go for a warming caramel shade with golden highlights for best results, and to add warmth to your complexion.
A transitional color
Caramel is a great transitional color, due to the fact that it is easy to create and transition too. One of the best things about caramel hair is that it's close to both the brunette and blonde families. So, if you are a blonde you can dye your hair warmer, and if you are a light brunette or mouse color you can go a few shades lighter. Caramel is a great transitional shade.
If you are a brunette wanting to go caramel, keep your roots dark and find a hairstylist who can create caramel balayage for the rest of your hair. No matter how long your hair grows, you can keep this style throughout winter and fall, only needing purple shampoo to keep the light of the end.
Caramel highlights
If you are not ready to go full-on caramel this fall, caramel highlights might be worth a try. If your hair is already close to caramel, for instance, a light brown or dark blonde color, a few caramel highlights will look stunning on you.
A caramel wig
If you don't fancy dying or bleaching your hair just yet, UniWigs sells lots of beautiful caramel wigs. Our UniWigs Inspiration Human Hair Wig (pictured above) is a gorgeous blonde caramel ombré shade that has been popular with customers for years. Inspiration features Warm Caramel at the top, transitioning into Ash Blonde, creating the perfect soft ombré. This human hair wig can be worn in any season and it extremely versatile.

If you're looking for a caramel bob style wig, our UniWig Alice Bob synthetic wigs will be the one for you. This piece has a slightly darker balayage caramel color named Chocolate Caramel! This Chocolate Caramel shade is a unique and salon-inspired shade that features darker roots and light highlights throughout. Alice is a gorgeous and affordable caramel bob wig that will look stunning this fall.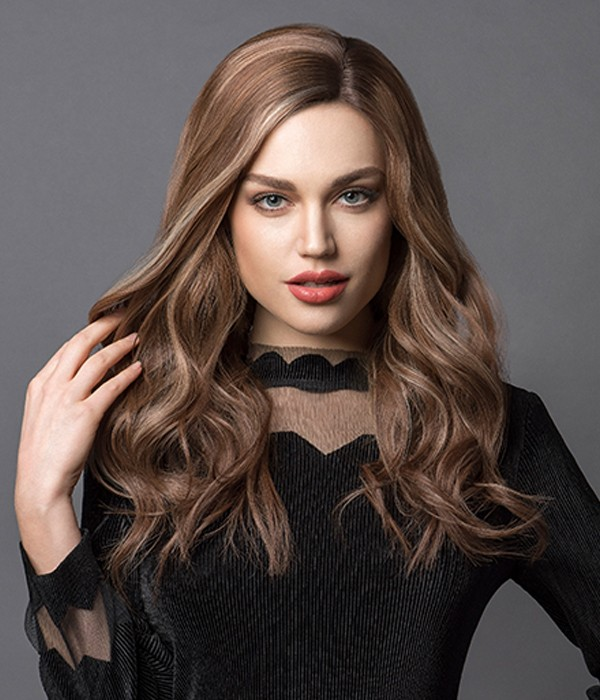 A caramel topper
If wigs aren't really your thing and you would prefer not to dye your own hair, don't worry! You don't have to miss out on wearing caramel hair this fall. Simply go for a caramel hair topper that you can clip into your own hair in seconds! At UniWigs we sell a variety of human hair and synthetic hair toppers in different caramel shades that are always a hit with our customers.
Our UniWigs Melanie Human Hair Mono Top Topper (pictured above) is available in this sultry Chocolate Caramel shade, which is a darker brunette with caramel highlights and tones. This shade is the same one that features on the Alice Human Hair Wig. We love this caramel topper color, and it is worth noting that this color is always popular and it's ideal for fall.
This UniWigs topper (pictured above) is in the Y-868 Caramel shade, which is a light brown highlighted with platinum blonde. This shade is available on Claire, Bella, Melanie, and the Upgrade Claire hair toppers. If you desire a pretty and light caramel shade, then go for Y-868 Caramel (making sure your own hair color is similar to this shade for a good match!).
So, in total, we hope you liked this article on caramel hair this fall. Caramel is on-trend in 2020 and it is a beautiful shade to transition to this fall, with many celebrities paving the way and donning caramel locks. You can achieve caramel hair by dyeing or bleaching your own, or by wearing one of our UniWigs wigs and toppers in the shades Chocolate Caramel, Caramel, or Blonde Ombré. Caramel is a warming hair color that makes a great and festive change now we are in a new season. Try it today and feel free to comment on your thoughts on caramel hair below!
---
---
Writers Cooperation:
UniWigs are seeking for blog contributors who know and love hair. If you know alternative hair or hair related accessories, if you have great understanding of hair trends and fashion, if you are expert in hair care, if you have any experience with salons or celebrities, if you would like to share your experience to help people just like you make the right choice, now contact us at [email protected] to be a blog contributor. Let's discuss the details then.