UniWigs Human Hair Wigs Reviews By Customers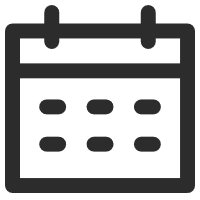 August 03, 2022
Human Hair Wigs 101
Views: 990
You could find thousands of wig reviews on UniWigs.com, with or without customer photos. See what our customers said, shopping on UniWigs is a wonderful experience, with good quality and affordable hair products compared with other brands, and excellent after-sales service. Today, a few representative human hair wig comments will be selected to show. You can also have a look at our customers' favorites and best-selling human hair wigs.
Charlotte | White Blonde Balayage Remy Human Hair Lace Front Wig (CL1902)
Brittany
"I love my Charlotte wig. She is just perfect for me, in length, density, and hair color. She is so pretty. When wearing this wig and going out, I've got plenty of compliments for my beautiful hair!!! If there is one thing I can make a complaint about, it may be the price. But to be honest, there are lots of brands who sell their human hair wig over 2K or 3K. So as for this Charlotte Wig, I think the price is still reasonable."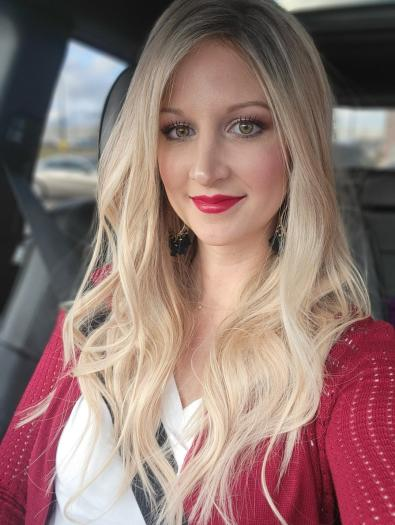 Aleena Andrew Birch
"So far the most expensive human hair wig I have ever purchased, but it is worth every penny I have spent!!! LOL Love this cool blonde hair color so much!! And hair quality is supreme, so smooth and sleek, with no tangles at all. And I ''ve got tons of compliments on my hair when wearing this wig!!! I am so happy with this purchase, thanks so much UniWigs !!!"
Anwen | Blonde Remy Human Hair Mono Top Wig | Lace Front (HL2209)
Cartina. H
"This wig is beautiful! I've had complete hair loss for over 5 years and this is the first wig I've purchased made for this the cap fits perfectly without any slip. The lace front is virtually undetectable!! The mono top is amazing and comfortable. It has a gentle, natural wave after washing and looks great without the need for styling, and I love the layers, so much fashion...I let it dry naturally for this effect. I highly recommend this wig!!"
Chelsea
"I must admit, I love this wig. It's a nightmare for bald girls, fortunately, I can face it bravely now. This is a struggling process. In the process, I met a wig, but unfortunately, I have an ultra-small head circumference, and many normal-sized wigs are not suitable for me. But Anwen is not like this. She is a wig especially born for small head circumference. The comfortable cap construction and almost invisible front lace surprise me. I wore her on a date, and she was really beautiful. I love uniwigs"
Perfection | Silk Top Brunette Balayage 100% Hand-tied Human Hair Wig | Lace Front (LS1833)
Pamela Haynes
"This is a FULL wig NOT a topper, it is called Perfection with a glueless lace front it has a silk top that provides a beautiful parting space anywhere in the front. The hairline is amazing, the lace is beautiful, and the color is a brown 2 tone, it is like dark chocolate meets milk chocolate, and fell in love lol. The silk cap is amazing and soft, the weft part in the back is covered by a very soft material that allows some stretch if needed. The cap has 2 types of combs, pressure and straight combs there is a bra-like strap adjuster for sizing, the only one I use is the back straight comb. I have not cut her or alter her. I used a 1.5 barrel curling iron to get the style pictured. This unit is of course from UniWigs.
I lost 80% of my hair from TE.
Here is the Before and After finding The Perfection silk top at UniWigs!
I am 60 and feeling 50 again! ( I am not a makeup wearer so you are warned lol)"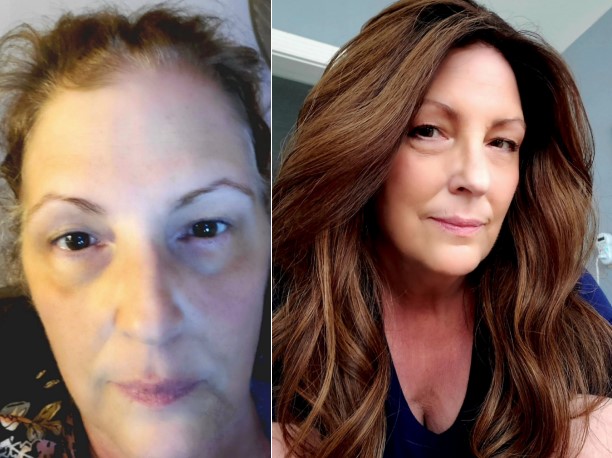 It has been 10 years since we embarked on this journey and what an incredible joy it has been! We had great hopes for the company's future, but we never could have imagined where it would end up. We are so proud of how far we have come and we know that none of it would be possible without our amazing clients! It is a joy to work with all of you and to help you on your alternative hair journey. We know that this process can be hard and extremely overwhelming, but being able to witness this community's strength and courage is something we learn from daily! Thank you for letting us be a part of your story. We feel honored to be the ones to experience this with you! Happy Ten Years to Uniwigs! Without YOU we wouldn't be here!
---
---
Writers Cooperation:
UniWigs are seeking for blog contributors who know and love hair. If you know alternative hair or hair related accessories, if you have great understanding of hair trends and fashion, if you are expert in hair care, if you have any experience with salons or celebrities, if you would like to share your experience to help people just like you make the right choice, now contact us at [email protected] to be a blog contributor. Let's discuss the details then.