Halloween is just around the corner. Are you well prepared for it? If not, you really do not want to miss out UniWigs Halloween Sale and Happy 3 Hours Flash Sale to get yourself ready for a glamorous Halloween Look!
When is the UniWigs Halloween Mega Sale 2019?
From October 28th to October 31st.
Deals and Sales? What's New?
1. SHOP AND SAVE: Get 25% OFF SITEWIDE. Coupon Code: Halloween25
*Clearance items and custom orders are excluded.
2. Join the LUCKY DRAW GAME to win free wigs and 10,000 store credits.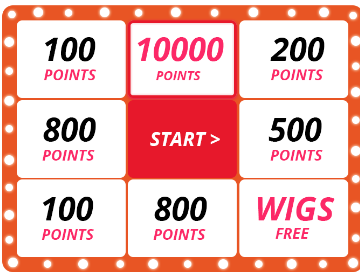 3. HALLOWEEN SURPRISE GIFT
* 30 gift sets ONLY. One gift per customer only. First Come, First Served.
4. Happy 3 Hours Bonus: EARN 1,000 Rewards Points!
You will get 1,000 rewards points if you purchase anything on happy hours. Rewards points can be applied as cash coupon at UniWigs.com and can be combined with any valid codes to your orders. 1,000 rewards points= 10 USD!
When does the HAPPY 3 HOURS SALE start?
9:00pm-11:59pm EST Oct 27th
Happy Hours Coupon: HAPPY25
Learn More about UniWigs Halloween Sale: https://www.uniwigs.com/tag/halloween-wigs