How to Choose the Perfect Hairstyle for your Wedding Dress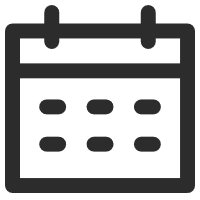 August 21, 2020
Lifestyle
Views: 3153
Every girl dreams of their wedding day, what their wedding dress will look like, where the venue will be held, and of course, your bridal hairstyle! Now might be the time where you, or one of your friends might be planning a wedding. Planning the details is part of the fun and choosing the perfect hair style that will match your wedding dress is an important part of wedding planning! Many people also choose to wear wearable hair to enhance their hair volume and length on their wedding day. Here we offer some bridal hairstyles and which wedding dress and style it will compliment, which may be useful for your upcoming wedding.
Loose Waves
Loose and elegant waves are a timeless look for a wedding day. Loose waves look exceptionally stunning when paired with an off the shoulder dress, a dress with a V-neck, and halter neck dresses. Loose waves with some hair at the top pinned back and a few face framing pieces add an extra touch that looks more polished. Loose waves also look sensational with a veil pinned to the back of the head.

Many women on their wedding day look to enhance their hair with a little helper hair. This option is becoming more and more popular. Depending on your hair, wearable hair can help to give more volume and length. For longer waves, hair extensions are a popular choice. Specifically, natural looking remy human hair extensions, which are perfect for the bride and bridesmaids. For women with thinner hair on top, a topper or even a wig can provide volume on top of the head and a lot more hair to be styled. We recommend washing and styling any hair piece you choose to wear before the wedding day, so it can simply be clipped in the morning of the wedding with a little help from your bridal hairstylist.
A Low Bun
A low bun is a popular bridal hairstyle that never seems to go out of fashion. The low bun will stand the test of time and will still look beautiful when you look back at your wedding photos. Typically, low buns compliment wedding dresses with a high neckline, straight neckline, long-sleeved wedding dresses and minimal wedding dresses. There are many types of low buns, ranging from polished chignons, to loose and effortless buns like the one in the photo.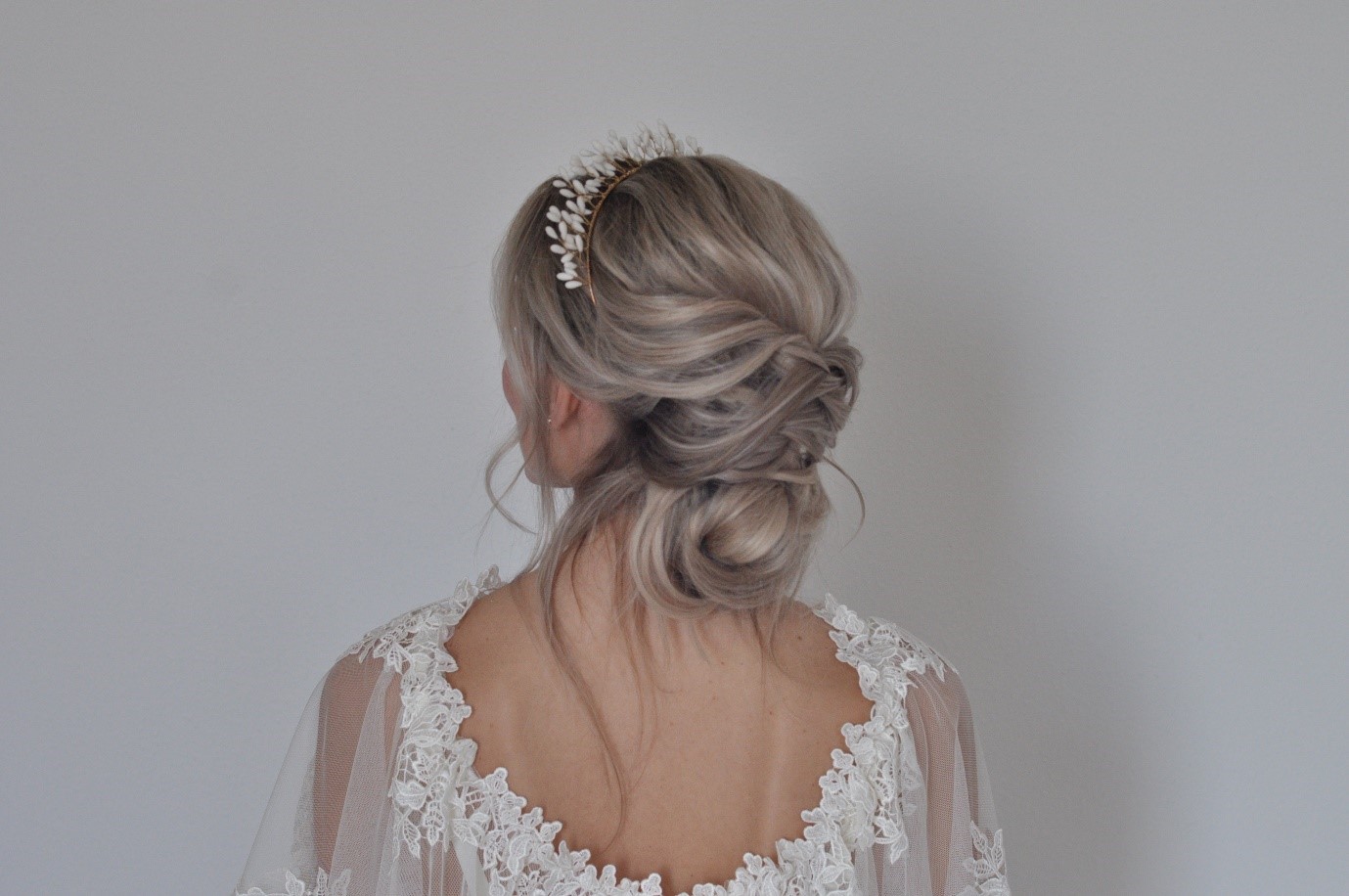 If your wedding style is more bohemian, a knotted effortless bun may be your style of preference. If your wedding is more polished and glamorous, a regal or intricately decorated chignon bun may be for you. If you are considering a low bun but are not sure which to go for, it is always an excellent idea to consult your bridal hairstylist first (and in plenty of time) who can advise you on which may suit you, and which will match the style of wedding you are planning. Be sure to show your stylist photos of your wedding dress too. Your bridal hairstylist can also test different hairstyles on you before the big day which can help you to decide.
Bridal Dutch Braid
Bridal Dutch braids are a wonderful hairstyle for your big day, as they can be decorated and styled so elegantly, with tiaras, pearls, and even flowers. They give the opportunity to enhance details from behind and can look beautiful in wedding photos taken from the back and side angles. Bridal Dutch braids compliment off the shoulder wedding dresses and backless wedding dresses. A bridal hairstylist or someone with experience is essential for a bridal Dutch braid, as this could be too intricate to create on your own on your wedding day!
Side Swept Hair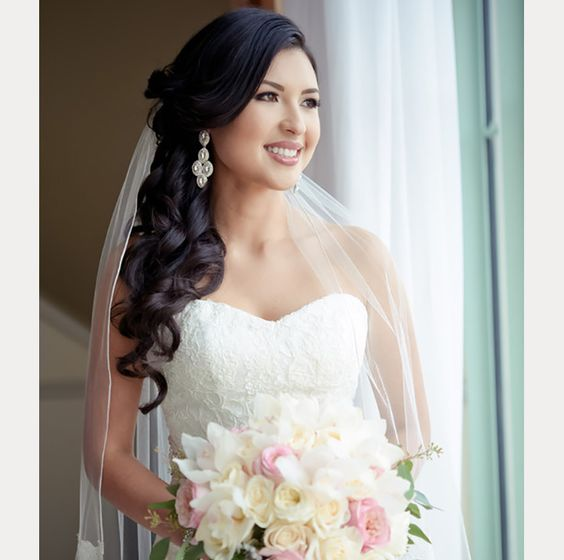 Side swept hair is a flattering option for all brides. This style has many variations including half-up half-down and side buns. Side swept styles compliment many dress types, especially one shoulder wedding dresses and strapless dresses with a sweetheart neckline. This style is versatile and can also suit different wedding styles such as beach weddings and grander weddings.
In total, there are no rules when it comes to your wedding day. It is your special day, and as long as you wear a bridal hairstyle that you love, and feel comfortable wearing, that is all that matters. We highly recommend consulting your bridal hairstylist who will be able to test different hairstyles on you to try before your wedding day. If you plan on wearing wearable hair on your wedding day to enhance your locks, speak to your hairstylist and be sure to have the helper hair blow dried and styled before the wedding day so they can be put on straight away!
Feel free to comment below which bridal hairstyle is your favorite and share any bridal hair tips you have!
---
---
Writers Cooperation:
UniWigs are seeking for blog contributors who know and love hair. If you know alternative hair or hair related accessories, if you have great understanding of hair trends and fashion, if you are expert in hair care, if you have any experience with salons or celebrities, if you would like to share your experience to help people just like you make the right choice, now contact us at [email protected] to be a blog contributor. Let's discuss the details then.