Add Some Green to Your Life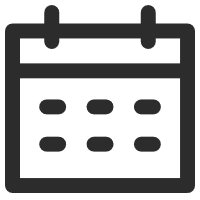 May 10, 2021
Synthetic Wigs 101
Views: 1537
Different shades of green are on-trend and the popularity of green doesn't seem to be going anywhere. From the rising admiration for the sage green shade to bright almost-neon pops of color, green is being seen everywhere.
Not only is green a favored shade, but it is also perfect for the spring and summer months. Green is known as a fresh and natural color, resembling the leaves and trees from mother nature. In color psychology, green is thought to impact moods and emotions by relieving stress and promoting healing. Green is a calming and optimistic color, that reminds us of the outdoors.
When it comes to hair, green is a wonderful dye choice to truly stand out. Many of us would love to have green hair but would not dare to bleach and process our hair to the extent of obtaining green locks! That is why at UniWigs we have curated the hottest green wigs in a variety of different styles and hues. Add some green to your life this spring and wear the color of mother nature!
Here we will go through our top green colors at UniWigs and some great choices for you to wear the color of mother nature.
Lime Green
Go for lime green this season with the UniWigs Poison Ivy synthetic lace front wig! This green shade is bright and eye-catching, perfect for when you want to stand out and embrace bright green hair! UniWigs Poison Ivy synthetic wig has bouncy straight hair that sits below the collarbones.
This style is great to wear during the warmer months for anything through your social calendar! A bonus about synthetic wigs is that they are also much lighter to wear than human hair wigs, making them ideal for the hotter temperatures in spring and summer.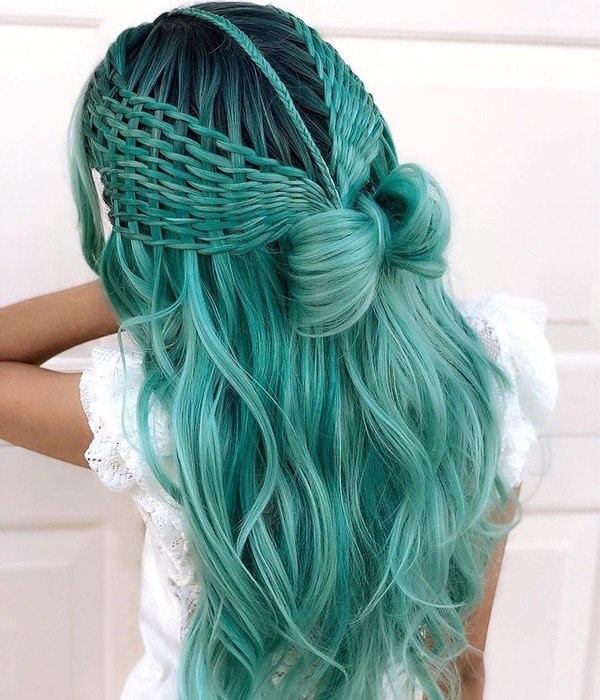 Lake Green
If you're keen to go for a more natural green shade, this Magical Mermaid synthetic lace front wig in the shade Lake Green will be perfect for you. This color embraces blue tones and is the cutest shade to wear if you're planning to attend any fun summer parties or events.
Like the name, Magical Mermaid is inspired by mermaids and the ocean, and the color starts with a Lake Green and Seafoam Green color, where it fades subtly into a Mint Green hue. We also love how the texture is naturally wavy, without any hints of frizz due to the synthetic fibers.
Dark Emerald Green
Looking for a darker green shade? Look no further than the UniWigs Polaris lace front synthetic wig! This loose wavy bob style possesses an understated dark green color that is not too bright. If you don't want bright green hair and are considering a subtle dark green hair color, then this Emerald Green shade is definitely worth a try. Polaris is an edgy wig that truly reminds us of evenings out in the city, visiting bars and concerts with lots of people before Covid-19 happened! Polaris has a summer vibe that is perfect for incorporating in your outfit for a dark sophisticated green pop of color.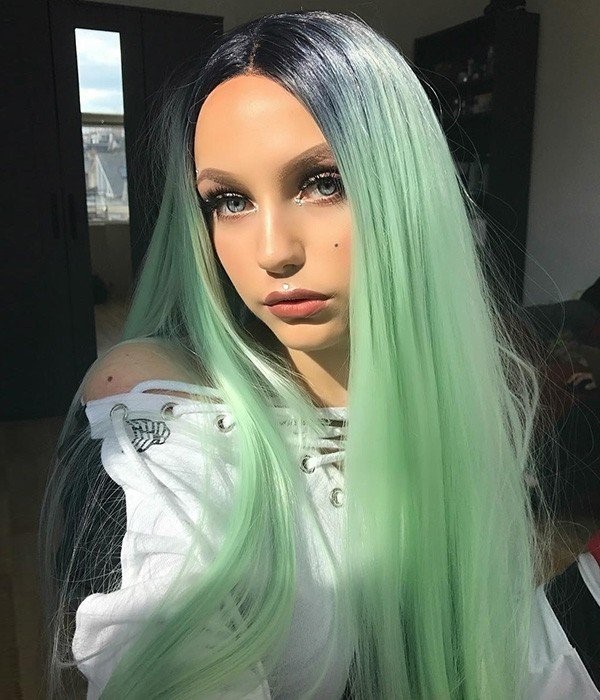 Mint Green
Repeat after me "Mint Green never goes out of fashion!". Embrace Mint Green hair this summer with the UniWigs Mint To Be synthetic lace front wig. Mint Green has been the most iconic green shade for wigs ever since Kylie Jenner started the trend in 2015. Since then, Mint Green's hair has gone nowhere. This shade has evolved into a whole new statement of its own and is the perfect summer shade.
Whether you want to go for a road trip or to a pool party, or out to the mall, UniWigs Mint To Be synthetic lace front wig is a must-have. Not only is Mint To Be the hottest light green shade ever to have existed, but it is also very flattering. Mint To Be features a natural dark root, which makes it look very realistic, just like you dyed your own hair. Have fun taking selfies and playing around with your new Mint Green hair and know that you look stunning!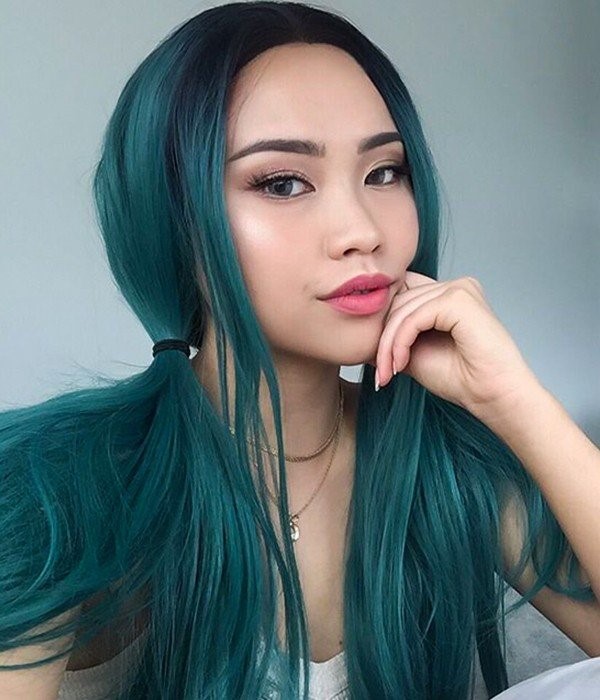 Mirkwood Green
Wow! Have you ever heard of the saying, "save the best for last"? This applies here! The UniWigs Mirkwood synthetic lace front wig possesses the most stunning shade of deep green ever. This green is a vivid shade of dark teal, and what's more, is it features dark roots. As we mentioned previously, dark roots are a great way to make a wig look even more natural, as it looks like you just dyed your own hair. The dark roots also blend in better to your scalp, especially if you have naturally dark hair.
Mirkwood synthetic lace front wig is super long (24 inches) and features a naturally straight hair texture. Mirkwood will look great worn in photos, to the park, paired with literally ANY outfit, and is a great 'day to night' wig. Wear Mirkwood through your day plans and straight into the evening. Mirkwood is sophisticated enough to pull off any event. Personally, we love this royal green shade that Mirkwood embodies, and we just can't get enough of it.
So, there you have it. Our top green wigs at UniWigs. With so many green shades to choose from, ranging from Lime Green, Lake Green, Emerald Green, Mint Green, and Mirkwood Green, there is no one green wig that is the best. With our range at UniWigs, you can pick a green wig for every occasion.
Green is often an overlooked color when it comes to our hair, but after reading this blog, maybe you will think twice when it comes to choosing a new colorful wig! Green is a truly gorgeous color with many different green hues to choose from. Not only does green affect how you feel in a positive and calming way, but it is also a unique shade that will draw attention to your hair and your style.
Which green UniWigs wig is your favorite? Would you dare to wear green hair? Leave a comment in the comment section as we always love to hear from you!
---
---
Writers Cooperation:
UniWigs are seeking for blog contributors who know and love hair. If you know alternative hair or hair related accessories, if you have great understanding of hair trends and fashion, if you are expert in hair care, if you have any experience with salons or celebrities, if you would like to share your experience to help people just like you make the right choice, now contact us at [email protected] to be a blog contributor. Let's discuss the details then.