1.1 Why should I choose UniWigs?
Throughout our history, Uniwigs' philosophy has always been to make hair that is unique, stylish and individual to fit each customer. From the drawing of our first sketches to presenting our finished products, Uniwigs applies the utmost attention to detail and quality.
Uniwigs also believes every woman is unique and every unique woman deserves a unique wig. Uniwigs strives for uniqueness within our industry. We design our hair products at our own design center in LA and produce them at our own factories based in Asia to avoid any extra expenses. Giving you the best quality at the most affordable possible price on the market. Design, development, production, quality control and sales-Uniwigs controls every step of the hair making process and ensure high quality and longevity.
With fashionable designers and strong production capability, Uniwigs is also able to make customized order to meet personal needs. Our clients now have the chance to fulfill their dream hair by choosing various colors and caps from UniWigs.
1.2 Lace Front Wigs and Mono Wigs
Lace Front Wigs: Lace Front Wigs or Front Lace Wigs applies to a wig that only has lace in the front and wefted at the back. This gives you a natural front hairline and provides extreme comfort to the scalp. UniWigs provides you with human hair lace front wigs and synthetic wigs to choose from.
Mono Wigs: UniWigs Mono wigs are made of hand-tied mono top cap construction to simulate a natural hair growth with stretch net at the back for the best comfort and fit.
Please refer to all the cap constructions.
1.3 How to distinguish human hair wigs and synthetic wigs?
Compare the price
That is very obvious: with the same style and length, Human hair wigs are much more expensive than synthetic ones. Therefore, If your human hair wig is relatively cheap, you may need to consider whether it's blended with synthetic fiber or the hair that collected to make this wig is not of a healthy quality.
Identify the material
Burn/Singe the hair and smell: Choose a small strand of hair and burn it. If the hair is 100% human hair, it smells like a barbecue; if not, it smells like plastic.
Check the ashes after burning the hair. If the hair is 100% human hair, you can twist the ashes to turn it into powder; if not, the ashes will remain in tact.
1.4 Are the knots of UniWigs lace wigs bleached?
When hair is hand-tied to the base of a lace wig, you can see a knot on the lace. Lace cannot be hidden. Thus we have to bleach the knots to help create the illusion that your hair is growing out of your head.
UniWigs lace wigs are made of high quality lace with single knots around the perimeter and double knots elsewhere. All lace wigs knots have been bleached along the perimeter.
NOTICE: When hair is hand-tied to the lace, there is a dark knot where hair is secured. Bleaching of these knots helps to lighten the appearance. With the use of peroxide (bleach) gives the illusion that hair is growing from your scalp. Even without bleaching, knots made with darker color hair (Black to dark brown) will still be more noticeable than lighter colored hair.
Please don't bleach the knots if you are not familiar with wig production.
Please specify your bleaching demand to us via Live Chat or Email before you place your order with us.
1.5 What are Full Lace wigs and Glueless Full Lace wigs?
These two kinds of wigs include lace all around the perimeter and are available for you to wear your hair in updo's and high ponytails. The wigs all have a natural hairline around the perimeter when wearing.
Since there were no combs or clips and no straps inside Full Lace wigs, you have to apply the wigs with either glue or other adhesives. These are suitable for women without hair or with scarce hair. While glueless full lace wigs have adjustable straps on the back and combs on the side and the front to secure the wig from sliding or rolling back, you can adjust the cap to suit your head size for a better fit.
1.6 What's the difference between Remy human hair and virgin remy human hair?
Remy Hair
Remy or Remi is not a brand name. Technically, the term refers to the characteristics in a collection of hair that is, un-damaged, healthy hair. Remy hair is shinier, softer, and has a longer lifespan than non-Remy hair. Non-Remy has been chemically processed (typically for texture or color) before the hair was collected.
Remy hair strands can be processed by coloring or other treatments to reach a certain style, thus some ingredients of the hair mainly the cuticles could be destroyed. Remy hair is not as good as virgin hair, thus remy human hair wigs are cheaper than virgin remy hair.

Virgin Remy Hair
The best type of Remy hair is virgin, also called "cuticle" hair. When hair is harvested from a donor, the cuticles remain intact to protect the hair from damage.
Virgin hair is hair that has never been processed or treated with ANY kind of chemicals. The hair is in its natural state with its cuticles running in the same direction and is fully intact. You can bleach, dye and process Virgin hair just as you would do to your own hair.
The texture of virgin hair is generally straight, wavy or curly. However any hair that has been chemically processed for texture, for example yaki, body wave or curls is no longer virgin.
Uniwigs Remy human hair wigs
Uniwigs Remy human hair wigs are properly processed to style any wigs at the customers demand, without any over-processing or without the use of unhealthy hair that has fallen from heads like some unprincipled manufacturers. Therefore any products labeled as "Remy human hair" on www.uniwigs.com, are not "virgin Remy hair products" however, we ensure they are of meticulously high quality.
1.7 How can I choose the color and the size?
To help you shop for the right color online it's just as easy as in a store, please refer to our hair color chart after you have found the style you like.
As for the cap size, we all know that measuring your head size is an important task to endeavor prior to ordering a wig. Please carefully measure your head size and choose the proper cap size following our cap size guide.
1.8 Can I curl or straighten my wig?
Of course you can if you purchase our Human hair wigs for the ultimate styling versatility - you can curl or straighten them as you would your own hair. However, just like our own hair, the less heat you use the better.
Synthetic wigs, on the other hand, can be irreparably damaged if you try to curl or straighten the hair with heated tools, except occasionally with some heat friendly wigs.
1.9 How do I apply a wig?
To perfectly apply a wig is not easy. First, you need to pin your hair up. Then, use a wig cap on any type of hair length to hold it all in place and to ensure a smooth fit. Even if you are bald, we recommend you still use a wig cap - it will help with friction and ensure the wig stays on. Next, put the wig on your head from front to back. There are two tabs on each front/side of the wig. Position them right in front of your ears.
Don't worry if it doesn't look perfect right away. Go ahead and style/brush it into place the way you'd like it to look.
If you still are not sure, go and watch the video then.
1.10 How should I care for my wigs?
Looking after your human hair wigs is very important in order to increase the life of them. You may like to follow these steps to better protect your human hair wigs.
1.11 Do you have baby hairs on your wigs?
Yes. Both our human hair wigs and synthetic wigs have baby hairs on the front and at the back of the wigs. Here are two pics showing how the baby hairs look like.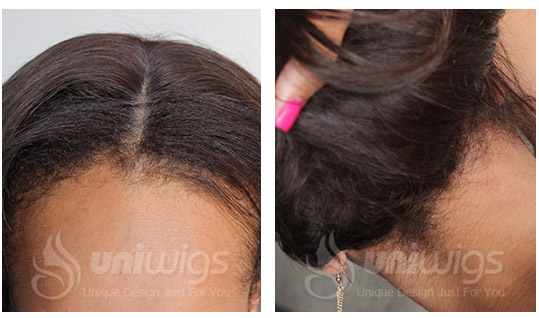 1.12 Will I look natural with the human hair wig?
Yes, you will look very natural with our lace wigs because firstly the hair is hand-tied to the lace which will make the hair look exactly like growing from your head.
Secondly, the hairline of our human hair wigs is very natural as if they are your own scalp which you will see from the pic below:
1.13 UniWigs Slogan is "Unique Designs Just For You", how can I custom my own wigs?
We offer 2 options for custom wigs. Take a look at the custom wigs guide.
1.14 How to get and use UniWigs Credit?
To spread our love and sincere thanks to our customers, we will occasionally award you with some UniWigs Credits (1 credit=1 dollar), please stay tuned and actively take part!
You can check your credits at My Account -> My Credit slips.
1.15 How can I place an order on your site?
Placing Your First Order
Placing an order is quick and easy on UniWigs.com. There's no need to create an account first. You will create your account during the checkout procedure when you place your first order online.
1) Add Items to Your Shopping Cart
When shopping in a particular product category like "Clip in Hair Extensions", you will find more information about a specific product like length or color. To add items to your Shopping Cart, please just click 'Add to Cart' after viewing the item you want to purchase. And to continue shopping and browsing, you can simply turn to other pages until you finish the shopping. You can access the contents of your Shopping Cart at any time by clicking the ' Your Cart' icon at the top of every page of our site.
Anything you want to know more about the items you are interested in, please contact us via email or Live Chat with our service staff.
2) Check Out
Before checking out, take a moment to review all of the items you've placed in your Shopping Cart. If you don't want to purchase a particular item, click the red "x" on the line of the item you wish to remove and you will get a new total price. If you wish to change the quantity of items purchased, just enter a new quantity box.

When you're ready to place your order for everything in your Shopping Cart, you can choose the discounts you have and then choose the shipping method.
After that, please click the 'SECURE CHECKOUT' button. You'll be taken to the first page of the Order Process.
3) Provide Your Shipping Address
If you didn't register on our site, then you can register now (with this account, you can add items you wish to buy later to your wishlist, check out your order procedure, get UniWigs Credits, use UniWigs Special Coupon Code etc. ). To ensure that you will receive your order safely, please fill out all of the fields with red stars to the right of them after signing up. You can tick the "Use shipping address as billing address" and then click "SAVE".
Of course, billing address can be different from shipping address. But please check your billing address very carefully because incorrect billing address will be rejected by PayPal & Credit Card Charge System.
4) Send Payment
Have a final check at your order at "YOUR ORDER SUMMARY". Also, you can leave us a message if you have specific demands about the order. If there's no problem, then please carefully "ENTER PAYMENT DETAILS" and then "GO TO CHECKOUT".
NOTICE:
1.Right now, only "Order Online" is available on UniWigs.com.
2.If you are wrong at any step, click "previous step" to correct the information.
3.Any questions please check at www.paypal.com or contact us at [email protected]
1.16 Find Your Size
Measuring your head size is an important task to endeavor prior to ordering a wig. Here are 3 simple steps to measure your head correctly:
Before you measure, make sure to flatten your hair, use a cloth tape measure and do not pull the tape measure, just rest it over or around your head. Pulling stretches the tape and will give you the wrong size.





1. Measure around your head at the hairline. The "around your head" size of every wig can be adjusted up to 1" larger or smaller to ensure a secure fit. The tape should be just above the ear and along your natural hairline.

2. Measure your head from the nape over the crown to the top of your forehead where your natural hairline is.

3. Measure from the point in front of one ear where your hairline ends, over the crown of your head, to the same point of your other ear.

Tips: Across most of our wig collections you will find the following cap sizes to be standard.
Petite - 21"Average - 21.5" Large - 23"
1.17 HOW TO MAKE A CUSTOM WIG ?
1.18 HOW TO CHOOSE A CELEBRITY COLOR WIG ?
1.19 HOW TO CARE A CURLY WIG ?
♦ Please don't color human hair wigs by yourselves. It is a very risky experiment and might have a bad result. However, if you still prefer to dye your own wigs, please keep in mind that you should never try to dye a darker color wig into a lighter color. Strongly recommend to ask the professional hairdresser to trim, shape or thin out the wig.
♦ NEVER sleep on wet hair; your hair must be completely dry before going to sleep as sleeping on a wet lace wig WILL cause hair to be very matted.
♦ Don't soak the hand-tied human hair wigs for a long time since it will damage the knots in the wigs. When you wash the wig, please treat it very carefully just like your own hair.
♦ Choose a slightly acidic shampoo, use hair conditioner and wash in mild water.
♦ Make sure the water flows in the same direction during washing and avoid rubbing the wig heavily.
♦ Do not comb or brush the wet wig. Style the wig when it is dry.
♦ Gently blot excess water with hand or towel (do not twist or brush); shake vigorously and hang upside down to air dry (usually overnight). Do not blow dry the wig. Do not brush wig when wet. Do not wear wig with wet cap or dry wig on head or Styrofoam, as this will stretch the cap.
♦ Using a wig brush on a wig is okay but, I suggest using a METAL WIDE TOOTH COMB.
♦ Refrain from pulling the comb forcefully through the tangles. Pulling will not only pull the hair off of the "tracks" of the wig but the pulling. Spray your wig with a light oil sheen to restore luster that was lost while getting rid of the tangles.
♦ For straight styles brush in long, even, gentle strokes. Starting at the bottom, gently comb the hair using a downward motion, with a wide-tooth comb or finger style. Gradually move up until you have combed all the hair. Never begin combing at the top or middle. It will damage and tangle the hair.
♦ It is very normal for the human hair wig to have certain amount of shedding.
♦ Please store your wig on a wig stand or mannequin head in a cool, dry location avoiding extreme temperatures, mold and dust, which will help maintain the shape, cleanliness and style of your wig.
1.20 HOW TO CHOOSE A RIGHT DENSITY WIG ?
1.21 HOW TO MAKE A NATRUAL HAIR LINE ?
1.22 HOW TO COMB YOUR WIG CORRECTLY ?
1.23 HOW TO STYLE THE WIG ?
1. Always use a wide tooth or pick comb for curly styles and a wire brush for straight styles. Avoid standard brushes.
2. When brushing, start at the ends and gently work your way to the roots.
3. To completely restyle your human hair wig, we suggest taking it to your stylist. If you decide to restyle it yourself, please follow these guidelines:
- Place wig on wig stand. Use standard or electric rollers or pin curls.
- Remove tangles with a wire brush or wide toothcomb.
- Pick up hair and wind on roller, smoothing ends as you go.
- Use medium setting with electric rollers or hair dryer. With hair dryer about 12" from wig, circulate heat evenly and continuously.
- Allow hair to cool before removing rollers or pin curls.
- Lightly brush or backcomb desired areas and spray with hair spray.
1.24 HOW TO WASH ?
♦ Gently brush the wig to remove teasing or tangling with a wide tooth comb. When brushing, start at the ends and work your way to the roots.
♦ Fill a basin with cool water with synthetic wig shampoo. Never use hot water.
♦ Soak your wig for 3-5 minutes, Gently swirl without rubbing.
♦ Remove your wig from the basin, and thoroughly rinse in cool water.
♦ Gently squeeze excess water and towel blot hair. Never twist or wring your wig.
♦ Place on a folding wig stand, spray with leave-in conditioner, and allow to air dry.
♦ When the wig is completely dry, it is ready to style. Never style a wet wig.