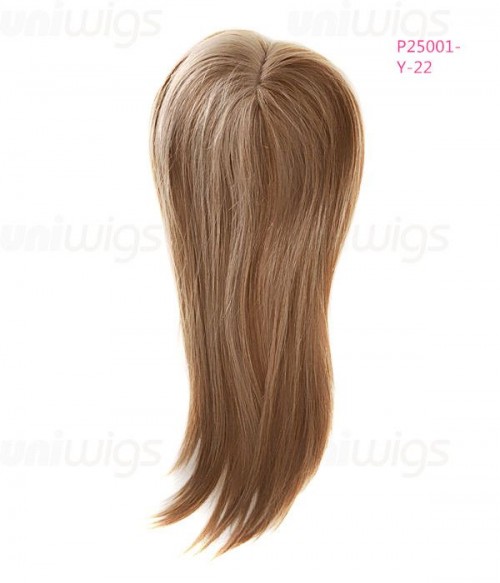 View larger
Claire Remy Human Hair Topper - 5.5"×5.5"
Warning: Last items in stock!
Availability date:
Jenny
2016-10-09 00:00:00
With no exaggeration, this was a Life Saver, I went through a lot of work related stress at the beginning of 2016 exacerbated by thyrhoid problems and severe Anemia that caused my hair to fall out (lost 40% within 3 weeks and continued shedding for 2 mos). I was so depressed and cried a lot, I just didnt feel like socializing. I stumbled upon June Penny's video on Youtube which inspired me to get a topper.I first purchased a Remy and was very happy with it and within 4 weeks looked into a different style in terms of the cap design. The Claire is so Natural looking that it is even better than my original hair. Wearing it was such a Confidence Booster. I've been to the dentist 2x and was so self conscious and afraid it would 'flip over' during the procedure as my head was tilted upward while my body was reclined, but thankfully it held up and looked great! Unlike June Penny, my bald spot is at the crown so I thinned out the front of the unit and clip it further back exposing my natural bangs and front sides. the transition from my bangs to the edge of cap is seamless. I also stopped coloring my hair to give it a break from the chemicals so the topper conveniently hides my grey hair. I am so happy with the Claire that I purchased another on and cant wait to get it!
Coco.L
2016-10-08 00:00:00
One of the best hairpieces I've used to date! I am a hairdresser and I have thinning on the top and crown area of my head from medication. I have tried full wigs (I have a lot of hair on the rest of my head) and I don't like the added bulk. I just needed something on the top. This piece is very natural looking, it does not have the shininess that I have experienced with other wigs/pieces. The part on the top of the pieced is full, and has a very natural looking part line. The sewing underneath is exceptional, it has clips all around, the only thing I am going to do is add an additional clip to the front for extra staying power. The hair fell natural and it blended perfectly with my hair color which is a 3ng or a darkest brown hair color. I did not use heat to it, I have naturally straight hair and never blow dry or curl it. Extremely impressed with this piece, wish I had found it years ago.
Veronica
2016-09-22 10:11:13
I purchased the Claire topper.. I absolutely love it! It was recommended by June Penny.. I've been wearing it for the past 4 months and still looks and makes me feel amazing. People are now complementing me on how pretty my hair looks and how much younger my face looks as well. After losing my mother last year from cancer in her liver. I stressed big-time after her passing and I started losing hair at the top of my head to the point where I looked as if I were sick too. Listening to June gave me hope and inspired me to buy a topper. This topper has changed my life from 0 confidence to 150% off the charts! I feel amazing! Thank you Uniwigs and June Penny!
Omaha Hair Extensions
2016-08-29 00:00:00
My hair client LOVES it!! This hairpiece started out a beautiful blond mix and I custom-colored it for my client (see pic)...the hair stayed in beautiful condition through every color process. This product was delivered in a timely fashion
momma4
2016-08-22 00:00:00
I have lost a lot of hair having 5 children & chronic staph infection on my scalp! Everything I used, tape, dreadful clip ins always showed through & felt like I had the good old chicken cutlets in my bra (always popping out) I have to say this hair feels like my real hair, I will need to color it a bit for some summer highlights. I am excited it does even match my blonde roots. I'm not sure if my hair is to short asymmetrical down to my shoulder. Maybe if I curl it, straighten my real hair it would feel blended more!? This was a cheep piece & most good ones go for $800-$1,500 dollars. I'm really excited to have time to play with it & go out on a date :)
Kelsey Wood
2016-08-20 00:00:00
I love it just perfect I only wish it had some thin streaks of very light blond in it and more hair in the front as I like a long heavy bang but I still love it I will just put the streaks in myself I hope this company will come out with beige blond with thin very light blond streaks with more hair in the front as I will buy bangs and sew them on for now so I will have the perfect piece please bring a hairpiece as described as I will buy many over the years thank you I am sure who buys this they will love it too.
Paual
2016-08-17 00:00:00
LOVE IT! soft, thick all the way to the ends, gorgeous color... just beautiful!!! if youre looking for a PERFECT topper, look no further! a MUST BUY!
Elizabeth Mullenax
2016-08-17 00:00:00
Beautiful!!1 Fast shipping!!! Exactly how it described!!! I had it styled by my hairdresser.
Teresa
2016-08-10 00:00:00
Excellent top piece at a reasonable price! As someone with fine, difficult to style hair, I have long coveted the lovely human hair top pieces, which add fullness and increase your hairstyle options, without the weight of a full wig. Unfortunately most human hair top pieces are around $800. I was so excited when I found this Uniwig top piece at a reasonable price. Since the piece was shipped from China it took several weeks to arrive. As soon as I got it, I colored it to match my own reddish brown hair, then I took it to my stylist to have it cut so that it integrated nicely with my real hair. I can't say enough good things about this product. It integrates so well that no one can tell that I'm wearing it. Instead of spending 30 minutes doing my hair in the morning, I just clip this piece on, flip my real hair over it in the front. and I'm good to go. Instant polished professional look! (To give you an idea of the difference it makes, my first attached picture is of my natural hair.) My only caveat about the product is that you should be aware that at this price the quality of the human hair isn't quite as good as the more expensive products. The piece doesn't take well to very high levels of heat. I wash it and deep condition it once a week, however, and it seems to be holding up well. Overall, this is a wonderful top piece for those who just want a little more polish and fullness to their hairstyle.
Michelle
2016-08-05 01:45:53
My first topper and I adored the look- not really a straight hair kind of gal, but it is super soft, great texture and blended so well with my thin hair texture! Highly recommend.
Sherry
2016-07-12 22:30:48
Claire Remy Human Hair Topper - Color : P25001-G-4 Medium brown This topper is the absolute best. I love it! I suffer from very thin hair as a result of chemo therapy and this topper blends with my hair and I finally look like I did prior to chemo 4 years ago. I can't thank Uniwigs enough. I am so happy, so pleased, I am going to order a second topper immediately so I have a spare on hand. I hope Uniwigs keeps this piece available for the unforeseen future as I know many will be as pleased as I am to have it. Thank you Uniwigs!
Ann
2016-06-25 00:00:00
Very natural looking. I'll wear it all the time.
Melissa123
2016-06-17 00:00:00
Love, love, love this hairpieice. I have been wearing it everyday for over a month and the only person that has figured it out is my hair stylist. Everyone keeps saying how much thicker my hair looks with that new haircut :) I asked Unwigs to customize the dark brown for me and it is a perfect match to my haircolor, and blends perfectly with my haircut. It is also very light weight and you forget you have it on. I ordered another one and will be ordering more to keep as backups, as I can't live without it now.
Connie
2016-06-14 14:00:47
I was so anxious to receive my uniwig, but upon opening the box, my heart sank, It's red, and I am so blonde. I held it up to my hair, and it is SO wrong. It looks like, and feels very silky. I have worn Remy hair, and have a high opinion of it. So sorry, but this will not work for me.
Imagination IsKey
2016-06-11 00:00:00
I have SNOW WHITE hair. I am so afraid uniwigs won't be able to make/ get this color for me. Now, I'm so happy to get right topper!!!
Emily1960
2016-06-09 00:00:00
This is my first time to purchase a hair topper. So far so good. This is a 5"*5" hair topper and has a very good coverage to my own hair. And the hair is very soft. I think I will become a return purchaser for your site.
Maria
2016-05-22 00:00:00
I received my monofilament hair topper. So Amazing. I just wanna to appreciate Uniwigs that I finally found the right product for my hair loss.It gives me more confidence for my life. And I will definitely recommend Uniwigs to all of my friends.
Dorothy
2016-05-10 23:48:31
Need to return. The cap does not cover my thinning area on my scalp.
Gisela
2016-04-02 23:51:03
This is an excellent hair topper for those searching...this is it...the quality and quantity of the hair is excellent and it comes with clips installed, very natural looking, I cut bangs into mine and it looks so natural, those that know I wear a topper are so confused as to how this looks so natural, Uniwigs, you have done it now. This is perfect!
msgreentea
2016-01-20 18:42:09
i love this hair so much i bought two!!! this is my first topper of all time. when i first received the blonde i wasnt used to so much hair on my face and i was impatient so i cut the bangs and too short! then i paid someone to cut it and thin it out, then i cut again, then i tried to dye it dark ash blonde to match my hair and when i tried it on again it was 1 inch shorter than my own hair. the darker color does match my hair easily but i am leaning so much to the blonde.