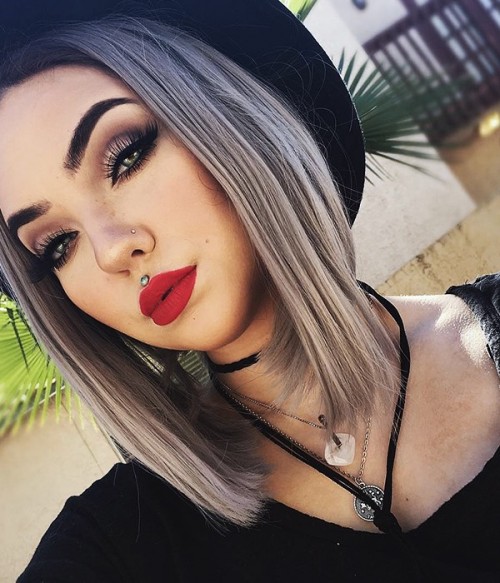 View larger
Ignite Synthetic Lace Front Wig
Warning: Last items in stock!
Availability date:
Perri
2016-10-05 15:01:50
I'm over the moon with this wig! It barely sheds, it's perfect length and beautiful color! Thank you so much uniwigs!!
tanya
2016-08-22 19:50:53
Such a beautiful wig. It looks so natural and the quality is so good. Would definitely buy wig from them again.
lynxaria
2016-06-03 00:00:00
Just as described. The color is beautiful and very satisfied with my purchase.
sav5nation
2016-05-08 23:07:22
This is a very nice wig, I got so many compliments on this wig because it looks so natural.
lovee_tara
2016-05-05 23:03:04
Loving my wig.
polyenee
2016-05-05 23:03:04
I really pleased this purchase. Fits comfortable and looks natural. I highly recommend it!
baka.moe
2016-05-01 23:41:40
Still love my wig from @uniwigs, the quality is real soft and smooth, and I get compliments all the time on it. Considering buying another one from them soon.
roseshock
2016-04-27 23:11:16
The color, shape and quality are all perfect. I like this kind of style very much.
maddyrichiemakeup
2016-04-19 00:00:00
I love it. Good hair quality. Great buy.
bunnypxo
2016-04-18 00:00:00
Love it. i have made a few hair wigs but this one is truly the best i will purchase more soon. Thank u.
joanandm
2016-04-16 00:00:00
my boyfriend said I was a perfect match with this synthetic wig.
Vince
2016-04-16 00:00:00
It's the right size for my large head. The color is beautiful and style is perfect.
Lauren_Martine
2016-04-13 23:50:19
Great silky hair and perfect fit! It looks great! And i always get compliments on it!
Deirdre666
2016-04-13 23:50:19
Definitely i would recommend this item to my friends. It is soft, real looking and easy to style.
Suleim
2016-04-11 23:03:25
I bought this wig for my friend, and was very pleased with the quality of the wig. It really did look like natural hair, and I was thrilled with the way she looked in it.I would highly recommend this wig.
Jene
2016-04-10 23:50:23
The medium length of this synthetic wig give beautiful look to my personality when I wear it. The top quality of this wig made me to buy it from Uniwigs online store.
sexypeliroja16
2016-01-04 19:47:31
Nothing but good things to say about Uniwigs, this is my second piece & I am in love! Looks so real. I love short hair but I am scared to cut mine so this wig is perfect!!
barbell_barbie147
2015-11-26 00:00:00
Love it so much! This is my third uniwigs!
abbyyholmes_
2015-11-11 00:00:00
Always wanted long hair but I'm too impatient and awkward stages of hair growth are too harsh.
taylor.nicola95
2015-10-19 00:33:18
So in love with this wig the quality and color are both Amazing