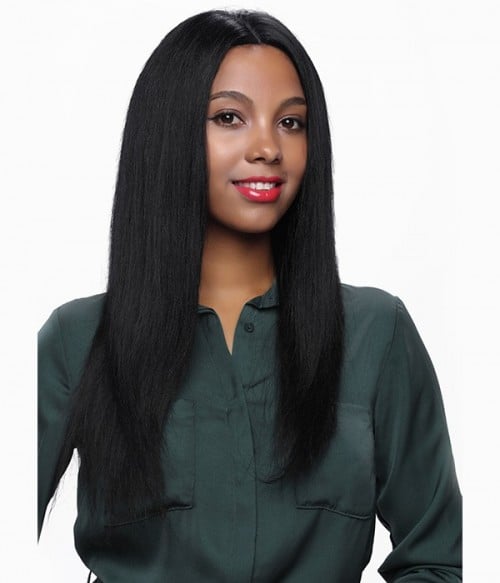 View larger
Yaki Straight Remy Human Hair Full Lace Wig
Free Color Ring for First Order with Human Hair Wigs
Warning: Last items in stock!
Availability date:
Sophia
2016-10-04 00:00:00
The wig gives me a big surprise. It feels very silky and smooth.I ordered 24" and it looks very natural on me! I love it! I will definitely order again!!
Angelica. S
2016-09-18 00:00:00
It feels smooth and comfortable!! The quality is definitely awesome!!!!
Mikey
2016-09-17 00:00:00
This is a great wig. It's a great value and great quality for the price.
Terea
2016-09-14 00:00:00
A nice wig, sort of thin so might want to add an extra bundle. The lace is great blends nicely with my dark skin. Would buy again.
Pan
2016-08-22 00:00:00
Nice wig. The quality looks good. I haven't washed it yet though. I will update.
Audrey
2016-08-03 00:00:00
The hair itself is SO soft. It's perfect. I would've preferred it a little more coarse but the hair is very soft and I haven't had any tangles while fooling with it all day. No shedding either so far.high quality wig and worth buy
Perry
2016-07-19 00:00:00
So in love with this wig
TriesItAll
2016-07-12 00:00:00
This is the best wig I have EVER received!!!!!!!! Shipping was fast! I was soooooooooooo happy! It could have not been more perfect! The only thing I would have said that would have made it better would be if the lace was a little harder so it would lay down flatter around the edges, but over all I give this seller and the wig a all round 10 from a scale 1-10!!!!!! Thank you so much! Will be ordering again!!!!!!
Doyin Moks
2016-07-03 00:00:00
Beauuutiful Hair!!!
skipper
2016-06-26 00:00:00
This is the wig that all the wig companies are trying to create...rpg show, aliexpress, dhgate to name a few and you will pay a lot more. I research 100'shows of wigs including watching videos before I buy. My review on this wig would be too lengthy...so just buy it...it's right for any black woman. I knew by the description that this was high quality low cost and reputable company. All wigs need adjustments and work to fit your personal specifications.... So I understand the negative comments are coming from people that don't understand how to make a wig their own. This wig is as perfect as it gets. This is not a commercial. I bought it and love it...I know wigs!
Ashley
2016-06-15 00:00:00
Just try it!!! Love It!!!
Beauregard
2016-06-04 00:00:00
Full and beautiful. will definitely buy more.
kellie Y
2016-02-01 00:00:00
Shipping was so fast by UPS …. really love this style, so Gorgeous! It feels and looks like a $700 wig! The hair totally natural real human Black hair,and the lace is so mimics, also the bleached knots and hairline VERY natural . id most likely purchase again and would recommend to my fam bam and friends. It has a nice sheen, no shine, which makes it very realistic., it reverts to its original state once washed. Shedding is a minimum and I haven't experienced tangling so far. Overall I am VERY pleased and would definitely recommend this brand and website to anyone.
Gabrielle
2015-12-12 00:00:00
I just received this unit today and while I haven't worn it yet, it is beautiful. So soft! I will update once I've had some time to wear.
Annalee
2015-09-08 00:00:00
Love the wig! I ordered a #1 in 14 inches and wanted more of a blunt lob cut (more blunt after the pictures). I find that a side part after being plucked and blended with concealer looks more natural. I feel like this hair will last a while and I'm super happy about it! xx
Sophia Okolo
2015-03-24 00:00:00
The hair came in very fast i love it so much its very full and definitely worth the price, great!
Alishan
2015-03-11 00:00:00
Very beautiful soft wig! I love it. I'm rating it a 4 star due to the cap size feeling like a large instead of Medium. Next time I'll order a small cap. Planning to only buying from here :) Best wig I've got so far!
Killer Kitten
2015-02-09 00:00:00
Satisfied second time buyer. Excellent as always.
hyasmine tassy
2015-02-09 00:00:00
Love the quality of the wig. Very soft, and it doesn't have a weird smell.
Maria Olguin
2015-01-02 00:00:00
I really like my unit. The texture matches my hair perfectly and feels very soft. I got the #1B which is a little darker than I expected but still natural looking.