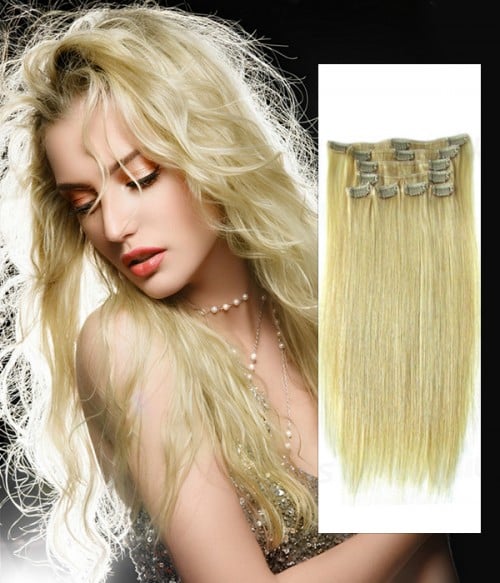 View larger
COLOR DIY - White Blonde Virgin Remy Human Hair Clip In Extension
Warning: Last items in stock!
Availability date:
Breonna Leiby
2016-09-24 00:00:00
It was really good hair.
Benny
2016-09-22 00:00:00
Arrived after a week! They are long and pretty.
Hbellar
2016-09-19 00:00:00
Okay
Summerangel
2016-09-12 00:00:00
I dye it to pink, AMAZING!!!
Cathy
2016-09-03 00:00:00
Worth the money!
Cait
2016-09-01 00:00:00
These extensions are amazing!! Good buy!
Bob
2016-08-26 00:00:00
WHITE BLONDE FOR SURE! IT WENT SO GOOD WITH MY HAIR AND I HAVE SOME HIGHLIGHTED AREAS. I WASHED THEM AND USED HEAT THEY LOOKS AMAZING!
foxytaylor
2016-08-16 00:00:00
soft and good quality easy to use. nice added length to shoulder length hair
Nick
2016-08-15 00:00:00
Bought for Girlfriend, She love these extensions
Kitty B.
2016-08-09 00:00:00
These are great little extensions! They are the same quality you'd get at Sally Beauty Supply. I love them and I highly recommend these to anyone who doesn't want to spend a lot of $$$$. I love to wear them with my baseball hat in a pony tail. They give me that bright blonde look. I would definitely buy from this seller again.
CL
2016-08-04 00:00:00
I love them! They are real, long and thick!
Hurley
2016-07-23 00:00:00
Get two packs, but great quality/color
K. Brown
2016-07-12 00:00:00
Beautiful hair! My first extension purchase. Very easy to use. Great product-great seller!! I would buy again and definitely recommend to my friends.
Tawni
2016-07-01 00:00:00
Extremely happy with these!!!!!!! I love love the ash blonde color! It's very hard to find these extensions that are not brassy blonde. I will definitely be a regular customer! I've been using extensions since 2003 and these are the best!
jessieblush
2016-06-21 00:00:00
The color was right and it looked gorgeous. It gives me satisfaction. Thank you UniWigs.
thestardustbohemian
2016-04-19 23:07:14
It fits perfectly and goes on easily.
missbo
2016-04-11 00:00:00
Love it so much!!