1) HOW TO STYLE A FULL LACE WIG
2) How to apply a lace front wig
3) How to apply a synthetic wig
Pin up your hair. If your hair is long, separate the hair into two pieces, and twist. Cross the two pieces behind your head, and clip them across the top. This is an easy way to even your hair out on your head without a huge ponytail bulge.Shorter hair can simply be combed and clipped to the crown of the head, or placed into a bun at the base of your neck.You could also braid your hair before applying a wig.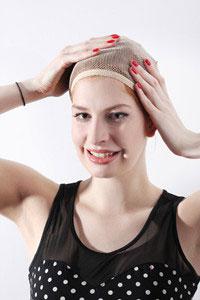 Put on a wig cap. Use a wig cap on any type of hair length to hold it all in and ensure a smooth fit. Even if you are bald, use a wig cap - it will help keep the wig on.
Put the wig on your head from front to back. There are two tabs on each front/side of the wig. Position these right in front of your ears. Don't worry if it doesn't look perfect right away. Go ahead and style/brush it into place the way you'd like it to look.
Or you can follow the steps of this video: