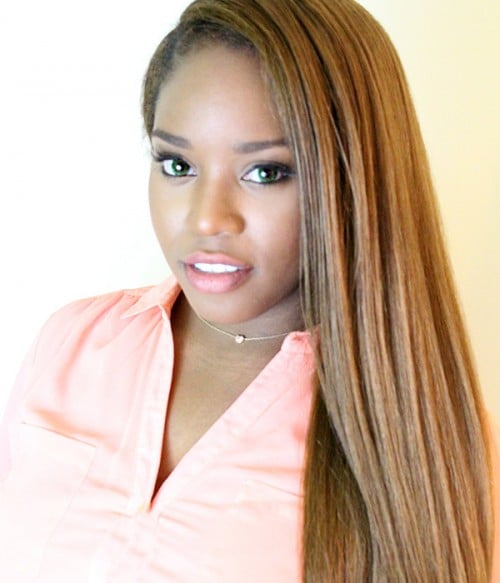 View larger
Natural Straight Remy Human Hair Lace Front Wig
Free Color Ring for First Order with Human Hair Wigs
Warning: Last items in stock!
Availability date:
Blankbeauty
2016-10-04 00:00:00
I love this wig!!! I just wish I had more parting room ...but I've been sending the link to all of my friends. They love it! It looks really natural and I used the Got2b glued gel to lay the front down...undetectable!!!
Dollface
2016-09-22 00:00:00
I really like this wig, the hair is very full, its true to length, and for a lacefront you get a lot of parting space. I washed and flat iron this hair no problems, very little shedding and very soft. 
Jami
2016-07-19 00:00:00
OMG!!!! I LOVEEEE this wig! It's Gorgeous and it looks so natural... Trust me...go ahead and buy it and get ready to receive compliments from strangers ALL DAY LONG!!!..
Estefly
2016-04-28 00:00:00
I just recieved my unit. I wanted to say thank you so so much for sending me my hair so soon! It is beautiful & perfect! I truly appreciate the excellent customer service, super fast shipping, & everything you all have done to provide these outstanding products & service! I've ordered a few times from you & even when an issue did arise, you helped me fix the situation with no problem. I suffer from alopecia, so its very hard for me to find good hair/products that will look real on me. Uniwigs makes things alot easier for myself & my hair situation. Thank you again.
Victoria McAlphine
2015-03-16 00:00:00
Thank you for the hair, it's soft. Beautiful and good quality.
Jane
2015-03-08 14:54:15
Been wearing other custom made female human hair replacement items for a number of years. Purchased my 1st lace front human hair piece here- honestly out of economic necessity. Figured out the lace front attachment successfully and comfortably 2nd day of use.... I love the quality... bought in a medium brown, wore it down the 1st time - usually wear my hair up... walking in to a business meeting I could feel a murmur of attention from my colleagues... later , privately a couple of people complimented me saying I looked great... none the wiser because the new hair was basically the same color as my prior hair piece I replaced... they also said I should wear my hair 'down' more often.... a great start... this was right out of the box... now to venture into carefully styling this lovely hair. Appreciating the quality and service of uniwigs I am enthused that I can afford and plan to replace my hairpieces every few months if needed.... I wear my nice, newest piece for work and public life... and my older one for physical activity like bicycling, hiking or the gym. I was hesitant in the jungle of hair vendors- making my selection... my 1st experience , with uniwigs compels my customer loyalty... glad i have a reasonable reliable solution to this basic need in my personal life. My 1st experience recommends this company's products and services. Those of us with these intimately personal consumer needs can get what we need and want from this organization. I selected this organization based on their west coast (U.S.) location... was concerned tracking my package when it was en-route from China. However it worked out fine... the experience taught me that i need to relax and join the global economy... at least in the case of uniwigs. Issue solved on with everyday life.... looking better, feeling prettier... paying for quality goods, but saving a few dollars at the same time. Unless they change their pricing, quality and service... Uniwigs IS my source for my hair needs. Thanks.
Erica Ross
2015-01-25 00:00:00
I'm pleased with this wig with the soft and natural hair. A little shedding, though.
Janice Shorts
2014-10-01 00:00:00
This wig is very natural looking Its worth the money I received tons of compliments all the time. There are some wigs out there like this but cant compare. I highly suggest this you will be amazed of how natural it looks. Like some of the cheap shiny ones that tangle & cant apply heat. i apply light sheen as needed about once week sit on a wig stand at night.I have it in # 1b
Alisa Ross
2014-05-01 00:00:00
The hair is real and when worn looks like your very own. I am being very careful to just finger comb very gently from the ends up and just a few hairs at a time so as not to tug, only one or two hairs fell out when combed very carefully and I want it to last and look nice for a long time.I also pulled back in a pony, not too tight and it looks great, also keeps it from tangling too fast. I comb thoroughly after each use and make sure it looks just like new when I put it away. I purchased the color 1, black. It looks fabulous, reminds me of my childhood blue-black hair.
sheanna
2014-04-29 00:00:00
I'm losing my hair due to my treatment. This is my 1st wig and I have no other experiences with them. Before purchasing this wig, I looked EVERYWHERE for the best wig $500 and under. This wig leaves the others in the dust! Even my hair dresser LOVES it! I washes it, played with different styles and still sheds VERY LITTLE! I WILL NOT buy ANYMORE wigs from any other company!
Kathy
2014-04-10 00:00:00
I love this wig, I have had so meany complements on this wig. No one knows it's a wig not even the salon till I take it off.
Not Known
2014-03-28 12:00:00
I've bought a few wigs over the last few weeks, since I'm suffering some real hair loss. I haven't been certain as to what style or type of hair I'd want, but when this one arrived, I fell in love. It helps that the color (4, medium brown) perfectly matches my own - you can't tell my natural hair from the wig's hair. Most of the other pieces I've ordered are 1B, extremely dark and would require me to get them recolored for a more natural look. For a natural brunette like me, this compliments my hazel eyes and skin tone much better than the black wigs I've gotten. Straight out of the box the way it is, I could have this thing on and be out the door within minutes with no fuss or need to style/re-color. I don't think the photos does the color justice. The hair has warm brown and red highlights and feels amazing and light. Very natural. I had a similar synthetic I was practicing wearing around in preparation of dropping some cash on real human hair. While I felt the quality was great for the price on my synthetic, this one blows it away in quality. It's not big and crazy like a Tina Turner style, which makes me feel awkward as I've had thin hair all my life and I'm not used to big, puffy styles. This wig sits against my head without sticking out and looking comedic on me. I am barely aware it's there, it's so light. I've had trouble with other wigs being quite heavy and uncomfortable, but this one is like I grew my own head of hair. I also love the baby hairs along the edge of the forehead. It's very fine and wispy and acts like natural baby hair. Not like longer hair that was trimmed down and sticks out in clumps and looks unnatural. (Some of my other pieces have awkward baby wisps I've got to deal with.) The medium size cap also fits me very well; not loose or tight at all. A big pro to this wig: this is the first wig with a cap that has adjustable straps at the back! I've been very disappointed to find that 5 of the other wigs I've had, the caps that just come in one size that you can't adjust. This one, however, I am surprised to discover has the elastic bands to help resize the cap for a better fit. Very pleased! I've experienced some shedding, but nothing drastic (and nothing like my own hair that comes out more than it should). The length is great, leaves a lot of room for styling. I would highly recommend this style for anybody who wanted to give it a shot, especially hair loss sufferers like me. I actually feel natural and confident, without a really "wiggy" look! I'm glad I took the risk of trying this wig. I will definitely add it to my must-have list and order more in the future!
csnrain89
2014-03-15 12:00:00
Its nice and soft just what i expected, very good quality and i even got some free gifts. Will order again.
Aythens31
2014-02-25 11:00:00
This is a very beautiful natural looking Wig! Ladies, you can take one home without regret!
Danielle
2014-02-04 11:00:00
This wig was fabulous! It was not only full, but a lovely length. Even nearly a month later I'm still wearing it and still getting compliments. So I'm really pleased with the purchase.
domilau77
2014-01-19 11:00:00
I loved this wig. It was worth the cost.